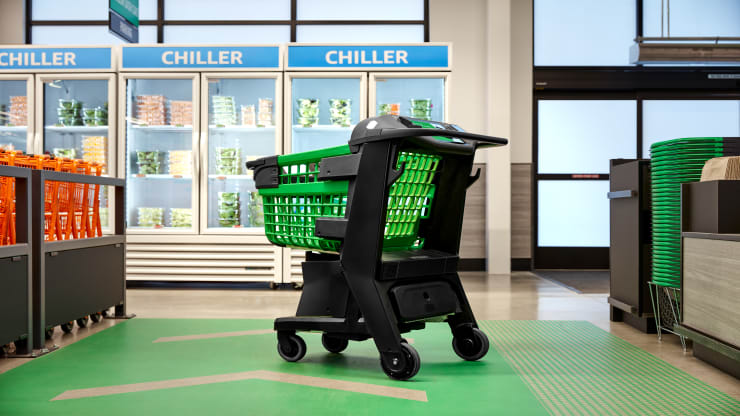 The smartest shopping cart in the world is coming to The San Fernando Valley. On Tuesday, Amazon announced its new Dash Cart technology will launch at a soon-to-be-opened grocery store in Woodland Hills. The cart removes the checkout line altogether, using computer vision algorithms and sensors to tally a shopper's inventory and then charge them as they exit the store.
A screen at the top of each cart allows shoppers to view a running total of their purchases via an Alexa Shopping List. Charges are processed by payment information on a customer's Amazon account.
If the technology works out, it could represent a major shift in the grocery shopping experience. Theoretically, a shopper could enter a store, add what they want to their cart, and "just walk out."
"Our primary motivation for building this was to be able to save customers time," said Dilip Kumar, VP of Amazon's physical retail and technology, according to CNET. "The alternative solutions are standing in the express checkout lanes or fumbling through self-checkout stations."
The Woodland Hills store is slated to open later in 2020. It will be located on the 6200 block of Topanga Canyon Boulevard (CA-27), in a 35,000 square foot space formerly occupied by Toys R Us. This will likely be the first in a series of new of outlets coming to Los Angeles.
In October of last year, the Walls Street Journal reported that Amazon had signed at least a dozen leases on retail properties around Los Angeles as part of an apparent retail expansion. The following month, Amazon confirmed that they were opening new stores in Los Angeles and that Woodland Hills would be the first location.
These new stores will not be new Whole Foods Markets, which Amazon acquired in 2017. Instead, the stores will be a distinct brand, likely offering food products at lower prices, according to reporting by the Journal.
The Dash Carts aren't Amazon's first foray into cashier-less retail. The company has been working on the technology for years and now even sells it to other retailers.
Amazon previously tested its "Just Walk Out" technology at Amazon Go locations throughout the country, including a grocery store in Seattle. At the Seattle store, customers gain entry by scanning a credit card. As they move throughout the store and shop, cameras track their movements to identify which items they remove or return to shelves. A virtual cart is created with the total order. When the customer leaves, their card is automatically charged. No app installation or Amazon account is necessary, according to an explanation on Amazon's website.