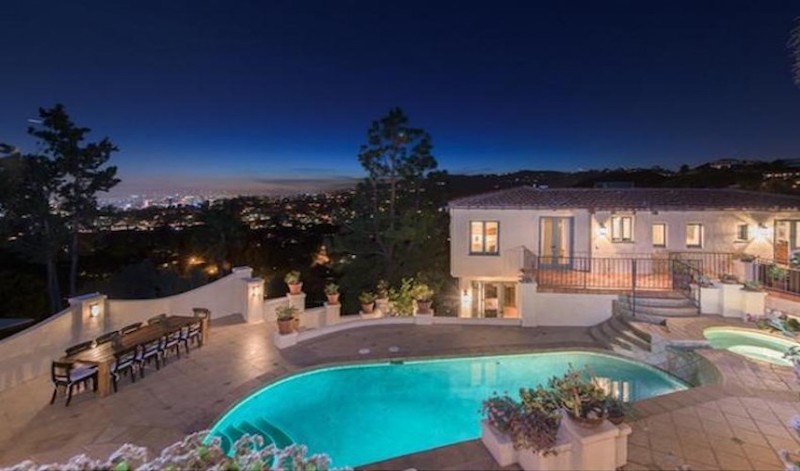 This summer, people in Los Angeles are using an app to rent out their pools by the hour. Is that okay in the time of COVID-19? Well, maybe.
Swimply is a service that allows the pool-haves to rent their private pools to the pool-have-nots. It's similar to Airbnb, except it only applies to a homeowner's pool, not overnight lodgings. According to KTLA, there are 165 L.A.-area pools available on the site. Prices typically range between $30 to $75 an hour and one couple told the station they'd already made $7,000. 
A casual search on Swimply reveals a backyard pool and hot tub in Mid-City followed by a "tropical Hollywood Hills oasis." Another Hollywood Hills pool, this one advertised as a "jungle oasis," offers a Spanish-style pool with the note that, "Swimsuits are MANDATORY!!! Can't believe we have to write this." All three pools are priced at $60 per hour. A cheaper option is a private pool in Burbank that rents for $30 an hour. 
Public pools across the city are in short supply. The Los Angeles Department of Recreation and Parks states all of its aquatic facilities are closed. L.A. County-operated pools are also closed, though some splash pads are open, according to the Los Angeles Times. All indoor fitness facilities have been ordered to close again meaning their pools are off-limits, too, but some pools, like the Rose Bowl Aquatics Center, are open with restrictions.

Pools in residential settings, such as apartments and condos, are allowed to reopen, but that doesn't mean they have. If a building manager is unwilling or unable to enforce the Public Health's guidance, they may decide reopening a pool is more hassle than it's worth—much, perhaps, to their tenants' chagrin.
So, if you're desperate for a swim in a clean, chlorinated pool, Swimply could work for you—though it is pricier than the city's pool admissions, which were $4 for adults and $1 for kids.
We reached out to Public Health to see if using an app like Swimply is something they'd approve. A public information officer neither expressed approval nor disapproval, instead sending us Public Health's pool guidelines. 
The guidelines don't address the use of an app to rent someone else's pool. The most pertinent info would probably be the protocol for residential pools, the kinds you'd find in apartments or condos that might be used by various households throughout the course of a day. 
Public Health advises limiting spas/jacuzzis to one household at a time; implementing reservations to ensure social distancing; mandating face coverings; disinfecting frequently touched surfaces and shared objects, such as handrails, tables, or lounge chairs; screening visitors for symptoms; and conducting a pool safety check to make sure the pool's chemistry is adequate for disinfection. "Proper operation and maintenance should inactivate virus in the water," the guidelines read.
The service is already built on a reservation system, so that works. Many hosts have also included information about disinfecting pool areas and bathrooms between guests in their listings, but it's not clear how that would be enforced. It'd be up to you to stay home if you had symptoms and to not invite people outside your household to join your reservation.

In theory, renting someone's private pool might be a safer, albeit more expensive, option than one of the open pools or the beach, but the onus is on you and the host to follow best practices. Read the Department of Public Health's residential pool guidance here.