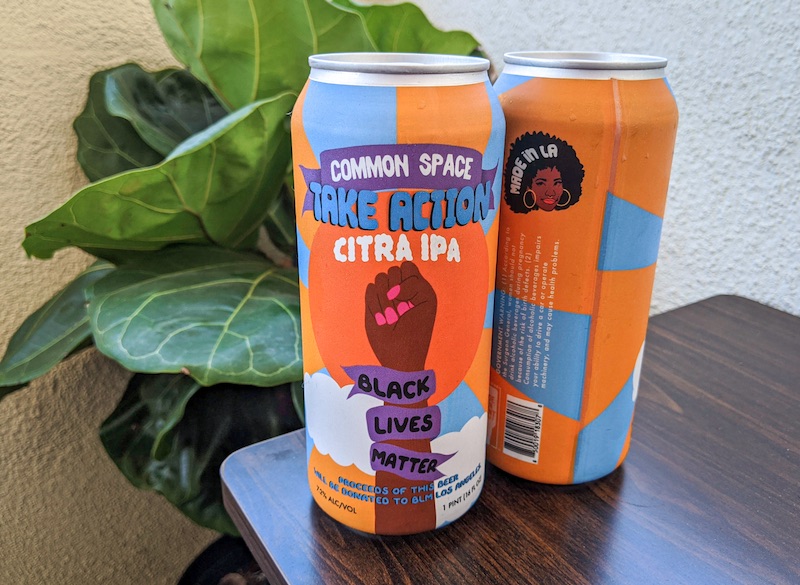 Need a fresh summer brew? Hawthorne-based brewery Common Space has a new tropical IPA that comes in a colorful can designed by L.A. artist Devon Blow. You can order it and Common Space's other beers, including their recent collaboration with Coolhaus, for delivery or pickup.  
Take Action IPA is a hoppy citrus IPA with tangerine and grapefruit. It's also pretty strong at 7.2%. The beer's name and label are meant to draw attention to equal justice advocacy. Part of how Common Space will "take action" is by financially supporting Black Lives Matter LA.

Devon Blow of Purple Pineapple Co. says she's been creating art her entire life but only started sharing her illustrations publicly a little over a year ago. Her work often features images of women, including Rihanna and Angela Davis.
Blow defines her style as "pop-art centric."
"I love using bold, bright colors. I'm also heavily influenced by some old comic book styles and the show Daria," she said. "I draw inspiration from what's around me so my primary focus is creating more visibility for BIPOC (Black and Indigenous People Of Color) and underserved people/communities."
Blow's online shop includes prints, candles, pins, mugs, and more. Some contain clever turns of phrase, like a soy candle that says "Big Wick Energy" and which "smells like equal pay and apples" or a greeting card that features the singer Sade and says "Happy Birth-de."
Blow says the best thing that's happened since she began sharing her art are the friendships and relationships she's made. She met the Common Space team at a pop-up at the brewery and was excited when they asked her to design the can for Take Action IPA. Blow's design features a raised fist with a bright pink manicure surrounded by blue and orange sunbeams.
"The 'Power Fist' is a universal symbol of resistance and fighting for equality, so it just made sense to us that it be the center of the entire can design," Blow said. "The sun I took from retro 70s propaganda poster styles. I think we all really wanted the can to be something that people would want to take photos of because that visibility of saying 'Take Action!' and "Black Lives Matter' is so important."
To see more of Blow's art, you can check out her website here or her Instagram here. 

Common Space's beers are available by delivery or for pickup. You can find out how to get some yourself here.