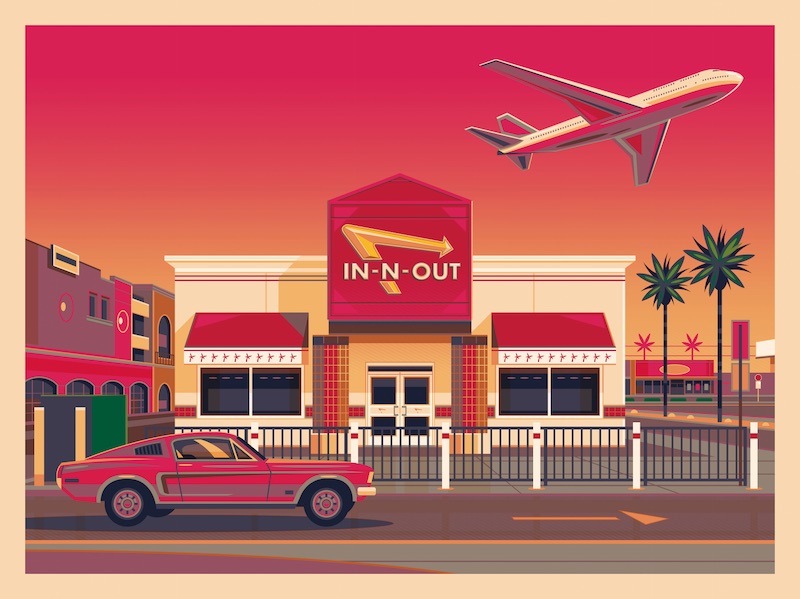 When we last checked in with U.K.-based artist George Townley, his show "Golden Hour" at Gallery 1988 had been canceled due to COVID-19. The art was made available online both via Gallery 1988's website and through Discover LA, where Townley's colorful renditions of L.A. landmarks were split into puzzles you could click and drag back together. Now, Townley is back with a new show called "Sun Kissed," which Townley describes as a "spiritual sequel" to "Golden Hour" that "still keeps the same theme of Los Angeles architecture at sunset."
"They're all entirely new prints that focus on well-known buildings around the city, as well as some more underrated architecture that I've had on my radar for a while. Also as warm weather slowly approaches, I'm hoping to remember this show as a transition into a summer with better times ahead," he told We Like L.A.
Townley grew up in northwest England and is currently based in London. However, he studied at California State University San Marcos, where he found himself inspired by California's "blue skies, palm trees, and midcentury modern architecture." He said his art style completely changed after living in California, and he frequently incorporates buildings he's seen in real life into his artwork.
At the onset of the pandemic, Townley told us he'd moved back to his family home, but he's since returned to London, where he said he feels he can be more creative in his own space. 
"I put that to the test with this upcoming show as almost every illustration was created from my new place. I learnt that buying 10 new houseplants does in fact boost productivity," he said.
Townley's "Golden Hour" show featured landmarks like the Cinerama Dome at the ArcLight in Hollywood, the Griffith Observatory, and the Hollyhock House. "Sun Kissed" includes even more familiar scenes: an empty Hollywood Bowl at dusk, John Lautner's Chemosphere house, Santa Monica's Georgian Hotel, a passenger aircraft soaring over In-N-Out. Townley says the latter is his favorite.
"[The LAX In-N-Out] has been one of those buildings that have been requested for a while, but I never got round to it as I was struggling with reference pictures. But I'm so glad I finally did my research and tackled this place as I know it means a lot to people," he said. "It's right next to the airport so I'm sure it's that first taste of home when you land back in Los Angeles, a familiar sight. The plane landing in the background is definitely wishful thinking though."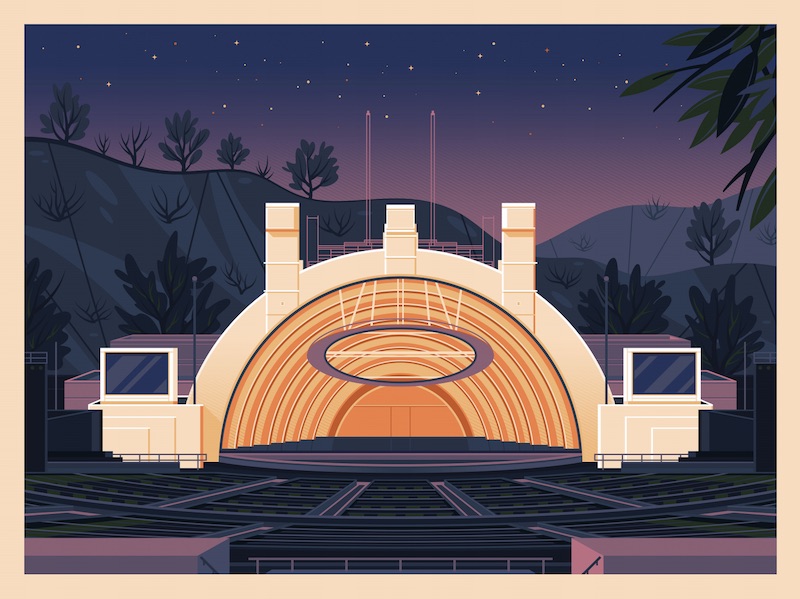 Assuming travel is back on the menu at some point this year, Townley plans to visit Palm Springs, then Los Angeles.
"Obviously, I've been stuck in the U.K. for the past year and a half now so a break is well-needed and I'm never more inspired than I am when I'm visiting L.A. It's been difficult as there's a lot of new prints I want to work on that I'm struggling to start until I come over and take reference pictures for myself. Last time I was in the city I took so many pictures that I knew would come in handy, but I'm starting to run out," he said.
"Sun Kissed" opens at Gallery 1988 on Friday, April 2 both online and for limited in-person viewing. All limited edition prints will be available for purchase online at 12 p.m., but you can also purchase prints in-person as well. You can check out more of Townley's work on his website here and Instagram here. And if you want to do one of those digital jigsaw puzzles, they're all here.
Related: Artist Ted Zahn Illustrates L.A. Theaters, Diners, and Neon