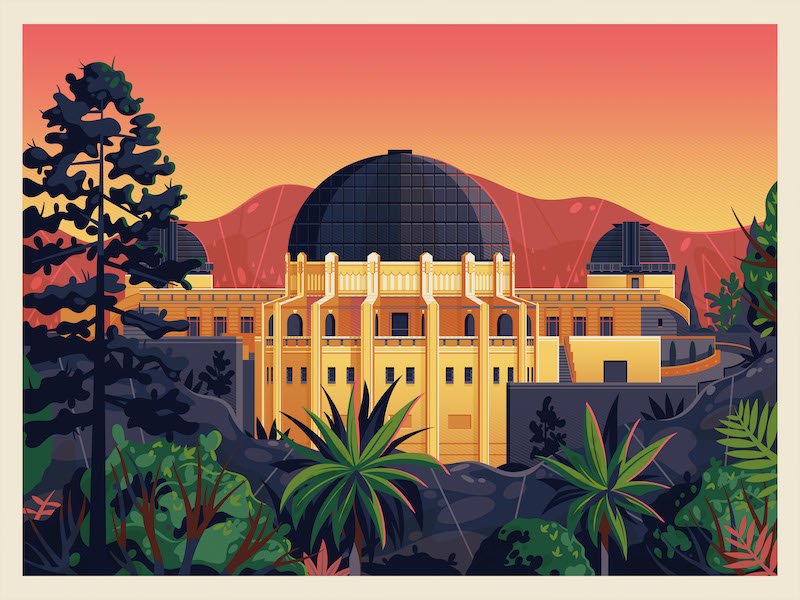 Artist George Townley's "Golden Hour" show would have run this April at Gallery 1988 in Fairfax. Each vibrant piece depicts a Los Angeles landmark in perfect light: a bright pink sunset, the warm glow of a fading afternoon. But while the gallery is closed due to the Safer at Home order, you can still enjoy Townley's art online. This includes via the gallery website, but also on DiscoverLA's "Magic Hour" page where select pieces are available as digital jigsaw puzzles. 
Townley grew up in northwest England and is usually based in London. But it's California, where he studied at California State University San Marcos, that often inspires him.
"The gloomy English weather was never going to be the backdrop for my work as I've always been inspired by blue skies, palm trees, and midcentury modern architecture—a passion that stemmed from watching Hollywood films when I was younger," he said. "After living and studying in California, it completely changed my illustration style and I began working on renditions of buildings I'd seen in real life."
His illustrations feature both iconic and lesser-known buildings and homes. His favorite architect is Frank Lloyd Wright, and his favorite illustration of a Wright home is this one below, of the Samuel Freeman House (1923) in the Hollywood Hills. But Townley's personal favorite piece is of the Griffith Observatory at sunset (above).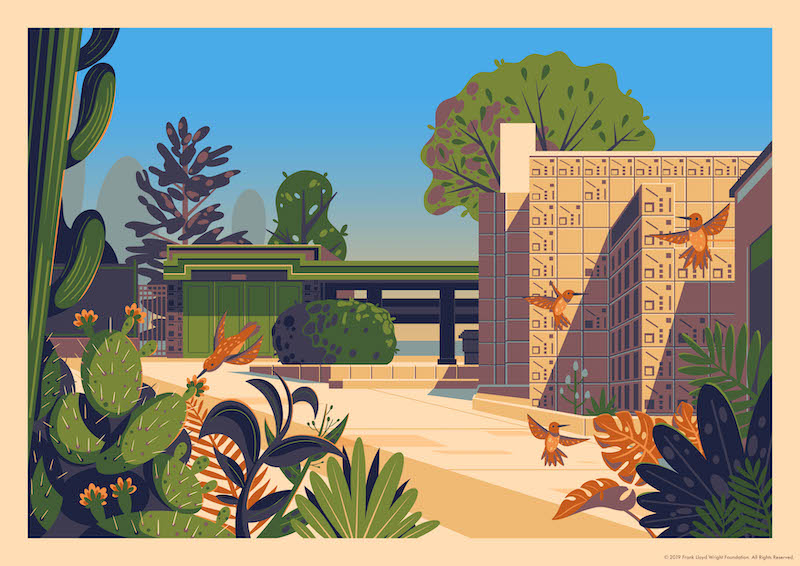 "The Griffith Observatory was the first building that got me into L.A. architecture after watching Rebel Without a Cause many, many years ago," he said. "It was also the first L.A. landmark I got to visit in real life and I experienced my first Los Angeles sunset after hearing so much about it. Being at the site of my all-time favorite film and watching the sun go down really meant a lot to me and I'm reminded of that memory every time I see my Observatory print."
Given that the Observatory is currently closed, it's a fun diversion to piece it together in the form of a digital jigsaw puzzle, which you can do here on DiscoverLA's site. To make the puzzles, Townley reached out to DiscoverLA after his trip for the Gallery 1988 show was canceled. 
"I wanted a way to make it up to everyone who was planning to…come and see the show," he said.
DiscoverLA was already working on a new "magic hour" initiative, so his illustrations fit neatly into the programming. Magic hour or golden hour is defined by photographers and cinematographers as the time just after sunrise or before sunset when the light makes for gorgeous images.
DiscoverLA's other "magic hour" offerings are equally relaxing and aesthetically pleasing. You can watch the sunset daily via a livestream from the Hotel Erwin in Venice. You can listen to a Spotify playlist or download L.A. Zoom backgrounds. You can also explore virtual workouts and articles about L.A. filming locations, or check for upcoming livesteams. Townley intends to present a livestream in which he'll work on some new art while answering questions about his work and how he chooses his subjects and colors.
He'll be doing this from England, where he's temporarily moved back to his family home during the pandemic. While he's bummed about having to cancel his L.A. trip, he's happy people can at least enjoy the work online.

"A big part of the show was having the prints displayed in the city itself so not being able to do that was pretty disappointing," he said. "Although I feel like it was the perfect time to release a show about Los Angeles landmarks as it's a way to celebrate all these buildings from the comfort of our own homes while we [aren't] able to go out and explore the city ourselves."
You can check out more of Townley's work on his website here and Instagram here, or select prints to purchase from Gallery 1988 here. And if you want to do one of those digital jigsaw puzzles, they're all here. In addition to the Griffith Observatory, you'll find puzzles of the Stahl House, the Cinerama Dome, the Hollyhock House, Union Station, and the Theme Building at LAX.