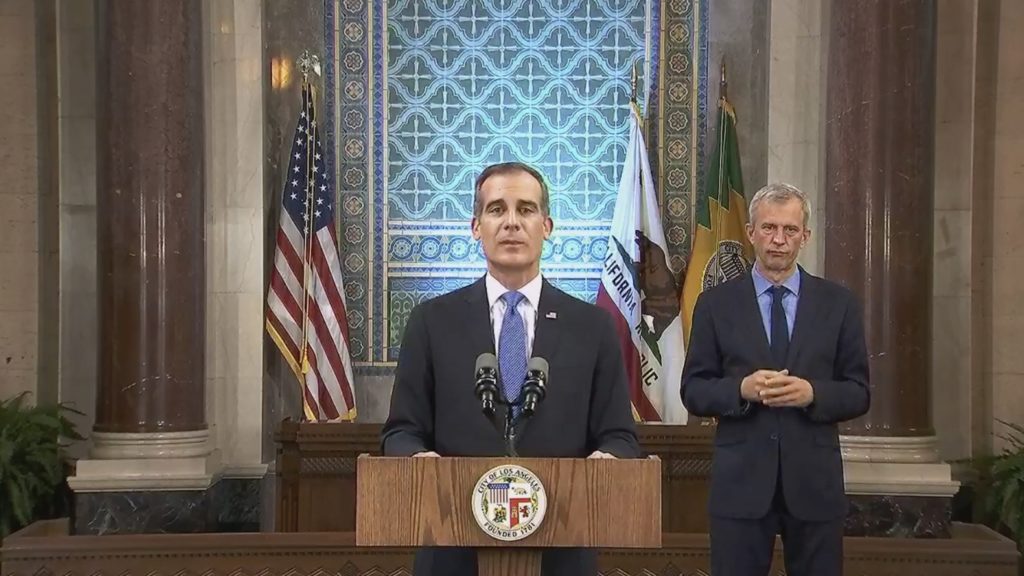 During last night's State of the City address, Los Angeles Mayor Eric Garcetti announced plans to furlough thousands of city employees in an effort to make up for revenue shortfalls and balance the budget for the coming fiscal year.
The city government has already enacted a hiring freeze that will continue indefinitely. But the freeze alone is not enough, and the city's latest budget includes sharp cuts to civilian employee salaries. These employees will be furloughed for 26 days in the coming fiscal year, equivalent to a 10% reduction in pay. The cuts will be outlined in the 2020-2021 budget proposal to be released today.
"There's no way to sugarcoat this. This is bigger and it will hurt more," Garcetti said, referencing a comparison between the pandemic and the Great Recession of 2008. "Our city revenues have plummeted. Hotel reservations have collapsed."
The mayor said it took more than a decade to recover financially after LAX closed for two and a half days in the wake of 9/11. During the month following the attack, passenger traffic shrank by as much as one third. By comparison, airport passenger traffic is now down 95% due to the COVID-19 crisis.
"From a fiscal perspective, this is the worst it's ever been," he said. "We've borrowed $70 million to date from our special funds and our reserve fund to front the costs related to our COVID-19 response."
The Mayor stressed that while borrowing funds to operate essential services and expand testing is costly, he won't save money if it means putting more lives in danger.
"These were expenses we couldn't shy away from. And they won't be the last ones either," Garcetti said.
Garcetti hopes to decrease the number of furlough days as soon as possible but that may take outside assistance. He called on the federal government to help, either by loosening restrictions on emergency funding to allow the city to make up for lost revenue or by providing city-specific financial aid in the next round of federal stimulus relief.
"Help bail out America's cities just as you bailed out the banks," he said.
Los Angeles County Public Health confirmed 12,341 COVID-19 cases as of Sunday. The county's death toll now stands at 600, with 81 new deaths reported on Saturday alone. That figure represents the highest daily total since the crisis began.
As he closed his remarks, an emotional Garcetti called on citizens to steel themselves for the challenges ahead.
"Our city is under attack. Our daily life is unrecognizable. We are bowed and worn down. We are grieving our dead," Garcetti said. "But we are not broken, nor will we ever be. The real question, the real test, is how we will come back."