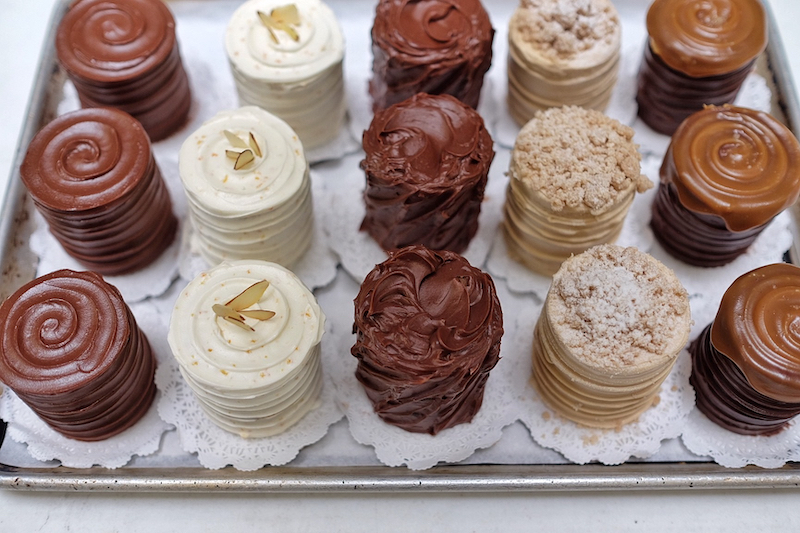 Shuttered restaurants in Los Angeles are struggling to survive by operating as takeout operations, but we can't forget about the many bakeries that are still open and in need of our help, too.
Baked goods are usually pretty freezer-friendly. Consider buying items in bulk for future sweets or carb cravings. Below is a list of bakeries still servicing Angelenos and a tip from Cake Monkey co-owner Elizabeth Belkind on how to freeze her delicious items.
"It is hard to generalize about freezing tips for all our goods, but the general rule would be to wrap items well in plastic before freezing them. To cut down on plastic use, freeze items in reusable silicone or rubber packaging, but choose the smallest fit possible. Don't freeze a single cookie in a big Tupperware! It will get freezer burned. Most items can simply be brought to room temperature 30 minutes before enjoying them. Some items will need more time. Others, like muffins, scones, and croissants, will benefit from reheating in the oven or toaster oven for 5 minutes at 325 degrees. Our staff is happy to recommend freezing and reheating instructions at the time of purchase as well! Items that freeze well if you're looking to restock are cakewiches, cookies, pop pies, and bars."
Cake Monkey in the Fairfax neighborhood is offering coffee, cakes, and pastries. They also offer curbside pickup at the Beverly Blvd. location (call (323) 932-1142) and the North Hollywood location (call (818) 508-9579.) Keep up-to-date on specials through their Instagram.
Both east side locations of Valerie Confections are offering delivery and take-out. From prepared foods like whole quiches to baked goodies that include zucchini bread and mezcal sticky toffee pudding, there's something to satisfy everyone. Orders can be made through email or by phone. All information is listed in the link.
Flipino-American sweets shop Creme Caramel in Van Nuys is offering their custards, coffee and a variety of pandesal breads. Contactless pickup is the only option at this time.
Proof Bakery in Atwater Village is open for walk-in service for to-go orders only. Email [email protected] for large orders. On the current menu are pistachio cherry croissants, cookies, tarts, and their signature sandwiches.
Mr. Holmes Bakehouse in Highland Park has turned into a neighborhood grocery store and commissary, selling deli meat, eggs, milk, fresh bread, and more. Toilet paper is offered through a pay-what-you-can system and the bakery has expanded its pay-what-you-can section of groceries for those in need. If you stop by, Mr. Holmes will give you a free bread starter kit with instructions to make your own bread. They're also shipping the kit for $25 for those who can't make it in.
Cuban bakery and cafe Portos is now shipping bake-from-home versions of its popular pastries including Refugiados (cheese and guava pastry), cheese rolls, and even savory options like potato balls, chicken empanadas, and meat pies.
Milk Bar is shipping nationwide, but lucky for us, we have a location in Mid City. You can get your sweets delivered through UberEats, Caviar, and Postmates. Everything on the regular menu is available from confetti cake and the famous Milk Bar Pie to a personal favorite, the Cornflake Marshmallow Chocolate Chip cookie. Catch founder Christina Tosi on Instagram Stories for epic Milk Bar hacks, too.
Dominique Ansel Bakery located in Beverly Grove is offering takeout and delivery via the Caviar app. Did we mention this is the place that created the infamous cronut? Try the original today!
Open since 1965, the Phoenix Food Boutique has 14 locations serving Asian desserts like fresh mango mochi, custards, silken tofu, egg tarts, and sweet sticky rice. They also offer a large menu of savory food, including fried noodles, soups, rice dishes, and appetizers. Call in your order for pickup or download their new app on iOS and Android, Phoenix Food and Dessert, to get 20% off your first pickup order.
La Monarca locations are stocked with grab-and-go pan dulce, fresh pastries, and coffee beans. Get delivery via Postmates or order curbside pickup.
Clark Street in Echo Park is open and serving quiches, breads, and pastries. They are also offering a bread starter and free delivery in certain locations with a $15 minimum purchase.
Republique located in Mid City is offering lunch and dinner packages on Tock. Margie Lorenzana-Manzke's phenomenal baked goods are also available for takeout and delivery via Postmates, GrubHub, and Caviar.
The Bagel Broker in the Fairfax District is offering delivery and pickup. Call (323) 931-1258 to make your order.
Sidecar Doughnuts locations are open for takeout and delivery on Postmates.
Gigis Cafe in Westlake offers Cuban pastries, Mexican breads, and a food menu of Cuban dishes, plus tamales and tacos. Available for pickup by calling (213) 483-6152 or delivery via UberEats.
Clementine in Century City is offering fresh baked goods as well as bake-at-home options. They have curbside pickup, delivery to the local Century City area, and takeout. Pre-ordering online is available and they take phone orders at (310)552-1080.
Drago Bakery in Culver City has several European-style breads, cakes, and fresh pastries such as chocolate croissants and muffins. Call (310) 280-6004 to make your order for takeout.
Maury's in Silver Lake is recognized for its delicious bagel sandwiches. Get them for pickup or delivery via Caviar and ChowNow.
Village Bakery in Atwater Village is offering family meals, fresh-baked breads, pastries, dry goods, and eggs. Curbside pick up and delivery orders (within a 5-mile radius between 4-6 p.m.) can be made by calling (323) 662-8600.
Winston Pies in Brentwood and West Hollywood is open for pick up delivery through their website. Check out their Instagram for specials like hand pies, galette and unique house made pie creations.