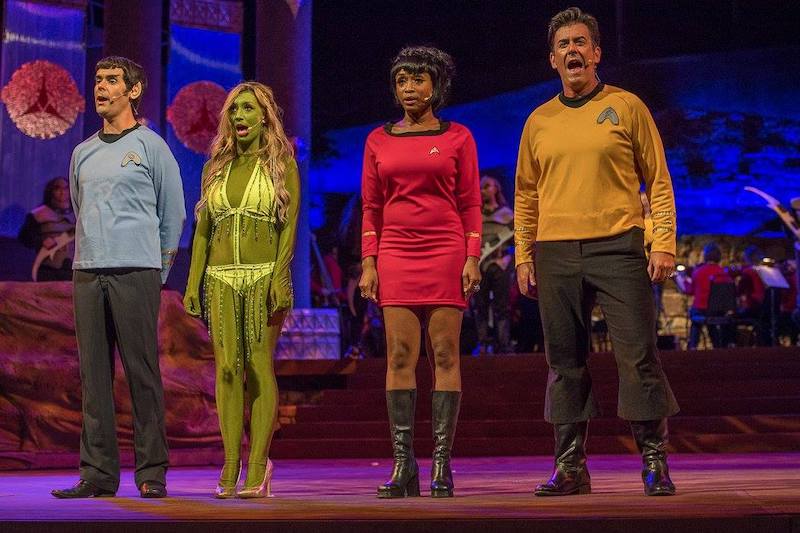 L.A.'s Pacific Opera Project (POP), known for its fun, affordable shows, is hosting an interactive, online watch party of a Mozart opera set in the Star Trek universe. The event will take place on April 8 at 5 p.m. 
Mozart's 1782 opera Abduction from the Seraglio follows the exploits of a Spanish nobleman and his servant as they try to rescue their fiancees, who have both been kidnapped and sold to Pasha Salim. 
POP's version, performed and recorded at The Ford Amphitheater in 2016, reimagines the tale in the original Star Trek world. Brian Cheney plays Capt. James T. Belmonte (a nod to Kirk, of course) and his adversaries are Klingons, not humans, who perform synchronized bat'leth dances. The watch party will feature interviews with the cast, costume contests, drink recipes, and more. Check out details on how to tune in here.
POP has also been uploading one performance each night to its YouTube channel. Tonight's is Francesco Cavalli's La Calisto, while tomorrow's is a "hipster" take on Puccini's La Bohème. You can check those out here. See the full schedule, as provided by POP, below:

March 16 – Gianni Schicchi and L'enfant et les Sortileges
March 17  – Carmen (2018)
March 18  – La traviata
March 19 – Il barbiere di Siviglia (2013)
March 20  –  Le nozze di Figaro
March 21 – Don Giovanni (2018)
March 22 – Sweeney Todd
March 23 – The Impresario and Prima la musica, e poi le parole
March 24 – Ariadne auf Naxos
March 25 – Tosca: A moving production
March 26 – Falstaff
March 27 – La gazzetta
March 28 – The Turn of the Screw
March 29 – The Mikado (2013)
March 30 – La Calisto
March 31 – La boheme AKA "The Hipsters" (2012)
April 1 – Il barbiere di Siviglia (2016)
April 2 – The Rake's Progress
April 3 – L'elisir d'amore
April 4 – La boheme AKA "The Hipsters" (2014)
April 5 – Lucia di Lammermoor
April 6 – Madama Butterfly in Japanese and English
April 7 – Viva la mamma
April 8 – Abduction from the Seraglio from The Ford Amphitheatre
April 9 – The Merry Widder
April 10 – La boheme: AKA "The Hipsters" (2019)
April 11 – Carmen (2014)
April 12 – Abduction from the Seraglio (2015)
April 13 – The Medium and The Monkey's Paw
April 14 – The Mikado (2019)
April 15 – La boheme: AKA "The Hipsters" (2017)
April 16 – Don Giovanni (2011)
April 17 – La boheme: AKA "The Hipsters" (2018)
April 18 – The Magic Flute #SuperFlute
April 19 – Trouble in Tahiti (2011)