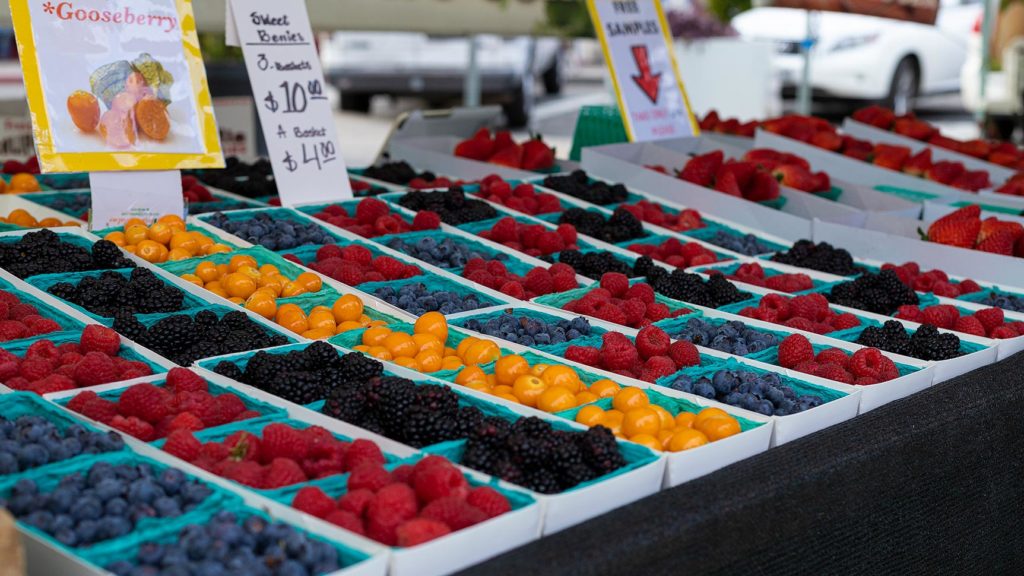 Every time L.A. residents crowd one venue, Mayor Eric Garcetti shuts it down in an attempt to achieve compliance with the Safer at Home order. The latest victim? Farmers markets.

Though considered an essential service because they provide food, some farmers markets were just too crowded this weekend to ensure social distancing. In this evening's news briefing, Garcetti responded with a temporary suspension of all farmers markets. Markets may submit a plan to the Bureau of Street Services detailing how they'll ensure social distancing and other safety measures. Once approved, they may reopen.
"We want people to be able to eat well and we want people to be able to get access to food," Garcetti said, "but we can't risk the spread of this disease."

Garcetti imagines most plans will involve one entrance, one exit, and a line of people waiting to get in, all spaced six feet apart.
Garcetti did not single any farmers markets out, but many people already had on social media. Photos from the Brentwood Farmers Market, a weekly Sunday market, depicted several Angelenos shopping for produce. Shoppers looked closer than six feet together, despite a recent post from the market itself on taking safety precautions when visiting.
We reached out to the Brentwood Farmers Market earlier today to ask about the photos. Melissa Farwell of California Certified Farmers Markets responded with an email FAQ, saying the market has been putting new measures in place to ensure safety, including posted signs, reduced capacity, spacing stalls further apart, and more.
The email also claimed that pictures can be deceiving:
"People driving by taking pictures saying there are too many people in the market. When you are in the market the feeling is VERY different than when you are looking down the street."
The market also indicated they plan to ask people to avoid coming in groups or as a family so that it doesn't appear that people who aren't in the same household are clumped together. This is in line with advice from experts, who suggest that each household choose only one person to do all of the shopping throughout the coronavirus pandemic.
For those of you who love your local farmers market, there's hope. This Tweet shows the Echo Park farmers market as a much more sparse affair, proving you can social distance and shop at the same time. Hopefully, we'll get some of these markets back in business soon—and safely—so that we can continue to support our local farmers.