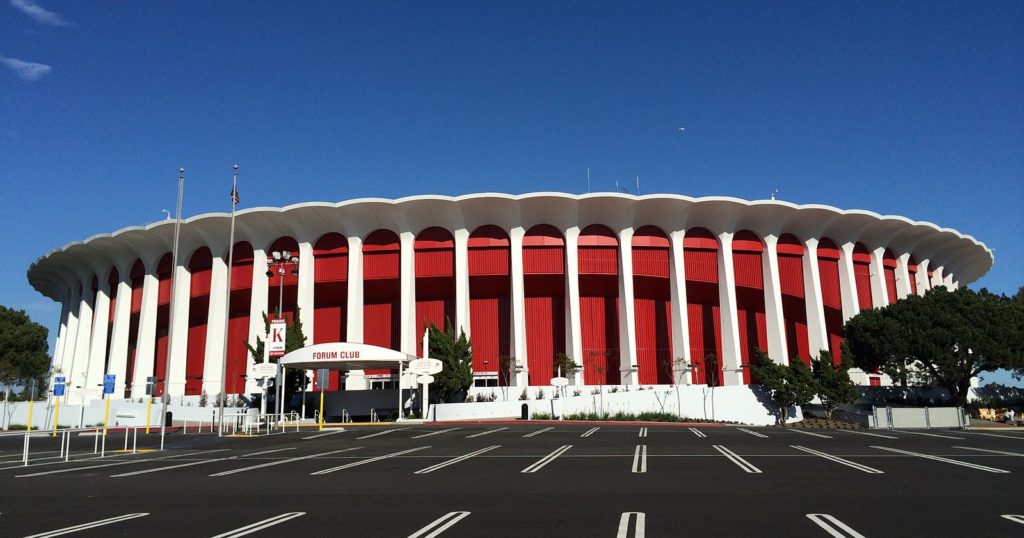 Los Angeles Clippers owner Steve Ballmer said that one way or another, The Clippers would open an arena in Inglewood. Now, that way looks secured.
Ballmer and the Clippers, under the legal umbrella of CAPSS LLC, have reached an agreement to buy The Forum from the Madison Square Garden Company for $400 million. The agreement ends years-long public sniping and legal posturing between Ballmer and MSG executive chairman James Dolan, who is also the principal owner of the New York Knicks NBA franchise.
MSG bought The Forum in 2012 for $23.5 million and invested $100 million in renovations to transform the building into a state of the art music venue. At the same time, Dolan and MSG gave up their leasehold and purchasing option on parking lot acreage adjacent to The Forum. When Dolan learned that the city of Inglewood had been negotiating with the Clippers to build a new arena, he contended that Inglewood and its mayor, James Butts, had convinced MSG to give up its rights to the parking lot under false pretenses. Things escalated from there.
Last year, an affordable housing advocacy group called Uplift Inglewood filed a lawsuit asserting negotiating agreements between Inglewood and a Clippers-controlled company violated the Surplus Land Act, which states that when cities, counties, transit agencies, and other local agencies sell or lease their land, they must prioritize affordable housing development. A judge ruled against the lawsuit in November.
According to Bloomberg News, MSG wasn't directly involved in the litigation, but it had donated to the California Community Foundation, which supports Uplift Inglewood.
Now, with the purchase agreed to and the biggest legal hurdles out of the way, Ballmer is looking forward to the next steps in the process.
"This is an unprecedented time, but we believe in our collective future," Ballmer stated, via a release. "We are committed to our investment in the City of Inglewood, which will be good for the community, the Clippers, and our fans."
The City of Inglewood is currently performing an environmental review of the proposed project, with public comment tentatively scheduled to take place this summer.
The Clippers' current lease with Staples Center ends after the 2024 season. If construction on the new arena were to begin by 2021, the goal would be to open in time for the 2024-2025 NBA season. It's not clear yet what alternate site the Clippers would play at should the construction be delayed past 2024.