Looking for delicious desserts in the San Fernando Valley? You've come to the right list.
We've dug deep into a bit of sweet-tooth research to round up locations scattered around the SFV that serve up the tastiest sweets in the area.
Whether you're looking for a tasty spot to cap off a savory meal, 24-hour crepes, or an afternoon flight of ice cream to help cool the day off, we've got the options for you.
Now what are you waiting for? Dig in!
[RELATED: 20 Tasty Spots For the Best Cheap Eats in The Valley]
1. Happy Days Café (Sherman Oaks)
Happy Days' signature sweet is their churro and if you want to try them all then we recommend ordering the sampler which comes with four churros stuffed with Nutella, chocolate, guava, and dulce de leche .
2. Lilit Bakery (North Hollywood)
If pretty is your thing, then Lilit is your spot. The family owned bakery uses edible glitter, colorful frosting and eye catching designs to create signature pastries. A couple of our top recs include the custard and strawberry stuffed croissant and the cream cheese rolls. When you visit, make sure to get in the pastry line as they also have a food line for their sandwiches and pizza.
3. Quenelle (Burbank)
Pastry chef John Park and his wife Christina opened this dessert shop in 2013 offering an array of unique and memorable homemade ice cream flavors. There are four permanent menu flavors and around a dozen experimental options like circus animals, red bean caramel and something called "purple drank." They also offer non-dairy options, cream bars, popsicles funnel cake ice cream sandwiches.
[RELATED: The 21 Best Places to Eat in The Valley That Every L.A. Foodie Ought to Try Once]
4. Republic of Pie (North Hollywood)
Republic of Pie does all things pie in the both the savory and sweet format. Among the more sugary options are the coconut, the Earl Grey, or perhaps the sweetest of all, the chocolate banana bread pudding pie. Be sure to pair your slice with a latte (they make foam art!) #doitforthegram.
5. Crème Carmel LA (Van Nuys)
Kristina de la Cruz's dessert shop features Filipino-inspired sweets built upon her success in selling her bread puddings and custards at the LA Farmers Market. Their ube upside down pie and bread puddings are the most popular items in the shop, but you'll also find even quirkier offerings such as the unicorn poop (aka meringue).
6. Porto's Bakery and Cafe (Burbank and Glendale)
Angelenos are all-too-familiar with Porto's so the mere mention of the name is probably enough to get your mouth watering. Their Cuban cakes are birthday staples and they offer some international options as well. For our money you'll never go wrong with either their cheese rolls or the refugiados (guava and cheese rolls).
[RELATED: The 15 Best Bakeries in Los Angeles]
7. Belwood Bakery (Northridge)
If you're into macarons then head over to Belwood Bakery to sample their strawberry shortcake version, which delivers a rich, almost ice-cream-like flavor you won't soon forget. If you're interested in something a bit more inventive then try the Crookie, a combination of an Oreo cookie and a croissant.
 8. Pacific Cheesecake Co. (Valley Village)
Banker turned baker Karen Freeman spent a good chunk of time perfecting the cheesecake recipe that had been passed down through her family for multiple generations. And all that hard work has paid off in the form of Pacific Cheesecake Co. So what makes these cheesecakes special? Well, for starters, they're mini! All flavors (they have around 100) are bite sized and come in sweet and savory varieties.  They also have gluten-free and sugar-free options for those with a lot of self control.
Note: If you want a whole cheesecake (8" or 10") you have to order 48 hours in advance.
9. Wanderlust Creamery (Tarzana)
Wanderlust Creamery takes you on a ice cream journey you'll be wishing you could enjoy everyday. Signature flavors include sticky rice and mango, pretzel and rugbraou, and smoked chocolate. Since the menu is sprinkled with globally-inspired ice creams, the shop also offers a "flight around the world" where you'll get 14 mini scoops to taste alone or with a friend.
10. Mercado Buenos Aires (Granada Hills and Van Nuys)
Mercado Buenos Aires is an Argentinian dessert shop that offers facturas, alfajor shortbread cookies, and jars of house-made dulce de leche, a sweet milk slow cooked and reduced to a decadent consistency familiar to caramel. Fans of milk and/or cookies will love it.
11. Owl's (Porter Ranch)
When you hear Owl's has an ice cream panini on their menu you'll probably double take, but if you try it it'll be worth it. This 'panini' is actually a melodious contradiction of warm/cold, fluffy and creamy plus the added texture from your topping of choice. The fan favorite is the cookie monster with vanilla ice cream, cookie dough, Oreo cookie, and chocolate fudge.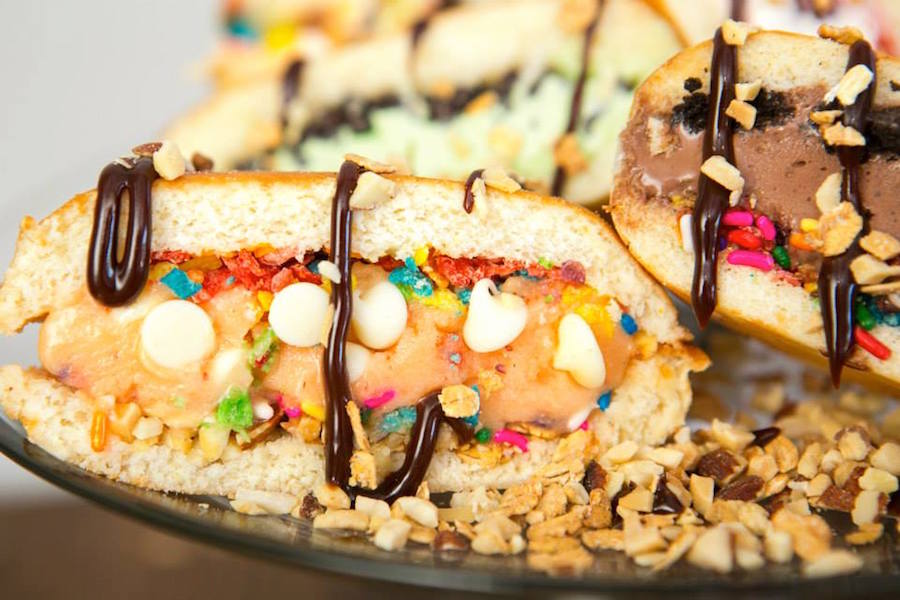 12. Claudine Kitchen and Bakeshop (Encino)
Dessert for breakfast? Why not!?! At Claudine's you'll find menu items like Cinnamon Crème brûlée French toast topped with kumquat marmalade, a Nutella pop tart and a pot de crème that's worth getting out of bed for.
13. Tart Bites (Encino)
Upon entering Tart Bites you'll note the works of edible art from birthday to wedding cakes and, of course, a large sampling of gourmet tarts. The wine jelly (yup, thats a thing!) will probably catch your eye, but we're always suckers for a slice of chocolate pecan or red velvet cheesecake tart.
14. Ninong's Pastries and Cafe (Granada Hills)
Ninong's has a devoted following for their Filipino-inspired ube specialities. The cafe offers ube pancakes, cookies, and even coffee cake. Other Filipino delicacies include leche flan from a family recipe and buko, a baked young coconut pie.
15. Crave Café  (Studio City and Sherman Oaks)
Crave Cafe is where you go when you're looking for crepes 24 hours a day. Patrons love the Nutella crepes filled with bananas or strawberries, and Crave Cafe regulars will probably also know there's a "secret menu" with dessert shakes and a Supreme Crepe stuffed with loads of fruit, Nutella, and a scoop of ice cream.