If slaving over a hot stove for hours frantically cooking for family and friends is not your thing, consider going out this Thanksgiving.
Celebrate stress free at one of the many L.A. restaurants offering pre fixe Thanksgiving menus, decadent buffets and tons of unique options from traditional to vegan, casual to even a special freebie!
Whatever you do, if your plans include dining out just remember to be thankful you're not the one doing the cleaning after everyone has feasted 😉
Rundown starts below, in no particular order, numbered only for reference.
Happy Thanksgiving!
[RELATED: 12 Spots to Get The Best Thanksgiving Pies in Los Angeles]
1. Manuela (Arts District DTLA)
Manuela, located in the Hauser Wirth & Schimmel art complex, will celebrate its first Thanksgiving with a family style feast featuring Smoked Turley, Lamb Rack, Creamed Potatoes, Green Bean Almondine, Broccoli and Rice Casserole, Corn Bread Stuffing, Sweet Potato Cheesecake and more. View the full menu here. Reservations of six or more will need to choose their proteins when making the reservation.
Price: $80 per person,  $35 for children under 12
2. Café Gratitude (Arts District DTLA)
Guests of Cafe Gratitude will receive a free composed plate of Chef Dreux Ellis' plant-based takes on favorite Thanksgiving dishes on a first come, first serve basis from 11 a.m. to 3 p.m. (or while still available). The plated feast includes: Butternut Squash & Sage Lentil Loaf, Garlic Mashed Potatoes with Mushroom Gravy, Raw Stuffing, Seasonal Roasted Vegetables, a Salad with Persimmons, and Pumpkin Pie. Best deal in town!
Price: Free!
3. Malibu Beach Inn's Carbon Beach Club (Malibu)
Who's up for a beachside Thanksgiving? The prix-fixe menu at Carbon Beach Club includes entrees like Citrus & Cider Brined Free Range Turkey, Butternut Squash Ravioli, Whole Roasted Branzino, Rosemary & Garlic Prime Rib and Kurobuta Pork Chop. View the full menu here.
Price: $75 per person with an additional fee for hand-selected wine pairings
4. 33 Taps (Silver Lake)
Have any sports fans in your family who are desperate to watch any and every game being broadcast on Thanksgiving?  Head to craft beer sports bar 33 Taps Silver Lake! They have 14 HD TVs and a rotating selection of 36 draft beers and 6 different wines. For Turkey Day they are offering an $18 prix fixe special, featuring a Dinner Salad,Roasted Turkey, Mashed Potatoes and Gravy, Brown Butter Stuffing, Green Beans and Cranberry Sauce. Add a Slice of Pumpkin Pie for a cool $4.
Price: $18
5. 555 East (Long Beach)
American Steakhouse 555 East in Long Beach is offering a prix fixe menu from noon to 8 p.m. on Thanksgiving highlighted by Roasted Butternut Squash Soup with Crème Fraîche, Diestel Family Ranch Roasted Turkey, Cornbread Stuffing with Andouille Sausage and Bourbon Pecan Pie. View the full menu here.
Price: $47 per person
6. Craft LA (Century City)
Chef Andrew Gavalla and pastry chef Shannon Swindle are hosting a Thanksgiving feast featuring savory starters, individual entrees, shareable sides and rustic style desserts. Highlights include: Gruyere & Caramelized Onion Tart, Organic Free Range Turkey, Diver Scallops, Beef Short Ribs, Sausage & Raisin Stuffing, Pumpkin Chiffon Pie and Chocolate Hazelnut Marjolaine. View the full menu here. Meal service runs from 1 to 8 p.m.
Price: $130 per person
7. 71 Above (DTLA)
Spend Thanksgiving on top of the world courtesy of Chefs Vartan Abgaryan and Gregory Baumgartner. The three course meal includes soup or salad, Roasted Turkey Breast with Brioche Truffle Stuffing & Confit Turkey Leg Fritter and shared sides for the table. Last but not least, guests can choose a dessert to end the meal. Slections include Poached Cranberries & Applesauce Sorbet, Pumpkin Pie and Choclate Custard.
Price: Adults $70 per person; Children $45 per child
8. Ivory on Sunset (West Hollywood)
Brian Malarkey's West Hollywood restaurant located at the Mondrian will host a family-style supper all day. Diners can enjoy items like Roasted Turkey, Oyster Stuffing and Butterscotch Pudding with warm pumpkin bread. Don't forget to take a photo with your friends and family Ivory has spanning views of city. View the full menu here.
Price: $65 per person
9. Cavatina (West Hollywood)
If you want to put a little rock n' roll into your day of gratitude then head to the legendary Sunset Marquis hotel and dine at James Beard Award-winning chef Michael Schlow's Los Angeles hot spot Cavatina. The Thanksgiving menu is a four course meal featuring items like Roasted Kobosha Squash Soup, Roasted Trout to Mary's Organic Turkey. A variety of shared sides will accompany the meal and an assortment of Holiday bakery confections will end the meal on a sweet note. View the full menu here.
Price: $65 per person, $25 for children 11 and under, and toddlers free of charge
10. SALT (Marina Del Rey)
SALT, located inside the Marina Del Rey Hotel, will host Thanksgiving dinner at their dockside restaurant. The holiday menu will consist of a three course meal featuring items like Japanese Yellowtail Crudo, Butter Poached Mary's Turkey Breast and Liberty Farms Duck Breast. Patrons can also indulge in dessert after their meal choosing from pumpkin pie or a savory date and caramel cake.
Price: $58 per person
11. Circa 55 (Beverly Hills)
If a brunch style Thanksgiving buffet is your thing, head to Circa 55 in the Beverly Hilton. The Thanksgiving Bubbly Brunch runs from 11 a.m. to 4 p.m. serving traditional favorites such as Roasted Turkey, Pumpkin Risotto, Mashed Potatoes, and Classic Stuffing. View the full menu here.
Price: $81 per adult and $31 for children
12. The Tuck Room Tavern (Westwood)
James Beard Award-winning Chef Sherry Yard, will host a four course pre-fix Thanksgiving meal featuring Acorn Squash Bisque, Autumn Salad, Herb Roasted Turkey and Three-layered Silken Pumpkin Pie. Pro Tip: The restaurant is adjacent to iPic Theaters if you feel like nursing your food coma with a movie.
Price: $55 per person, $20 for children 12 and younger
13. The Abbey (West Hollywood)
West Hollywood institution The Abbey will be open ready to serve a three course Thanksgiving meal for an unbeatable price.  The menu includes Lobster Bisque, Hickory Smoked Turkey with Truffle Mashed Potatoes, Haricot Vert Casserole, Brioche Stuffing, Cranberry Espuma, Turkey Gravy, Buttermilk Biscuit and a choice of Pumpkin or Apple Pie
Price: $26 per person
14. BOURBON STEAK (Glendale)
Located at The Americana at Brand, the modern-inspired steakhouse is offering guests a three-course menu of seasonal and holiday classic dishes. Highlights include: Pan-Seared Diver Scallops, 18oz Dry-Aged Prime Bone-In Ribeye, Roasted Heritage Turkey with Sage Stuffing and a Huckleberry Cheescake with Almond & Golden Raisin Granola. Each table will also have three shared sides to compliment their meal. This includes Green Beans and Mushroom Espuma, Classic Shells and Cheese, Broccoli Casserole and more. View the full menu here.
Price: $65 per person, wine pairings available for an additional $35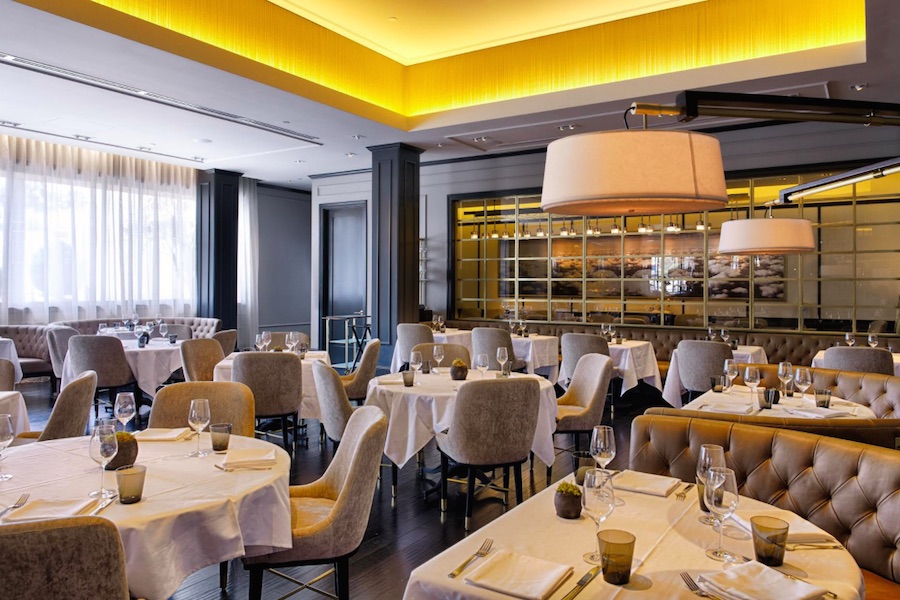 15. Napa Valley Grille (Westwood)
At Napa Valley Grille all you need to do is choose a starter, main, side and dessert from their Thanksgiving Day menu. Savory items include: Steamed Clams, Roasted Turkey Breast, Butterfish and Prime Rib. End with dessert choices of Pumpkin Pie, Warm Pecan Tart with an oatmeal rum-raisin ice cream and Cinnamon Panna Cotta. View the full menu here.
Price: $65 per person
16. Catch (Santa Monica)
Located inside Hotel Casa del Mar in Santa Monica, Catch will be featuring a three-course, pre-fixed menu prepared by Executive Chef Gemma Gray. Highlights include: Roasted Butternut Squash Soup, Mary's Farm Slow Roasted Organic Turkey with mashed sweet potato and citrus cranberry sauce, and Pumpkin Pecan Pie to finish.
Price: $95
17. The Belvedere (Beverly Hills)
The Belvedere located in the Peninsula Beverly Hills will host family-style meals that come with free-flowing Nicolas Feuillatte Champagne. Highlights include: Braised Milk-Fed Veal, Fall Harvest Beets, Kabocha Squash and Pumpkin Risotto, and Roasted Free Willie Bird Range Turkey.
Price: $135
Just a reminder if you decide to eat out on Thanksgiving, wherever it may be, be sure to call ahead regarding reservations and availability. And enjoy!