A lot of people I know tend to avoid Koreatown like the plague. Is it the lack of parking? The endless noise? The extreme difficulty that is navigating your way on Wilshire Boulevard at any time during the day?
I will tell you what is wasn't – the restaurants that make all of the above absolutely worth it. The Korean BBQ alone is cause for me to call this neighborhood my home, and it's no surprise that Thrillist recently named K-Town the #11 food neighborhood in the country.
After looking at this list, you might change your mind as well.
So without further adieu, enjoy the rundown of some of the best places to eat in Koreatown!
POT
Part of The Line Hotel, POT is home to Korean dishes, with an American twist, served in hot pots. You can chalk this up to being another one of Roy Choi's (who can be seen hanging here on the weekends) culinary stamps on Los Angeles. Also houses a stellar bar and a pretty sweet bakery. Messy eater? Not to worry! POT provides aprons for its patrons who don't want Kimichi on their shirts.
3515 Wilshire Blvd, Los Angeles, CA 90010
Kang Hodong Baekjeong
Located in the super busy Chapman plaza, this great two-story Korean BBQ is home to what could be one of the most delicious meals of your life. This is a no fuss kind of place, which is perfect if you are just in the mood to eat. Plus the staff is super friendly, for those who are nervous to cook their own meat.
3465 W6th St., Los Angeles, CA 90020
KyoChon
Ain't no thing like a KyoChon chicken wing. After being successful in New York, KyoChon has taken their sweet sauces to Los Angeles. Korean chicken wings are delicious and if you want a different wing experience, definitely check this place out. Wings come with pickled turnips, which are a fun little side treat to cool you down from the heat these wings pack.
3833 W6th St., Los Angeles, CA 90020
Belly & Snout
"A Filipino take on classic American fare" is Belly & Snout's motto. Pork is the signature item served in this fairly new establishment. If you adventure is something you crave, then go ahead and order yourself some Pork Ink or Oxtail Fries. You can also try the Sisig Hot Dog. Don't worry, for all the chickens out there, they have those type of dishes too.
974 S Western Ave., Los Angeles, CA 90006
Escala
Making a name for itself in an all Korean neighborhood, this Latin American fusion restaurant does a great job serving up some delicious tapas. Located on the corner of 6th and Kenmore, this duel level eatery offers a great ambiance with outdoor seating which is perfect for enjoying a Los Angeles evening amongst some year round Christmas lights. Another place that is home to a fantastic happy hour and the perfect spot for a Sunday brunch (if you can get parking).
3451 W 6th St., Los Angeles, CA 90020
 advertisement
EMC Seafood & Raw Bar
I can't rave enough about this place. Uni pasta, lobster rolls, calamari, and many more delectable items grace their all seafood menu. What makes this place really take the crab cake is their happy hour menu, which starts at 4pm. $1 oysters people! If that doesn't get you running, I honestly do not know what will.
3500 W 6th St., Los Angeles, CA 90020
Beer Belly
Located near the border of Koreatown, I am glad that I am able to include Beer Belly on this list. Aside from being featured on Diners, Drive-ins, and Dives, Beer Belly is famous for their duck fat fries, which make your mouth melt with their goodness. This gastro-pub of sorts is a great for late night snack food and a stiff drink.
532 S Western Ave., Los Angeles, CA 90020
Beverly Tofu House
Beverly Tofu house has been in business for almost 30 years, and it was the first Korean restaurant of its kind in Los Angeles, serving a variety of customized, made-to-order soon tofu soup creations. If it's good enough for Anthony Bourdain, it's good enough for me.
2717 W. Olympic Blvd., #108 Los Angeles, CA 90006
Deli-In
A sandwich shop for the locals. This small and easily missed gem is the go-to spot for breakfast and lunch. Featuring Spam Musubi (rice, spam, and eggs rolled up into seaweed), a variety of pupusa's, and even the more common sandwiches to quench your appetite.
3456 ½ Wilshire Blvd., Los Angeles, CA 90010
Ramen Burger
Who would have thought ramen noodles would make a good bun alternative? Chef Keizo Shimamoto thats who! Once only available in New York has become a cult favorite in Korea Town. The walk up window where you order is located right next to Lock & Key where they share a kitchen. So if you are having a drink inside the speak easy you can also order a ramen burger a win win indeed.
239 S Vermont Avenue, Los Angeles, CA 90004
California Donuts
Maybe the only 24 hour donut shop with a line. You can't miss the bright sign driving down 3rd street, just don't park in the lot its pretty hellish. The line goes quick and there are plenty of cronuts and mind-blowing donut creations to go around. People like the "Panda"- looks like a panda, Maple Bacon Bar and the Chocolate Cinnamon Roll.
3540 W 3rd St, Los Angeles, CA 90004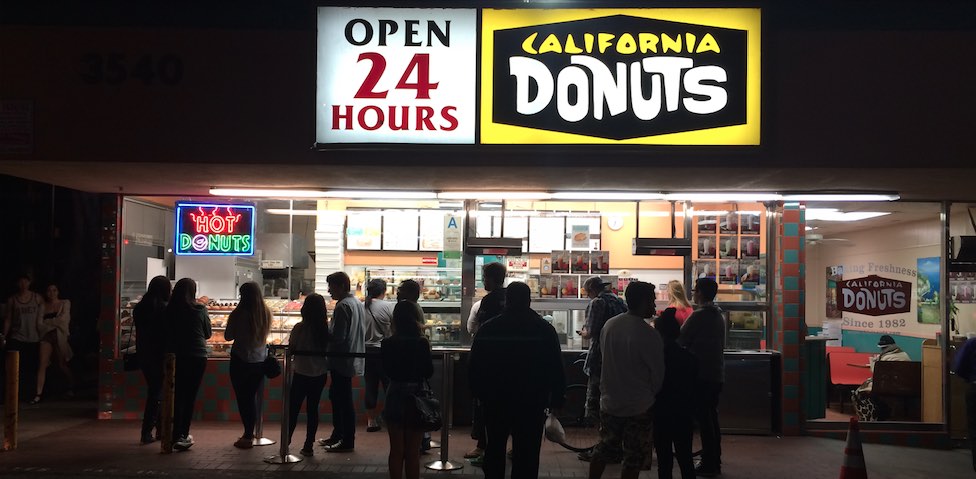 Jun Won
You know its good when only Koreans are eating here and the sign to the restaurant is in the BACK parking lot hidden from the busy main street… Oh and it's in Korean! Eating at Jun Won is like having a Korean mother cook for you. Owner Jung Ye Jun has a talent for cooking some of the tastiest fish dishes in town. Her bachan (tasty side dishes accompanying every Korean meal) selections have become so popular that she now has a store dedicated to her bachan creations on Olympic Boulevard. If you are looking for authentic Korean fare prepared with knowledge passed down from generations and fresh ingredients Jun Won is a must try.
3100 W 8th St ste 101, Los Angeles, CA 90005
Han Bat Sul Lang Tang
The hard to pronounce name should really just say "Really good kimchi and soup!." Sul Lang Tang is a soup most Koreans grew up drinking some might say it works wonders for hangovers as well. The beef infused milky white broth comes with your choice of meat from their menu. FYI this place only has two items on the menu the sul lang tang and boiled beef. So come expecting to eat either one or both! Pro tip: Food critic god Johnathan Gold suggests creating a flamingo pink colored broth with the kimchi, onions and salt. The soup comes out a bit bland to allow people to customize the flavors to their own liking.
4163 W 5th st., Los Angeles, CA 90020
The Bun Shop
If you are a buns person, the edible kind, then The Bun Shop is your place to go. Serving traditional meals in bao buns, this Asian Fusion joint has a variety of fun treats on their menu, like the pork belly bun or fried ice cream bun. As the great Sir-Mix-A-Lot once said, "Don't want none, unless you got buns, hun."
151 N Western Ave., Los Angeles, CA 90004
Holy Crab
Seafood by the pound? Holy Crab is right! Only open for dinner (and late night snacking if you must) Holy crab sells you crab legs, shrimp, crawfish, and any other seafood by the pound for you to eat there or take home in a plastic bag filled with their own garlic butter sauce. They have different levels of spice, depending on how brave you are feeling. Holy Crab is a newer addition to the Koreatown neighborhood, and boasts a much shorter wait time than it's neighboring restaurant, The Boiling Crab.
3250 Wilshire Blvd. Ste 103, Los Angeles, CA 90010
Zion Market
Strolling through Koreatown and not quite sure what to do with yourself? Stop in to Zion Market and look around. Tons of different Korean fare is sold in this compact super market. The seafood section is filled with live (and not so alive) fish that is interesting to see in itself. Oh and do yourself a favor and check out the ice cream section here, it is to die for.
3500 W 6th St., Los Angeles, CA 90020
Obviously there are other restaurants in K-Town to choose from, and these are some of our favorites. Where do you like to chow down? Let us know in the comments below!