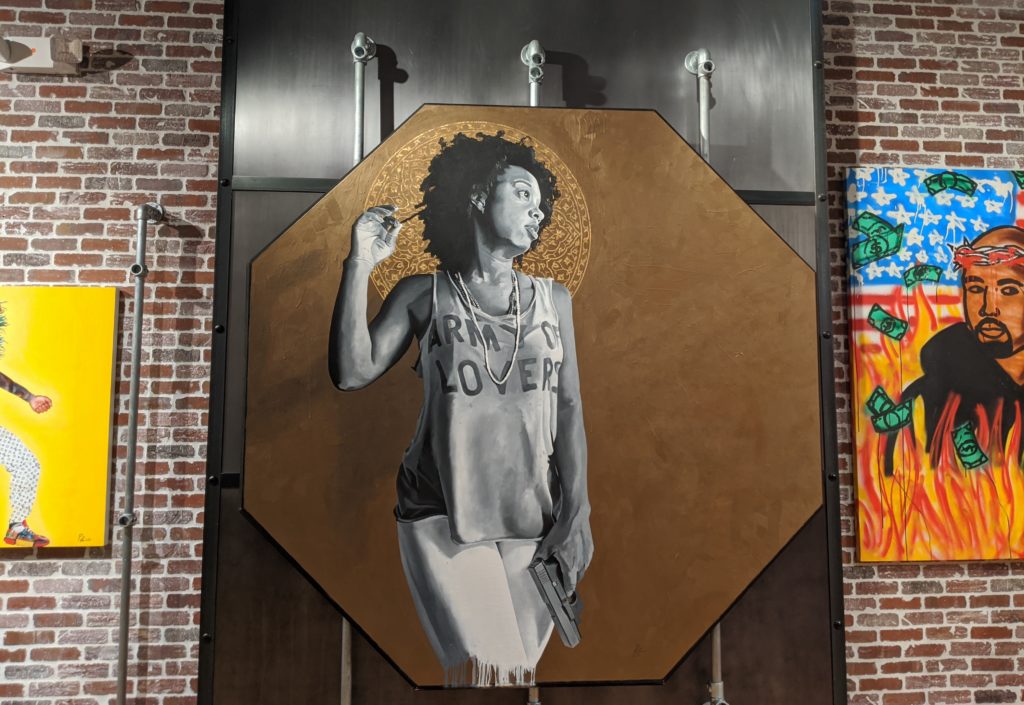 Open now at The Beverly Center is "Heirs to the Throne," a six-week pop-up gallery featuring work from Black contemporary artists. 
You'll find the gallery on the sixth floor of the mall across from artist Karen Bystedt's gallery and clothing shop The Lost Warhols. Bystedt curated the show with guest curators Diane Allen and Terrell Tilford (Band of Vices), saying via a release that she was inspired by The Broad's "Soul of a Nation" exhibit.

"Heirs to the Throne" features artists including Bradley Theodore, Robert Peterson, Travion Payne, Caviar, Allison Saar, Genevieve Garnard, Tavares Strachan, Kehinde Wiley, Sage Gallon, and Karl Kani.
Inside, you'll find Brad Branson's portraits of artist Jean-Michel Basquiat, a retrospective of fashion designer Karl Kani's work, and a hanging assemblage sculpture from Sharon Louise Barnes made from discarded industrial materials, paper, and guitar strings.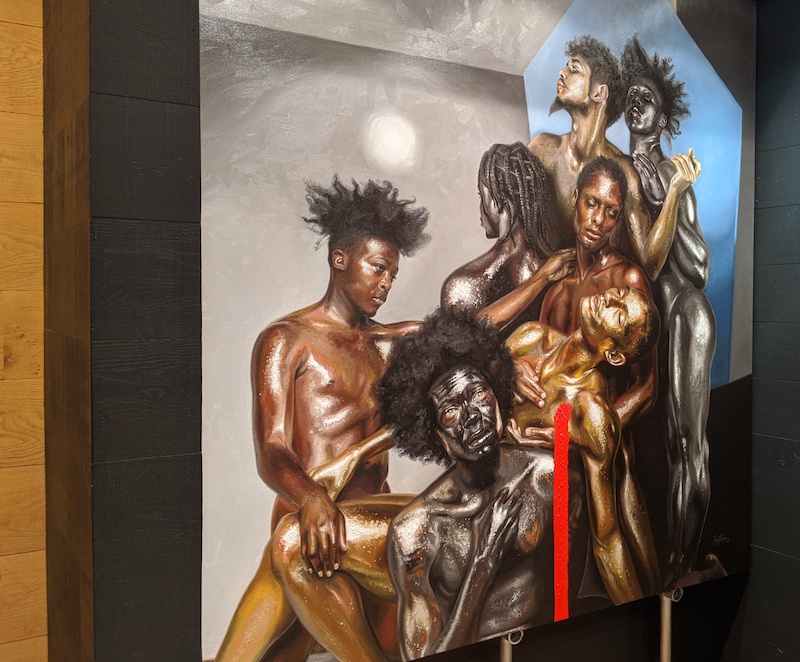 Elsewhere, Benari Kamau shows a painting from his "Army of lovers" series, a 30-piece collection about the strength of women. This one depicts a woman in a shirt that reads "Army of Lovers" as she looks off into the distance. To her side, she holds a gun. Travion Payne has two stunning paintings in the exhibit, "Golden Abundance" and "Heteronormative Death of the golden child." Per a release, Payne's work "sheds light on controversial topics that will give insight into the issues that black men face. Issues such as mental illness in correlation with religion, colorism, homophobia, and fragile masculinity within the black community." 
Opening night on Nov. 11 was a bit different than a typical art show with mask-wearing guests browsing the work in a once-busy mall that was mostly vacant otherwise. Just outside the gallery space stood a vending machine that sells PPE, including masks, sanitizer, and gloves. Or perhaps it's better to say this is what a typical art opening looks like now. Either way, the gallery is open for viewing during the Beverly Center's usual hours, and you'll have to wear your mask here and everywhere else in the shopping center. Find more information here.