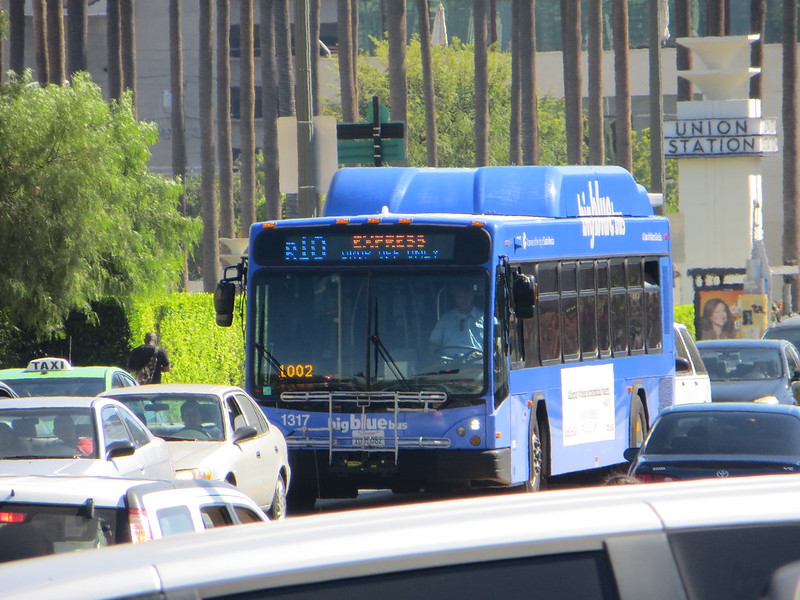 [Update: May 7, 5:30 p.m.] All L.A. Metro passengers must wear facial coverings starting May 11.

[Update: May 6, 6 p.m.:] Los Angeles Mayor Eric Garcetti announced that starting Monday, May 11, all passengers on DASH, Cityline, and Commuter Express buses, plus at LAX, must wear facial coverings.

The Big Blue Bus in Santa Monica is now requiring passengers to wear facial coverings, starting today. Meanwhile, L.A. Metro encourages wearing a mask, but many, including some drivers and L.A. County Supervisor Janice Hahn, think masks should be mandatory. 
Per a release from the Big Blue Bus, passengers must put on non-medical facial coverings before they board and must wear them for the entire ride. Exceptions apply if the passenger is a child under two or someone who has trouble breathing, is incapacitated, or can't remove their mask without help.
On Monday, Supervisor Janice Hahn sent a letter to Metro CEO Phil Washington asking Metro to require its passengers to wear facial coverings. Hahn's letter followed a report from the Los Angeles Times, in which several drivers said they felt unsafe at work. One driver told reporter Laura J. Nelson about a man he saw cough several times into his hands. The man then rubbed his hands on the seat.
Drivers also cited shortages in protective gear, including masks and sanitizer, and passengers boarding Metro for non-essential purposes despite a significant decrease in ridership since the pandemic began.
"Because so many other essential workers, from grocery store employees to restaurant workers, rely on Metro to get to and from work, Metro's decision not to require face coverings threatens to compound the spread of this virus across our County," wrote Supervisor Janice Hahn.
This echoes what one driver from Chatsworth told the Times: "If you have to wear a mask to go to Target or the grocery store, you should also need to do that when you get on a bus. You're in a small, confined space with other people."
However, Metro spokesperson Dave Sotero told the Times that a mandatory mask rule would be "physically impractical" to enforce. We reached out to Los Angeles Metro today for comment and will update this story when we hear back.
You can read Hahn's full letter here. You can also read a guide to facial coverings here.