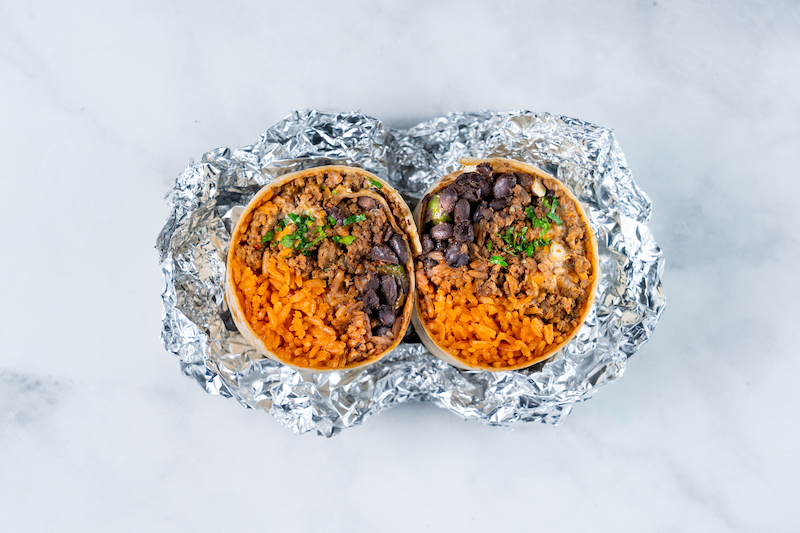 Hey, remember when new restaurants used to open up all the time? That was fun. If you're looking for something new from an old friend, Burritos Locos is a fresh delivery concept from The Madera Group (Tocaya Organica, Toca Madera). They specialize in hefty burritos, some flavors expected, others not so much.
The menu is fairly small, consisting of a handful of burritos, beer, and drinks. The burritos, however, are not small, prompting the restaurant's slogan, "We roll fatties." There's the Pablo's Spicy Beef, stuffed with spicy beef, fried Serrano peppers, arbol salsa, crema, onions, cilantro, cheese, rice, and beans ($10.95). That's one of the more traditional offerings. The Nashville Hot Chicken is a bit weirder, with spicy chicken, Nashville-style hot sauce, bread and butter pickles, rice, crema, and beans ($11.95). Other options include fried shrimp, Philly cheesesteak, the vegan Beyond Ridiculous, and the Little Loco for kids. For $2.95, you can add fries, guacamole, and locos sauce to any burrito. 

Burritos Locos will allow some employees to get back to work while the company's other restaurants remain closed to dine-in service.

"The Madera Group is a family of employees we've built over the past seven years. Our response to the current pandemic was two-fold," Tosh Berman, CEO and co-founder of The Madera Group, told We Like L.A. "One, how do we do everything we can to take care of our work family? Two, how do we comfort our guests the best way we know how, with food? With that, Burritos Locos was born. It's a concept that, once it picks up a bit of steam, will allow more of our employees to come back to work, and we're providing that crave-able comfort food in the form of unique burritos fresh off the press, right to your door."
We've been missing our local taco truck terribly, so we decided to give Burritos Locos a whirl. We tried the Spicy Beef, which was as large as they promised, meaning you could probably stretch it for two meals if you weren't famished. The beef was flavorful, but it wasn't too spicy—we ended up adding our own hot sauce to the mix because we're all about more spice. We also tried the Nashville chicken. It's also not too spicy and the bread and butter pickles are an odd, sweet, but definitely not unpleasant addition. We'd suggest Burritos Locos for when you're more than peckish, or when you're also expecting a delivery from your local dispensary.
The menu, available on Postmates, includes non-alcoholic beverages and bottled beer. Burritos Loco is now open for delivery daily from 11 a.m. to 10:30 p.m.