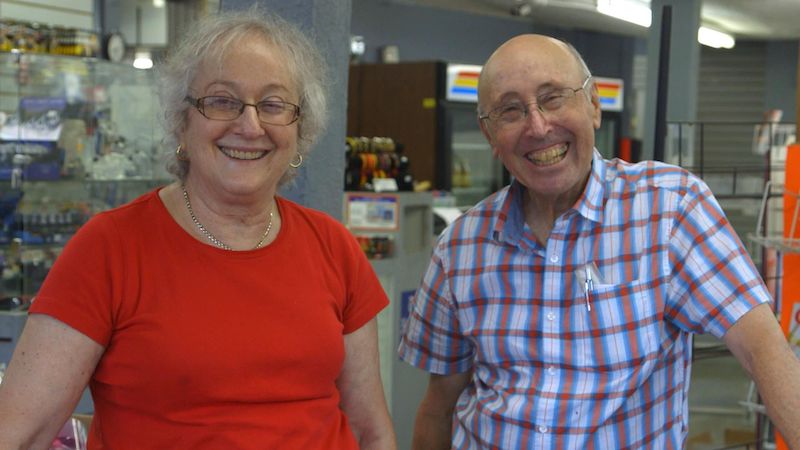 Today, Netflix dropped the documentary Circus of Books, which tells the story of the gay porn shop/bookstore of the same name. The film focuses on the perhaps surprising background of the shop's owners, a straight and seemingly straight-laced couple, Karen and Barry Mason. The film is directed by the Masons' daughter, Rachel Mason, while Ryan Murphy (Glee, American Horror Story) serves as executive producer. 
The Masons took over the West Hollywood shop in the early 1980s, later opening a second location in Silver Lake and a short-lived outpost in Sherman Oaks. Customers could buy porn, sex toys, and novelty items, in addition to non-porn books and newspapers. It became a place where gay people could not just buy adult products, but find community and meet one another in an age before online shopping or Grindr. 
Though the Masons ran Circus of Books for 37 years, they long hid their occupations from family and friends, including their three children.
"We were probably the biggest distributor of hardcore gay films in the United States, but I never felt free to let anybody know what we did," Karen Murphy says in the documentary.
The film delves into that dichotomy and also how the Masons and their store became a key part of the local gay community, changing and struggling along with it. They witnessed the onset of the AIDS epidemic, losing beloved employees and neighbors to the virus. They were once raided by the FBI and charged with distributing obscene materials. The film also highlights the Masons' reactions to their own son coming out.
In the last few years, the Masons found they could no longer compete with internet retailers like Amazon. The Silver Lake location closed in 2016, while the original WeHo Circus of Books closed in 2019.
"A lot of people are sorry to see it go, grateful it's been there all this time," Karen Mason told the Los Angeles Times last year. "And as we're closing, people are saying, 'You know, this store saved my life.'"
The documentary follows the entire history of Circus of Books, from the beginning to the end, told from the perspective of a filmmaker who could be no closer to its subject. It's a moving watch about an L.A. institution, and you can catch it now on Netflix.