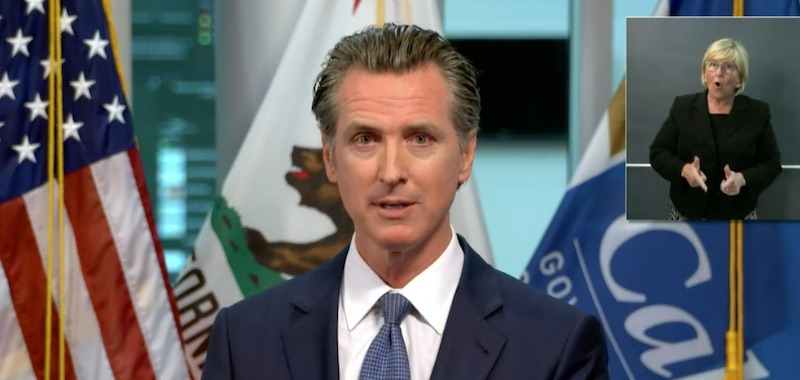 During this afternoon's briefing, Governor Gavin Newsom gave a status update on the state's six key factors for reopening and what Californians should look for over the coming months.
Chief among concerns is the state's ability to ramp up testing measures, especially for underserved rural communities and communities of color. Newsom announced 86 new testing sites aimed at these "testing deserts," as he termed them.
In total, the state hopes to increase capacity to 25,000 tests per day by the end of this month. To put that in perspective, at the end of March, the state's capacity was about 2,000 tests per day. Newsom says the next short-term goal is to average 60,000-80,000 daily tests within the next few months.
Interestingly, the state performed a survey of its 251 core testing sites to identify what resources they need to increase capacity. Almost 55% reported their number one need is swabs. According to Newsom, the state has overcome many of the diagnostic hurdles, but the ability to collect specimens at increased rates remains the number one roadblock. Newsom said he spoke with President Trump earlier today, who promised a significant deployment of swabs in the weeks to come.
Of course, testing alone isn't enough. Without a vaccine in sight, contact tracing becomes an essential tool in keeping this and future outbreaks under control. Tracing identifies close contacts of infected individuals and then follows up with those contacts for symptoms checks, testing, and recommended isolation. Deploying this practice on a broad basis helps maintain current healthcare capacity and provides the confidence necessary to loosen the current Stay-At-Home order.
To this end, Newsom announced that a new workforce of 10,000 public health connectors will be trained as part of the state's centralization of contact tracing efforts. The new workforce will build upon the existing infrastructure of local and regional healthcare workers.
The interplay between new workers and the existing healthcare infrastructure will be critical not only in tracing contacts, but also in establishing quarantine and isolation protocols once vectors of infection have been identified. Newsom thinks the state is up to the challenge.
"We're not starting our tracing program from scratch. Quite the contrary," Newsom said. "The question that's asked of us now is to do it at a scale that we have not seen."
While today's briefing focused heavily on testing and tracing, Newsom began with a slight tweak to the current Stay-At-Home order, which allows people to schedule essential surgeries such as transplants or tumor removals.
"We are working with our health directors and throughout the healthcare delivery system to reintroduce the capacity to get these scheduled surgeries…running again," Newsom said.
Despite the loosening of that one specific restriction, Newsom cautioned against being too predictive about the future.
"There's no date. If there's a date, then we're denying the facts on the ground, we're denying the reality of the spread of the virus, which is dynamic," Newsom said. "We need to be adaptive in our decision making. We don't want to debate a date."
Ultimately, "reopening" the state will depend on increased testing and tracing, as well as confidence in our hospitals' capacity to handle potential outbreaks.
"We recognize any time we begin to toggle back and start opening things back up, we have to look every day at the data, the dashboard of information coming back to make sure that we're adjusting to these new decisions," Newsom said.