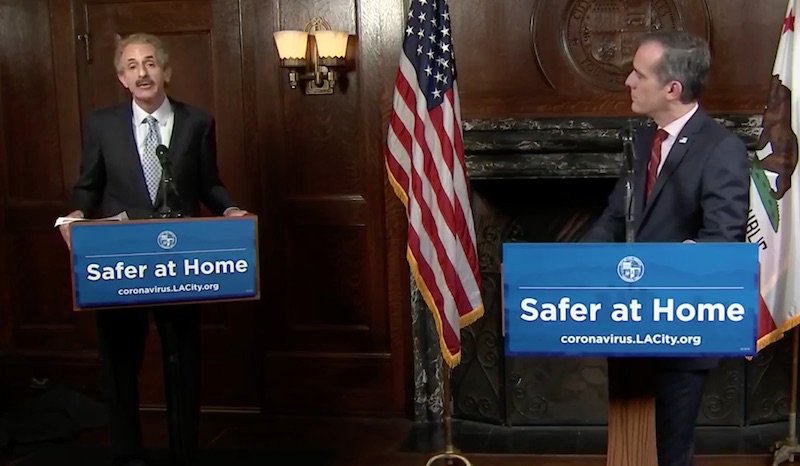 In this evening's daily briefing, City Attorney Mike Feuer joined Mayor Eric Garcetti to discuss what his office is doing to enforce the Safer at Home order and protect Angelenos from price gouging and misleading information. Here's what we learned.

Garcetti said the city's Business Ambassadors have visited over 1,000 non-essential businesses to ask them to close their doors in compliance with the Safer at Home order. Most complied, though Feuer said that the LAPD has referred 79 businesses to the City Attorney's office for misdemeanor consideration. Ten additional businesses have been prosecuted on top of the four that were previously announced. They include a print shop, a spa offering massages, a beauty supply store, and a smoke and vaping shop.
"I absolutely understand the intense need for businesses to be open and make money again," Feuer said during today's briefing. "They have bills to pay and employees whose livelihoods depend on them. We get it. But nonetheless, maximum compliance is absolutely necessary. This is a moment when a shared sacrifice will enable all of us to get back to normal as soon as possible."
Citizens can report non-essential businesses that have remained open using this form.
The City Attorney's office is also working to ensure no one, including both internet and brick-and-mortar retailers, are participating in price gouging. Price gouging is defined as increasing an item's cost more than 10% following an emergency. As an example, Feuer cited a large quantity of hand sanitizer that increased from $129 to $249. If you encounter price gouging, you can report it here.
And finally, Feurer talked about the city's effort to shut down scammers or any businesses selling or promoting unapproved tests, treatments, or cures. This includes any at-home COVID-19 tests you might see.
"You should know the FDA has not approved any home tests for you to use," Feuer said. "Any test that is being sold now that purports to be at-home is a test that you can't trust."
The City recently settled with Yikon Genomics, Inc., a company selling at-home coronavirus tests for $39 each. The company was required to stop advertising and selling its product and issue refunds to all of its customers. If you are experiencing COVID-19 symptoms, you can register for a free test here. Garcetti announced today that L.A. County now has the capacity for anyone with symptoms—not just those most at-risk—to receive same-day or next-day testing.
As far as treatments and cures, Feuer mentioned they've investigated claims that vitamin C and cruises to warm destinations would help one battle or avoid coronavirus. Those claims are, as you probably guessed, not substantiated by the FDA or any medical authority. If you come across a claim that seems fishy, you can report it here.