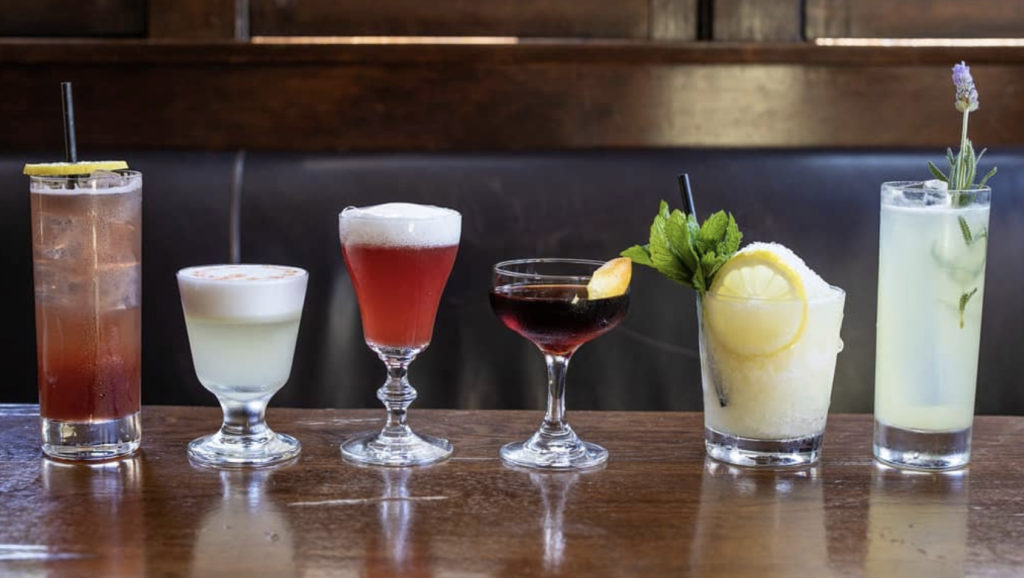 Sheltering in place doesn't mean forgoing happy hour. Mayor Garcetti has approved restaurants and bars to deliver alcohol straight to your doorstep.
Many places have a lot of booze in storage and now, they would appreciate if you helped them drink it. Below are places where you can grab a bottle of wine, a cocktail kit, and local beer. Bottoms up!
Hippo in Highland Park is hosting Thirsty Thursdays. Between 1-3 p.m., you can put in an order for custom cocktails to-go. All you need to do is answer three questions. Spirit of choice? Shaken or stirred? One word of inspiration? Then, they'll whip up something special that you can pick up anytime after 5 p.m. All cocktails cost $11 each. If you want a variety of drinks for the fridge, consider the five-pack of to-go cocktails (pictured above) for just $38. Call (323) 545-3536 or send a request via Instagram DM @Hippohighlandpark.
The Conservatory is offering cocktails in a carafe. The carafe serves six, options include Lavender Sage Martini, White Sangria, Bloody Mary and more. Price ranges from $20 to $30. Delivery through app GrubHub and Postmates. Takeout is also available at the location.
Onda in Santa Monica is offering a large selection of wine, beer, and cider for takeout and delivery. They also have a 'Mystery 4 Pack of Wine!' put together by the sommeliers Erin Rolek and Mackenzie Hoffman. Get four bottles of red, white, or a mix of both for $100. Pre-batched margaritas are also available for pickup and delivery from Postmates.
The San Fernando Brewing Company in Northeast LA is offering to-go and delivery service on a variety of 22 oz bottles and 16 oz cans. They'll also fill any growler, any size on-site.
Broken Spanish in DTLA is offering batched cocktails that serve three people (or three rounds to yourself if you are flying solo). The restaurant's signature drinks, like the Broken Spanish Margarita ($18) and El Zocalo ($19), are available, plus bottles of El Silencio Mezcal and wines from Corona Del Valle in Baja Mexico, Argentina, and more.
Manuela in the Arts District has created five pre-batched cocktails for purchase with food for to-go and delivery orders. Drinks include Old Fashioneds, Whiskey Pimms, and the Archie, made with beet-rested Loft & Bear vodka, oro blanco, and lemon.
OTTO sake bar in Echo Park has daily selections of bottles available for delivery. Call (213) 900-4900.
Ronan in the Fairfax District is offering bottled cocktails to be enjoyed in the comfort of your home. Available on Postmates and by calling (323) 917-5100.
The Thirsty Merchant in Valley Village is offering wine starting at $15, beer, growlers, 2-for-1 cocktails, and Frosé to-go.
Boomtown Brewery in the Arts District is offering their beers and growlers for pickup.
Playa Provisions in Playa del Rey is now offering house-made cocktails including premixed margaritas in assorted flavors, various mules, and barrel-aged old fashioneds. They also offer assorted beers and wines, like a bottle of specially blended Playa Provisions Roxy Red or Playa Provisions Rose, Boomtown Brewery Limelight IPA, Henri Bourgeois Sancerre Les Baronnes Blanc, Union Sacre Confidential Cabernet, and more. Add to any pickup or UberEats order by calling (310) 683-5019.
Carbon Beach Club in Malibu is now offering beer, wine, and cocktails with all curbside orders.
Urban Plates locations are offering 50% off all bottles of wine. Available for take-out and curbside, no-contact pick-up.
Same Same in Silver Lake will be marking down all wine purchases for anyone who orders directly from the restaurant. Bottles start at $21.
Cocktails served in reusable mason jars from The Raymond 1886 in Pasadena are available for delivery through GrubHub, DoorDash, and Postmates. Wine and beer are also available. For 10% off your bill, call the restaurant directly at (626) 441-3136.
Golden Road Brewing is offering six-packs of their beer, including their amazing Spicy Mango Cart, for just $7. Get mix and match cases for $25. They've also got prepared food and pantry items. Order pickup or delivery here.
Vintage Wine + Eats in Studio City is offering 40% off bottles of wine to-go (50% for Wine Club Members). Neighborhood delivery is available for orders of six bottles or more with 24 hours notice.
Madre, located in Torrance and Palms, is offering alcohol delivery with a food purchase of equal or greater value. Options include a $15 beer kit with michelada mix that serves six, a six-pack of beer for $12, wine, and signature Madre cocktail mixes.
Spread Kitchen is offering to-go cocktail kits from several local bartenders, including Jessi Smyth of Genever and Big Bar's Cari Hah. Choices include the Cafesito (El Silencio mezcal, coffee-infused Campari, amaro, orange peel, halva) and the Eastside Spritz (Mulholland gin, cucumber mint shrub, spiced soda). Get four servings for $30 or eight for $50. Half of all proceeds will go to the bartenders.
VERVET, a local sparking craft cocktail company, is giving a portion of proceeds from deliveries to UCBG Bartenders Fund and the Restaurants Relief Program.
Check out Cellars.LA, too. It's an aggregator of restaurants selling off their inventory.
Put all the purchased booze to good use. Get expert drink recipes to level up your at-home-happy-hour by following Cocktail Academy on Instagram and supporting their #atipforatip initiative. Each post will feature a cocktail recipe from a bartender you can virtually tip. Cheers to that!