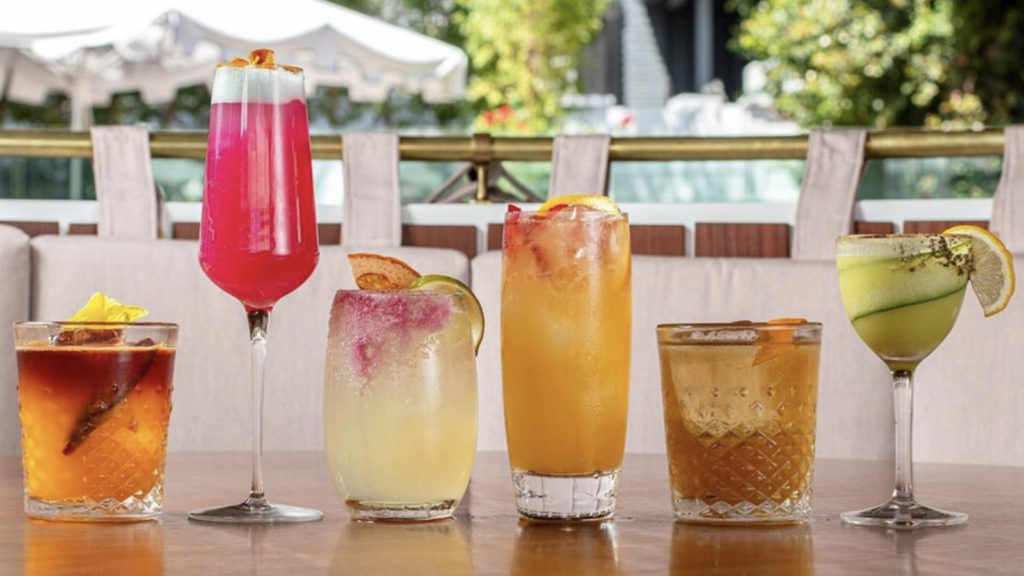 Bars are once again closed but this doesn't mean you have to forgo happy hour. Mayor Garcetti has approved restaurants and bars to deliver alcohol straight to your doorstep.
Many places have a lot of booze in storage and now, they would appreciate if you helped them drink it. Below are places where you can grab a bottle of wine, a cocktail kit, and local beer. Bottoms up!
Tex Mex spot Bar Amá in DTLA offers a frosé kit for $39, bottled margaritas for $40, a michelada kit for $16 plus a selection of beer and wine.
Big Bar in Los Feliz is mixing, shaking and stirring dreamy cocktails to be enjoyed on its garden patio or in the comfort of your home. Wednesdays are BAM night where $20 gets you a Big Bar Burger and a martini made with Sipsmith Gin. Individual cocktails to-go run $12-$14. Bottles of beer, wine, and spirits are also available.
Casa Vega in Sherman Oaks is probably the only place where you can pull up to a drive-thru and pick up margaritas and cervezas. Try the Casa Vega Classic margarita; the recipe is 67 years old!
The Conservatory in West Hollywood is offering cocktails in a carafe that serves six. Options include Bloody Mary, Brunch Punch, and more. Prices range from $30 to $40 for delivery and pickup.
Veteran bartender and writer Hope Ewing's VERVET is delivering canned sparkling craft cocktails to Angelenos. Ingredients are all-natural and Ewing takes it a step further by creating in-house bitters, vermouth, amari, and her own craft spirits with the help of Ventura Spirits. There are four cocktails to choose from.
Natural Wine lovers can order from Tabula Rasa in East Hollywood. From cans to bottles, the selection is surprisingly affordable; bottles range from $12-$22. They also have a variety of beers, including sours and IPA along with sakes and ciders.
The San Fernando Brewing Company in Northeast L.A. is offering to-go and delivery service on a variety of 22 oz bottles and 16 oz cans. They'll also fill any growler, any size on-site.
Block Party Highland Park has 64 oz growlers from popular breweries for $25, bottled cocktails (750 ml) for $24, cocktail kits, hard seltzer, hard kombucha, and bottles of wine. If variety is what you're looking for, mix six canned drinks from the menu for only $30.
Broken Spanish in DTLA is offering batched cocktails for three on its bar-to-go menu. The restaurant's signature drinks, like the Broken Spanish Margarita ($21) and El Zocalo ($27) are available, plus bottles of Sotol Pizcadores and Pueblo Viejo Reposado, wines from Valle de Guadalupe, and more.
Manuela in the Arts District has pre-batched cocktails for to-go and delivery orders. Drinks include a Yuzu Sour, Vesper, and more.
Tam O'Shanter in Atwater Village is offering its full cocktail list and whiskey flights to be enjoyed at home. The Lawry's Margarita, Raspberry Martini, and Don Draper's Old Fashioned are popular choices. For a limited time, they're also doing 25% off bottles of wine to-go.
OTTO sake bar in Echo Park has daily selections of bottles available for delivery. Call (213) 900-4900.
The Thirsty Merchant in Valley Village is offering $15 bottles of wine, $6 2-for-1 beers, $19 growlers, $10 2-for-1 cocktails, and a 16 oz mystery cocktail served in a reusable mason jar for $10. A food purchase is necessary.
Petty Cash in the Fairfax District has spicy habanero pineapple margaritas in 5 oz and 16 oz bottles and lots of other libations, spirits, and beers. 
Boomtown Brewery in the Arts District is offering its beers and growlers for pickup.
Hippo in Highland Park offers single-serve $10 cocktails and brain freezers a.k.a. ice blended drinks, plus $29 large-format cocktails (serves 4) for to-go and delivery. If you want a variety of drinks for the fridge, consider the five-pack of to-go cocktails for $38.
Ronan in the Fairfax District is offering bottled cocktails that serve two for $16, plus bottles of wine and $5 draft beers.
Playa Provisions in Playa del Rey is offering house-made cocktails including premixed margaritas in assorted flavors, various mules, and barrel-aged old fashioneds.
Post & Beam in Baldwin Hills is offering three bottled cocktails for $12 each to enjoy at home. Options include Hurricane, Hard Lemonade, and a Watermelon Margarita.
Santa Monica's Birdie G's offers a large menu of pre-made cocktails that serve three for $32 or six for $60.
If you were an avid patron of Harvard & Stone and miss its cocktails, give LiveWire a try. The canned cocktail company features two H&S star bartenders'—Aaron Polsky and Joey Bernardo—creations. The four-pack costs $19.99 and shipping is free. Individual $6 cans are found at Bar Keeper in Silver Lake as well.
Silverlake Wines offers a curated selection of wine, spirits, and beer. You can easily find a variety of organic, biodynamic, and natural wines at affordable prices here.
Culver City's Hatchet Hall is offering up some delicious and stunning seasonal cocktails for takeout.
Free delivery and shipping is being offered at Angeleno Wine Co. Bottles of local natural wines run $22-$30.
Thai spot Same Same in Silver Lake offers several eclectic bottles of wine and interesting beers like Smog City Saber Tooth Squirrel Amber ($5) and a $7 Tom Yum lemongrass and ginger pale ale.
Highland Park Wines is open for delivery and pickup with a selection of curated wines, vermouth, mezcal, vodka, and more. Locations at Highland Park and Pasadena are both open.
Urban Plates locations are offering bottles of wine available for takeout and curbside, no-contact pickup.
Buvette in Sherman Oaks is several perks at the moment, including 30% off bottles of wine to-go, buy-four-get-one-free bottles, a $10 Brown Bag Special (mystery wines), and free delivery on six bottles or more. They also host weekly Wine School nights on Zoom.
Local organic spirits maker Greenbar Distillery rolled out a number of new canned beverages including a line of spritzes, pre-made cocktails (highball), and non-alcoholic bitters with soda.
Madre, located in Torrance and Palms, is offering a beer kit with michelada mix that serves six plus beers, wines, and other signature Madre cocktail mixes.
Downtown Mediterranean eatery Spread Kitchen is offering several bottles of wine for under $20 including a $17 Greek semi-sparkling Paleokarisio Orange Wine.
Carbon Beach Club in Malibu is offering $8 beer, bottles of wine, and $15 cocktails with all curbside orders.
Golden Road Brewing is offering six-packs of its beer, including its Mango Cart wheat ale, at all pub locations.