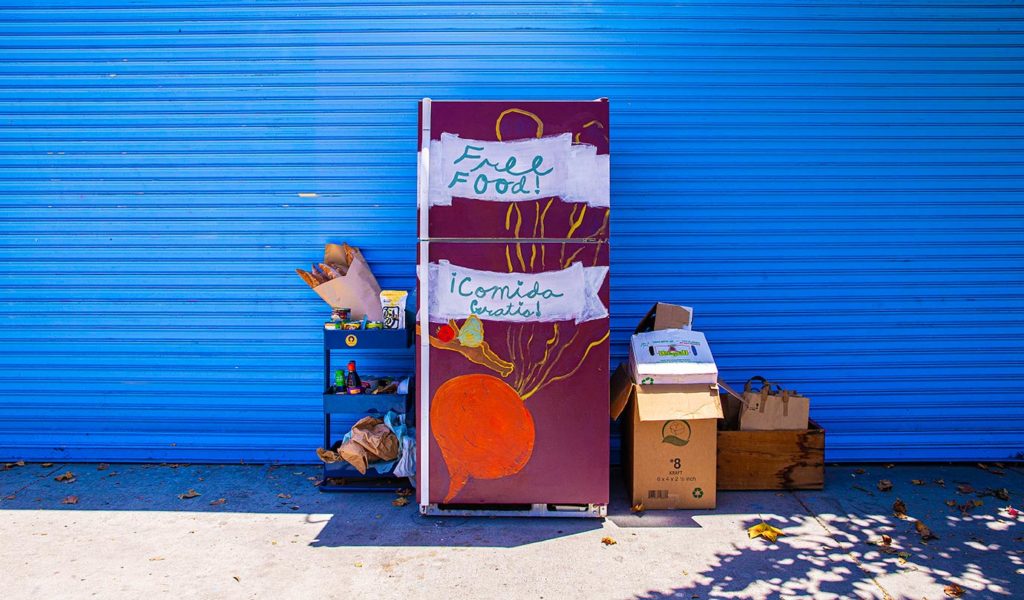 Well-stocked fridges are springing up in neighborhoods across Los Angeles County, providing free food to whoever needs it, no questions asked.
These fridges are a direct response to the growing number of people in the city affected by food insecurity. The nation is four months into the pandemic and unemployment in Los Angeles County alone stood at 19.4% in June 2020, according to the Employment Development Department (EDD). These are hard times.
LA Community Fridges is the grassroots organization responsible for the movement. With a network of over 60 organizers, the community-run project works with people who volunteer their outdoor space and electricity to host a fridge.
The project is then "powered by the community," as stated on LA Community Fridge's Instagram page. The public is invited to stock the fridges with produce, canned goods, and prepared foods. The initiative is to cut down on food waste and provide access to fresh food for all. So far, a dozen fridges have been placed around the county.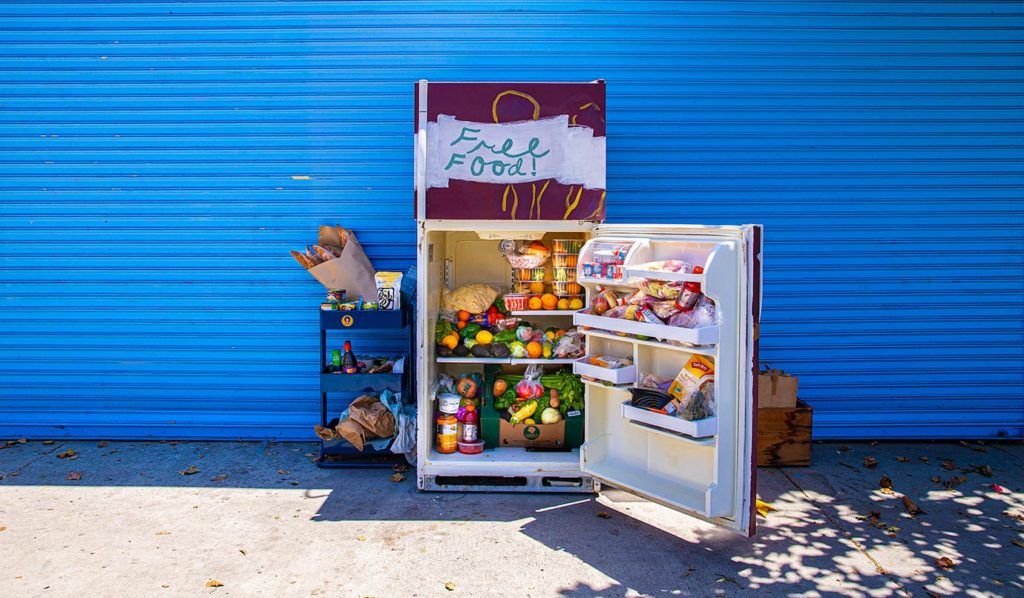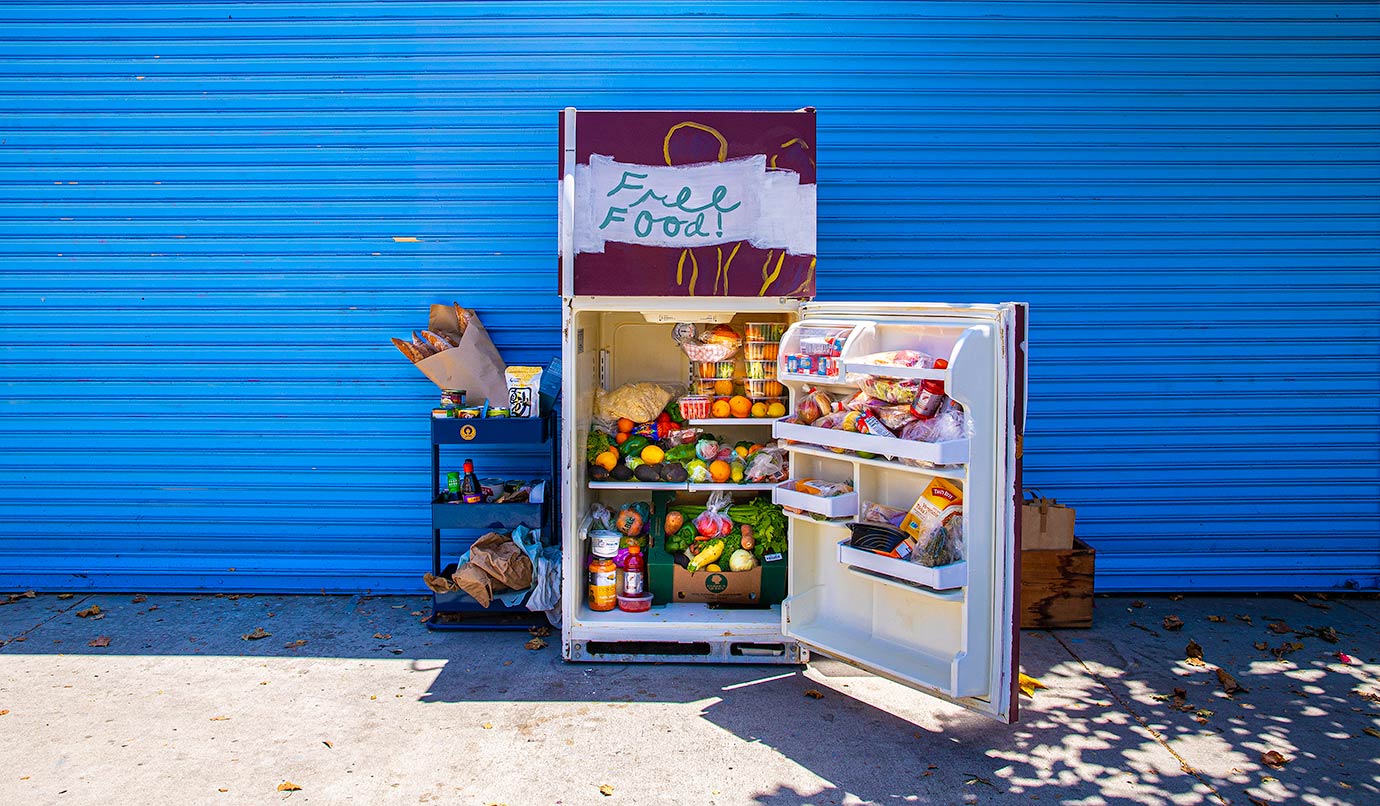 The L.A. Food Bank reports an estimated 2 million people in the county live with food insecurity. That means 1 in 5 people don't know where their next meal will come from. The pandemic has only exacerbated lines at food banks and pantries, and those who don't have a car to transport the goods might even forgo the assistance altogether. At a community fridge, there are no lines and no forms or questionnaires to fill out. Everyone is free to take as needed and in private.
The fridges are hard to miss with their colorful makeovers and messages like "This fridge belongs to you" and "Comida Gratis." Information about the project is provided in several languages, including Spanish and Chinese. Some even have side pantries to store dried goods. Most also have their own Instagram page.
Little Amsterdam Coffee Shop owner Joshua Mock was approached by an organizer while his team was already contemplating ways to help the surrounding community. The set-up was quick. LA Community Fridge dropped off a fridge at the coffee shop, and the community stocked it up with food. Mock enlisted artist Mary A. Harris to paint the fridge with a mural.
The response to the "Lil Mid City Fridge" was immediate, both from people giving and people receiving. Mock estimates at least 10 people stop by to use the fridge in a single day.
"It's an ongoing back and forth thing. They stock. People take. They stock. People take again," he said.
It's unclear how long these fridges will be in operation but Mock sees this collaboration between Little Amsterdam and LA Community Fridge as a stepping stone to positively impact his community.
"I hope to see consistency and people being compassionate and understanding that there are people that need help. We can't ever forget that regardless of how many days go by, weeks, months, there's always going to be someone that needs something. If you can lend a hand and help out, why not?" he said.
Even if the project dissipates, Mock says he'll find a way to keep giving back to the community.
"I'm going to keep the fridge going forever because people are gonna be hungry forever," he said.
When we reached out to LA Community Fridge about the program, a representative said, "We are currently working on our internal structure." But for now, it's on the volunteers and the generous public that make these fridges work.
Each location has its own maintenance protocols. For example, the Little Amsterdam team cleans its fridge on a daily basis. They also bring it inside the store at 8 p.m. every night to prevent food tampering or someone accidentally taking it away. Recently, the Long Beach community fridge hosted by Play Nice ran into some issues with the Health Department. The store decided to transition to a pantry system instead.
For more information on the project, including a list of fridge locations, and how to volunteer your space, visit the LA Community Fridge website here.