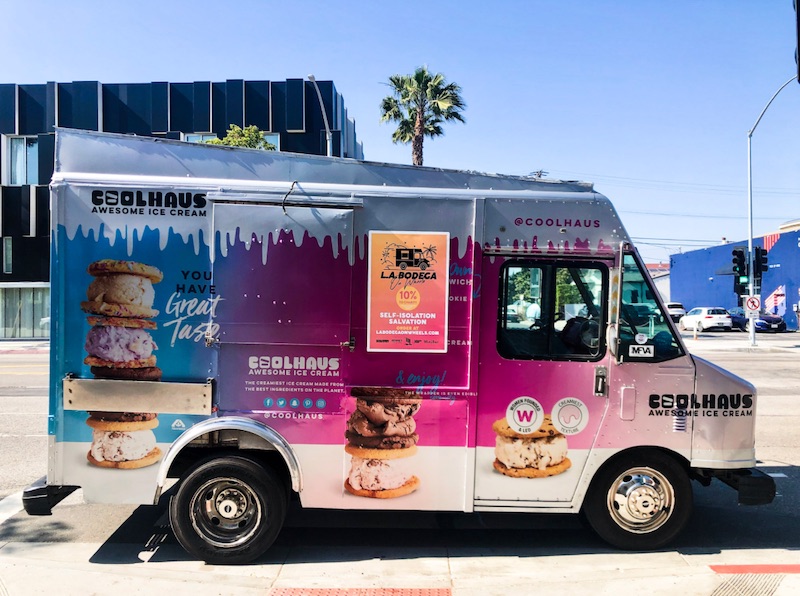 Ice cream brand Coolhaus is now using its fleet of ice cream trucks to deliver food, pantry items, booze, and dessert to Angelenos. The new service, L.A. Bodega on Wheels, launches tomorrow. But if you're located within the delivery radius, you can start placing your orders online now. 
Bodega on Wheels is a partnership among Coolhaus, 101 Coffee Shop (which offers the food and pantry items), and alcohol-providers Future Gin, Minibar Hollywood, and VERVET. The project not only puts some employees who would otherwise be out of a job back to work, but also donates 10% of all proceeds to charities including L.A. Regional Food Bank and Opportunity Fund's Small Business Relief Fund. 
The Bodega's sizeable menu consists of four sections: Staples, Food, Sweets, and Booze. 
In the staples section, you'll find all those pantry items your local grocery store might be out of. Flour, loaves of fresh bread, pasta, rice, produce, milk (cow, almond, and oat), and the ever-elusive toilet paper. And it's not a small roll either, but the big rolls commercial businesses like 101 Coffee Shop would use. It may not fit on your toilet paper holder, but it'll get the job done. 
The food menu consists of prepared sandwiches while Coolhaus's ice creams and cookies round out the sweets menu. For booze, you can get mini bottles of Future Gin paired with tonic, pre-mixed cocktails from MiniBar, and canned sparkling cocktails from VERVET.
"When this pandemic flipped our lives over, VERVET was only nine months old and faced with an unexpected crisis to survive," VERVET founder Tuan Lee said. "Coupled with our own struggles was the shock and distress of seeing everyone around us suffer. It was awful. Enter the power of community. We were able to connect and combine forces with the amazing people behind these beloved L.A. businesses to create this mobile pop-up, taking the idea beyond what any of us could do alone."
VERVET's Tiki Tea—prickly pear vodka, oolong tea, lime, ginger, allspice, clove, and vanilla—sounds pretty refreshing, frankly.

Deliveries start Tuesday and will run daily through Saturday, April 11, from 10 a.m. to 6 p.m. (This is a test week and we'll hopefully see more dates from the Bodega on Wheels in the days to follow.) There is no additional delivery fee, but you must reach $50 each order. You also must be in the delivery radius, which includes ZIP codes 90004, 90005, 90006, 90010, 90019, 90020, 90027, 90029, 90028, 90036, 90038, 90046, 90048, 90068, 90069. See the delivery map here. Contact-free delivery is available upon request.
For more info and to place an order, visit L.A. Bodega on Wheels here.