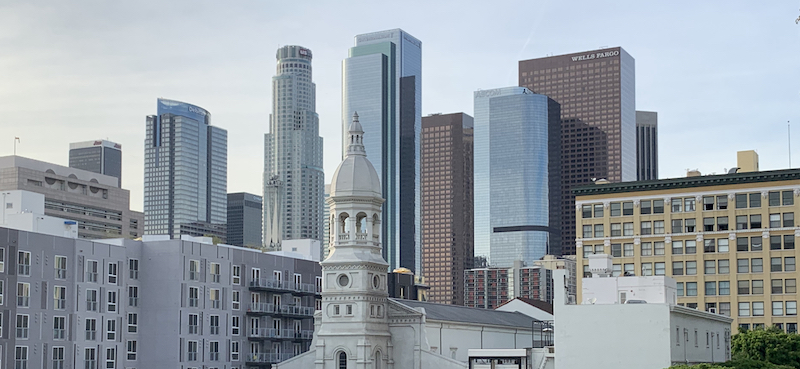 [UPDATE, May 31, 12:18 p.m.] The citywide curfew returns tonight, Sunday, May 31, from 8 p.m. to 5:30 a.m.
[UPDATE 8:45 p.m.] Mayor Garcetti has asked for 500-700 members of the National Guard to be deployed.
[UPDATE 7:08 p.m.] Mayor Eric Garcetti announced via Twitter that the curfew will now be in effect for the entire city of Los Angeles beginning tonight at 8 p.m.
Shortly before 4 p.m. today, L.A. Mayor Eric Garcetti announced a curfew for downtown L.A. beginning tonight at 8 p.m. This comes in the aftermath of last night's protests, which resulted in some 500 arrests, vandalism, and looting, according to the Los Angeles Times.
Protests have been widespread across the nation following the deaths of George Floyd in Minneapolis and Breonna Taylor in Louisville, both of whom were killed by police, and Ahmaud Arbery near Brunswick, Georgia, who was gunned down by a group of white men.
The curfew area extends from 101 Freeway on the west to Alameda on the east, and from the 10 Freeway on the south up to the 101 Freeway on the north. According to a tweet from the LAPD, no one will be allowed in public or on the streets. "Violators subject to arrest," the tweet reads.
Today, hundreds also gathered at Pan Pacific Park in another protest, ultimately marching to the 3rd and Fairfax area. We were at that protest today until 2:30 p.m. The protest was peaceful the entire time we were there. We observed organizers and volunteers offer attendees water, face masks, and hand sanitizer. Shortly before 3 p.m., an LAPD car was set on fire near Fairfax and Beverly.
Garcetti said there is no plan to place a curfew on Fairfax at this time, but repeatedly encouraged protestors to leave the area during his briefing. When asked if he would consider calling in the National Guard, Garcetti said no.
Of note: one key part of the L.A. demonstrations revolves around the Mayor's budget, which allocates 54% of unrestricted funds to the LAPD. Protestors are instead advocating for a People's Budget, which you can read more about here.