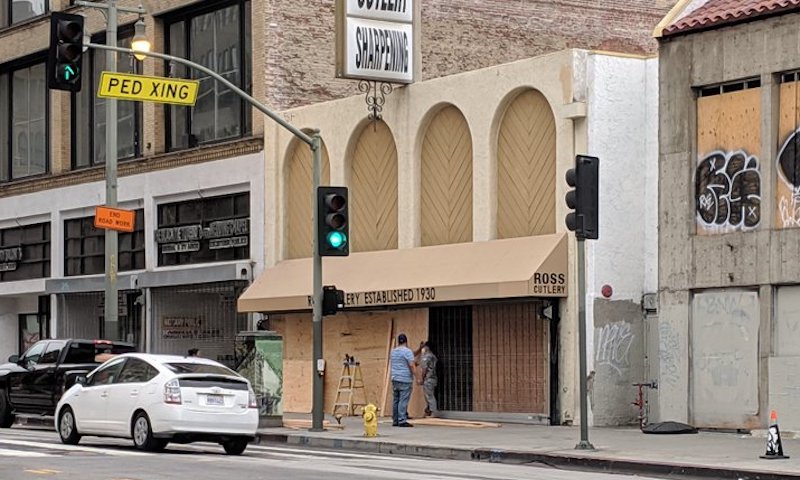 [UPDATE: 4:44 p.m. A countywide curfew has been announced by the Los Angeles Board of Supervisors. The curfew is effective at 6 p.m. tonight and runs through 6 a.m. tomorrow morning.]
Today shortly after noon, L.A. Mayor Eric Garcetti announced another citywide curfew from 8 p.m. tonight until 5:30 a.m. Monday morning. This will be the second night in a row of a citywide curfew in response to reports of looting and vandalism.
Yesterday also saw the early closing of COVID-19 testing sites and the shutdown of public transit services. Garcetti addressed both closures in his briefing.

Yesterday, testing sites across the city closed two hours early. Garcetti said this was because some site volunteers said they didn't feel safe.
The sites always take Sundays off, so none are open today. Garcetti said some sites will remain closed tomorrow, but the city's largest testing site at Dodger Stadium and the walk-up site in South L.A. at the Kedren Community Health Center will both be open tomorrow. If you already have an appointment, you can still go tomorrow. New appointments may be pushed to later in the week. You can register for a free test here.
DASH service remains closed on the following routes for the rest of the day: Downtown (A, B, D, E, F); Beachwood Canyon; Fairfax; Hollywood; Hollywood Wilshire, and Los Feliz.

Metro Sunday service resumed this morning. Metro has since apologized for stranding passengers without a way to get home last night and has offered to reimburse anyone who had to call a rideshare or taxi service. You can call 323-GO-METRO or email CustomerRelations@metro.net for more info.
At this time, it's unclear what service Metro might offer tonight. At 12:34 p.m., Metro tweeted: "We are working on confirming Metro service information and will update as soon as possible. Please stay tuned."