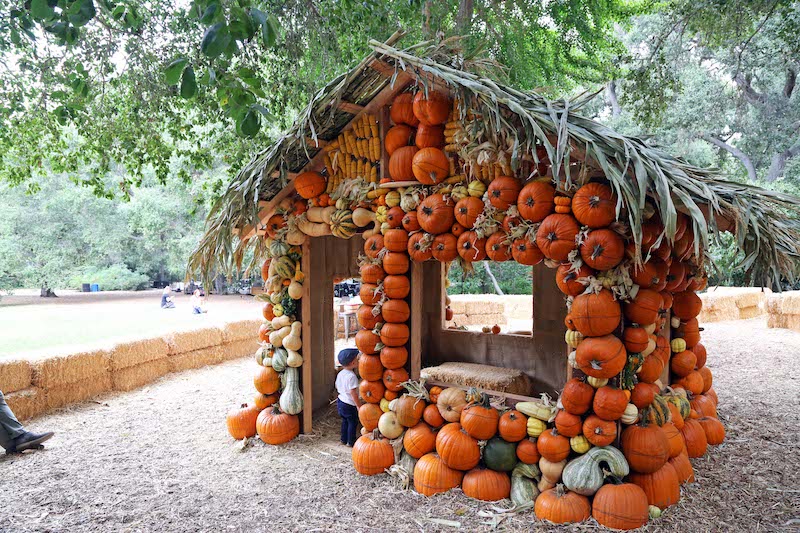 Descanso Gardens has announced a month-long fall exhibit for those of you who get really into decorative gourd season. "Halloween at Descanso" is a socially distant, "pumpkin-filled extravaganza" that takes place October 1-31.
The exhibit is suitable for all ages, so don't worry about this Halloween event being too scary. Instead, expect a winding hay maze, a house built entirely out of pumpkins, a pumpkin arch that leads to a forest filled with pumpkin-headed scarecrows, and colorful pumpkin mandalas. The pathways that lead to the Hilltop Gardens, the Japanese Garden, and the main promenade will feature hand-carved jack-o-lantern boxes.
During your visit, you can also stop by The Kitchen at Descanso for autumn bites, including seasonal soups, caramel corn, and churros.
For families, kids 14 and under are welcome to wear their Halloween costumes, and from October 17-31, kids will also get a small treat bag.
"Halloween at Descanso" is open October 1-31, 9 a.m to 5 p.m. daily. October 26-31, extended hours include 5-8 p.m. On Halloween, extended hours are reserved for Family Plus members. Tickets are $4-15 and must be reserved in advance to ensure social distancing. Please note that tickets are currently being released in waves. So, tickets for September 26 through October 2  will be released on Tuesday, September 22 at 10 a.m. See the release schedule here.
Descanso Gardens and several local botanic gardens have already reopened with COVID-19 safety modifications for anyone looking for a safe outdoor activity. If you stop by now, make sure to walk through the Camellia and Oak forests. You'll hear "The Sky Beneath Our Feet," an immersive sound installation from composer Pete Wyer. It's played on 72 speakers at 10 a.m., noon, 2 p.m., 4 p.m., and 6 p.m. daily through September 30.

Related: 'Haunt'Oween' Offers Drive-Thru Trick-or-Treating, Pumpkin Patch
Freeform Announces Free Drive-Thru Halloween Event