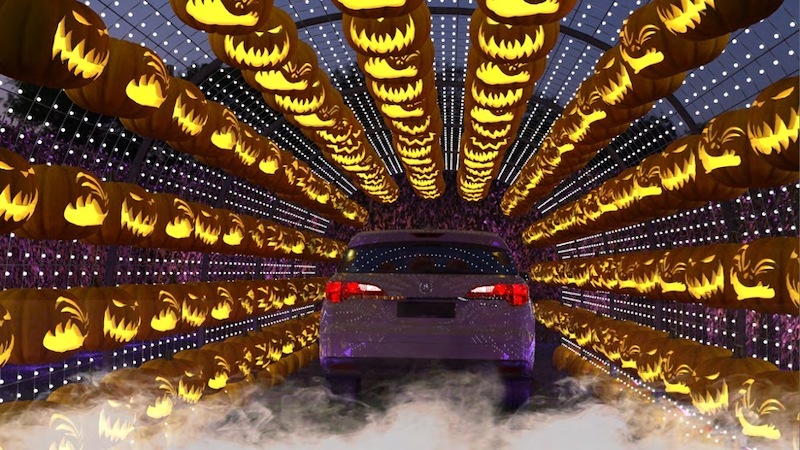 We've got yet another drive-thru Halloween event on the calendar, something that's becoming quite common as we enter autumn while still in the COVID-19 pandemic. This one's called "Haunt'Oween LA" and it comes from Experiential Supply Co. It's a family-friendly experience in Woodland Hills where you can still trick-or-treat while social distancing.
Haunt'OWeen takes place on Topanga Canyon Blvd. daily October 9-31 from 3-9 p.m. Families can enjoy trick-or-treating, photo ops, and scenic drives through jack-o-lantern tunnels, all from within the safety of their vehicles. It'll be spooky, but not scary, so it's appropriate for all ages, and kids will leave with candy and a pumpkin they can carve at home.
"Our kids are facing so many challenges right now, and we didn't want the pandemic to ruin Halloween! We decided to create something relevant and exciting that could bring the whole L.A. community together," Experiential Supply Founder & Chief Experience Officer Jasen Smith said via a statement.
How do you trick-or-treat while in your car? Well, there will be two streets lined with decorated homes. Costumed characters, all wearing masks and gloves, will come out and extend a bucket with individually wrapped candy for the taking. When you get to the pumpkin patch, you'll choose your pumpkin from within your car. Each pumpkin will be sanitized, wrapped in a plastic bag, and placed in a either a drive-up container or your trunk. The whole experience is expected to last 25-35 minutes.
For added safety, all drivers and passengers must either have their windows up, or you can roll them down if you're wearing a mask. Halloween is a great time to wear a mask, after all.
Tickets for Haunt'Oween are $70 per vehicle, available here.

What else is coming up this Halloween? Well, L.A. Haunted Hayride has also announced a drive-thru format where cars travel down an ominous path, then park to enjoy a show. Freeform has pivoted its annual Halloween event into a drive-thru, too. Freeform's Halloween Road will place guests in scenes from popular Halloween films, all from within their cars. For those not into drive-thrus, The Montalban will host a socially distant exhibit of horror and sci-fi props called Icons of Darkness this fall.