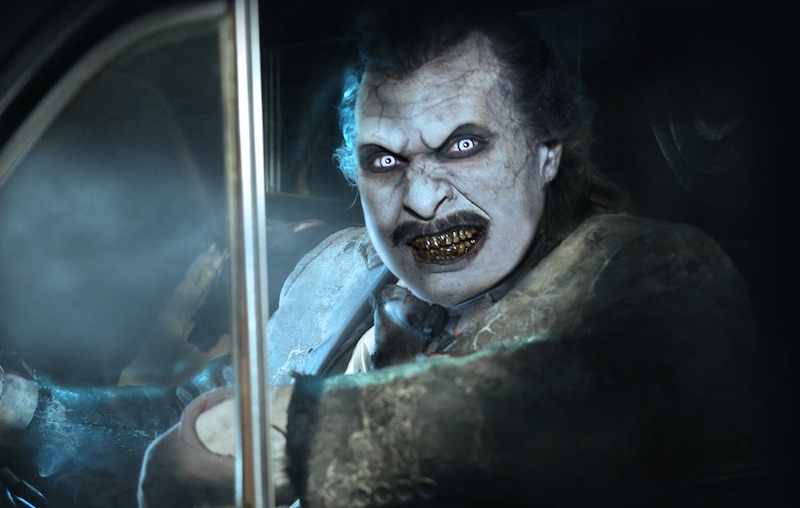 Los Angeles Haunted Hayride isn't canceling this Halloween. Instead, it's coming back with a new "drive-up" experience. Tickets go on sale tomorrow. 
This version of Haunted Hayride will be much different from previous years. No more boarding a crowded trailer stuffed with hay and slowly cruising through Griffith Park, as fun as that's always been. This year, you'll stay in your car as you drive down the ominous "All Hallows Lane" to your final destination: a narrative, multimedia show that unfolds via lighting, sound, special effects, creepy sets, live actors, and a 40-foot screen. 
The story will riff off last year's Midnight Falls, a small town full of horrible residents and cursed locales.
One of this year's other big changes is the venue. According to Thirteenth Floor Entertainment Group creative director Jon Cooke, bringing a line of cars into the usual spot at Griffith Park just wasn't possible. So this year, the portal to Midnight Falls is in San Dimas at Bonelli Regional Park. 
As summer draws to a close, most of SoCal's major Halloween attractions have already canceled for 2020, including Universal Studios Hollywood's Halloween Horror Nights, Knott's Scary Farm, and the Queen Mary's Dark Harbor. However, the upcoming spooky season still has a few tricks up its sleeves, including a Stranger Things drive-in haunt coming to downtown L.A. this October.
Los Angeles Haunted Hayride: Live Drive Up Experience runs September 25 through November 1. Tickets start at $49.99 for one car with two passengers. You can purchase yours beginning tomorrow at noon here.