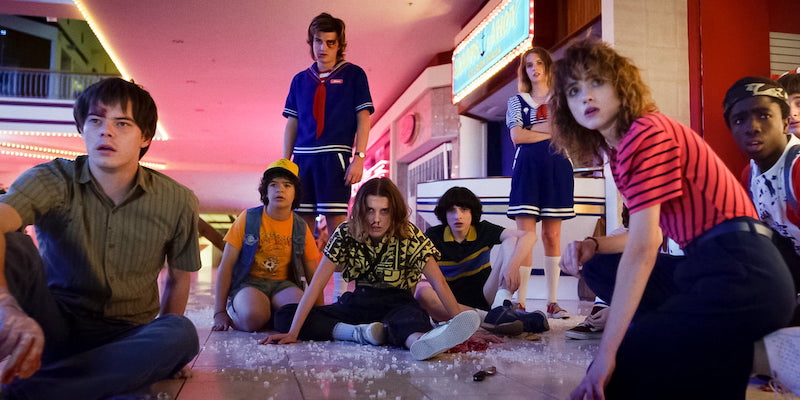 Update, Oct. 13: Tickets sales for the Stranger Things Drive-Into Experience have been extended through March 7, 2021. Buy them here.
The town of Hawkins, Indiana will come to downtown Los Angeles this October for a "drive-into" Stranger Things experience. 
"Stranger Things: The Drive-Into Experience" comes via Netflix, Fever, and Secret Cinema. It's an hour-plus tour that takes place entirely in your car. Though the exact location hasn't been announced, we do know you'll drive through a multi-level set (perhaps a parking garage?), stopping along the way to enjoy vignettes from the sci-fi series. You'll visit the Starcourt Mall, underground Russian labs, and, of course, the Upside Down. Expect actors, special effects, and fully immersive scenery—so, sort of like a spooky car wash.
"Stranger Things has always been larger than life and we wanted to flip the world upside down for our fans," Greg Lombardo, Head of Experiences at Netflix, said via a release. "So buckle up like Billy is driving, keep your eyes on the neon lights, and steer clear of the shadows because there's no telling who or what you might come across in Downtown Los Angeles this October. Whatever you do, don't get out of your car!"
Tickets start at $59 per car and go on sale August 26 at noon. Interested parties can sign up for a waitlist starting today to be among the first to snag tickets.

Most major Halloween events in Los Angeles have already canceled, including Universal Studios Hollywood's Halloween Horror Nights, Knott's Scary Farm, Queen Mary's Dark Harbor, and West Hollywood's Carnaval. However, we can usually expect a little innovation from L.A. So far, at least one drive-through haunt has been announced for Orange County, with rumors of other socially distanced scares percolating among local haunters. Hopefully, Halloween fans can count the Stranger Things drive-into experience as a harbinger for even more events this fall.