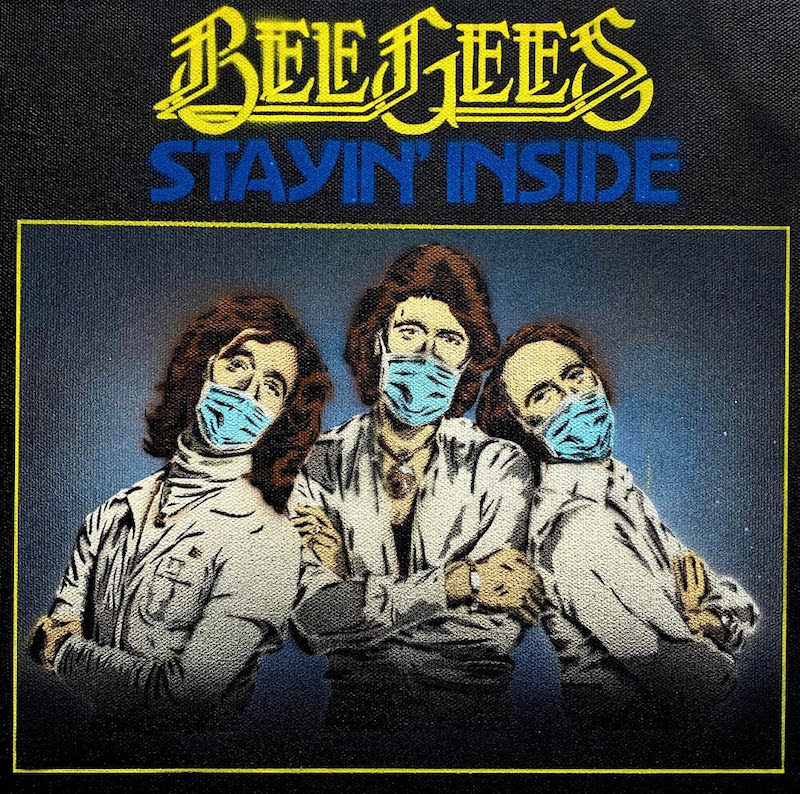 We used to tell you about all the things you could go out and do in Los Angeles on a daily, weekly, and monthly basis. Then, the coronavirus pandemic changed life for all of us, in a thousand small and massive ways. For a while, we posted strictly virtual events to keep you entertained and connected from your home. As the state, county, and city slowly reopen, we'll also include a mix of things you can do outside the house while still abiding by local health orders. We'll still offer plenty of online options for those of you who are self-isolating or who've decided to stay at home for the time being. We'll post a new list of options every Thursday morning. We hope they keep you busy, make you laugh, teach you something, or help you feel less alone.
This week, we've got a new downtown sculpture garden, a queer mini-golf course, fun food pop-ups, virtual art shows, several online film fests, outdoor spin and ceramics classes, Twitch dance parties, and more. Have something you want to submit for next week? Hit us up: [email protected].
---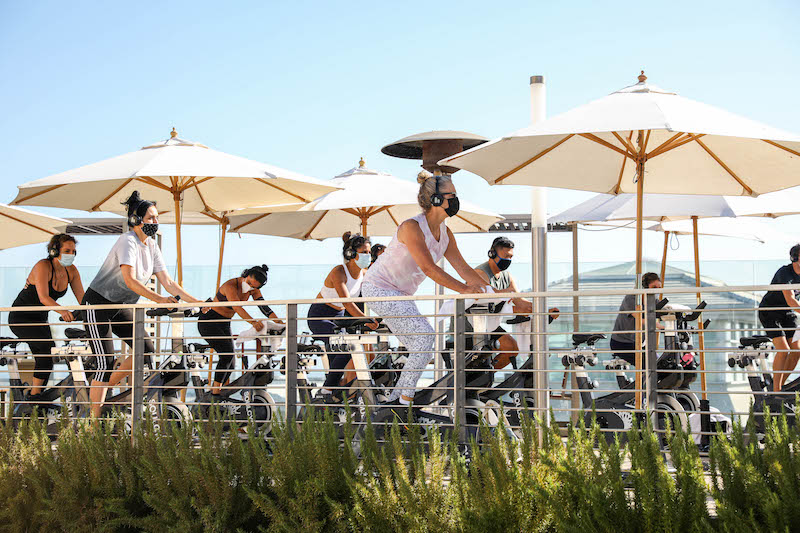 Out-of-the-House Events
The Graham Garden at Halo in downtown Los Angeles is now open. Here, you'll find four of artist Robert Graham's bronze fountains. Find more info here.
In the mood for ice cream? Salt & Straw has three new camping-inspired ice cream flavors for August: Buttermilk Blueberry Pancake & Eggs, pancake batter ice cream with griddled blueberry coffee cake pancake bits, Vermont maple syrup swirls, and brown sugar bacon bits; Cast-Iron Cornbread with Huckleberry Jam, salted vanilla coconut ice cream with huckleberries and skillet grilled cornbread; and Salted Hazelnut Praline S'Mores. Available by the scoop or pint for pickup and local delivery through September 10.
Wonder Holes is a socially distant mini-golf course in Akbar's parking lot in Silver Lake on August 22 from 2-7 p.m. The theme is "LA Queer Vibes" and it features "outrageous putts by L.A. artists." Timed tickets for parties of four allow you to only interact with your group as you advance through the course. Masks required. Tickets are $40 and proceeds benefit Gender Justice L.A.
ArtCenter Exhibitions presents a series of street-facing window exhibitions titled Up All Night at ArtCenter DTLA and the Peter and Merle Mullin Gallery in Pasadena. The video works feature a diverse range of artists contemplating the conditions of isolation and community. Up through August 31 and free to observe.
Happy Ice, the psychedelic icy treat, hits the road this summer with a Happiness Tour providing a sweet cooldown for Californians and beyond. This Friday, August 21, the truck will stop by Stonewood Center in Downey.
Songbird Cafe in Chinatown will host a Smash Burger, Fries & Ice Cream pop-up this Saturday, August 22 featuring neighbors Lately flipping the burgers and Scoops serving cold treats including alcoholic ice cream flavors. Songbird's signature $6 cocktails will also be available that day. RSVP is highly recommended to reserve outdoor seating.
Las Palmas is a new Tulum-inspired pop-up from E.P. & L.P. Outdoor brunch reservations are available for parties of four or six on Saturdays and Sundays from noon to 4 p.m. Options include a chorizo breakfast burrito, chicken & churro waffles, shrimp and corn grits, and cocktails like rosemary sangria and Palomas by the glass or pitcher.
For National Bacon Lover's Day, get a free order of bacon fat popcorn from Slater's 50/50 in Pasadena and Huntington Beach with any food purchase. Also, they'll have $5 Bacon Bloody Marys and $5 Bacon Old Fashioneds all day long.
Santa Monica Place and SoulCycle now offer SoulOutside, an outdoor spin class that takes place on Santa Monica Place's roof. Bikes are spaced six feet apart and guests must wear masks at all times, including when cycling. Classes are available daily through mid-October for $30 each. Packages available online. More info here.
Still Life Ceramics launched Pottery in the Park, a new series of open-air, socially distanced classes held in its "park" designed space. Options include one-time classes on Sundays, a Rosé and Clay session on Fridays, and month-long classes.
Levity Live's Improv hosts the Improv Live Comedy Drive-in Series through September 5 at the Irvine Spectrum Center. Tickets start at $125 per vehicle. See who's playing this week here.
Pick up some vino at Vinovore's new "wine window." The window is inspired by a recent trend in Italy, in which some restaurants are reopening their wine windows. Wine windows date back to the 16th century and were used, in part, during the bubonic plague.
SugarMynt Gallery in South Pasadena is home to a spooky art gallery located behind the Michael Myers house from Halloween. They host outdoor movie nights Thursdays through Sundays with admission to the gallery. Upcoming films include Monster House and Poltergeist. BYO chairs, blankets, and food. Social distancing will be enforced during the screenings.
Sanctuary Fitness has a new outdoor format featuring Saturday HIIT Class and Thursday Sunset Yoga on ROW DTLA's rooftop. Each class costs $15.
The Cat Cafe is currently offering virtual and IRL experiences. You can spend 45 minutes with kitties at the cafe every Friday, Saturday, and Sunday with a reservation. On August 22, the nonprofit will also host a virtual meet and greet and a virtual comedy fundraiser.
Eataly LA will host cocktail pop-ups from Ventura Spirits on its outdoor rooftop patio, Terra, every Thursday in August. A portion of the proceeds will go to Restaurants Care, which provided financial relief to restaurant workers throughout California.
Employees Only turned its parking lot into Summer Social Club featuring a roster of weekly, socially distanced events paired with food pop-ups and cocktails. Happening every Wednesday through Sunday in August, events include movie nights, yoga sessions, and even hair cuts via The Barber Truck. Food activations include brunch hosted by Salt's Cure (Saturday and Sunday), Tacos Tu Madre (Thursday), Bareng Burgers (Wednesday & Friday), EO Tiki Thursdays, and a new sustainable raw seafood pop-up by Chef Brian Bornemann called Crudo e Nudo on Saturday and Sundays.
Board and Brush in Santa Monica has moved its art workshops outdoors. Choose from projects like home decor, doormats, cornhole sets, planters, and more. Adults may drink wine, kids get Capri Sun.
Concerts in Your Car is a drive-in music/performance series in Ventura. See this week's full schedule and ticket information here.
At-Home & Online Events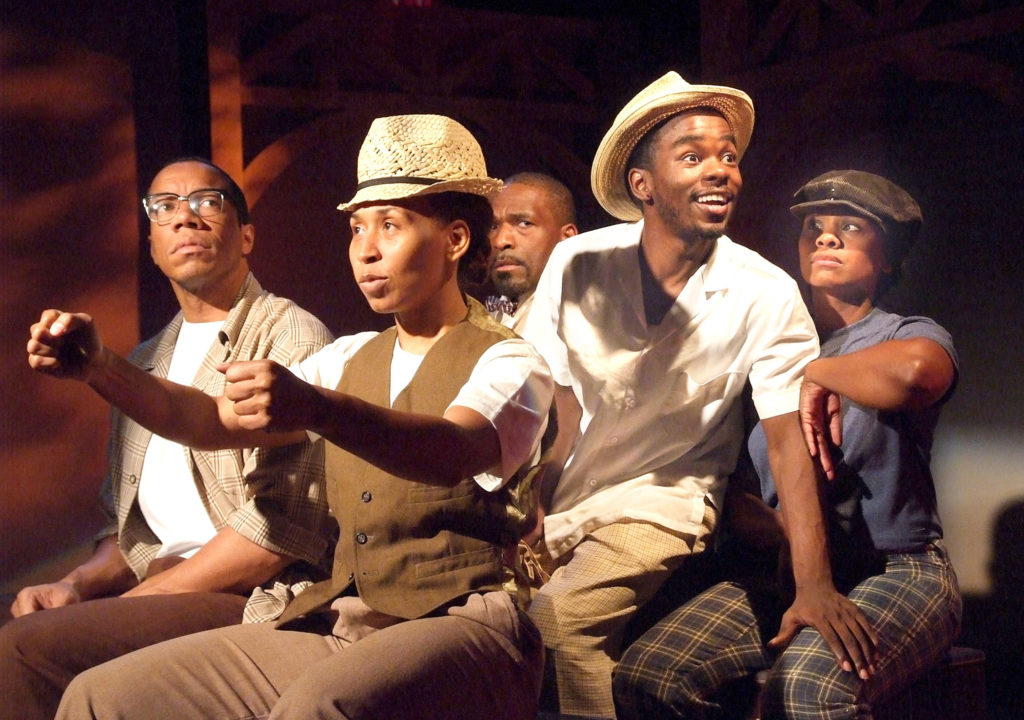 The original cast of Fountain Theatre's The Ballad of Emmett Till reunite for a livestream reading of Ifa Bayeza's play on August 28 at 4 p.m. Per Fountain Theatre: "Part history, part mystery and part ghost story, Bayeza's lyrical integration of past, present, fact and legend turns Emmett's story into a soaring work of music, poetic language and riveting theatricality. The Fountain's 2010 West Coast premiere was twice extended and won a combined total of 14 Los Angeles Drama Critics Circle, Ovation, Backstage and NAACP awards for production, direction, playwriting and ensemble." Tickets are $20.
Sky's Gourmet Tacos is expanding to DTLA this Friday. To celebrate the grand opening, they're offering $2 tacos (chicken, ground beef, ground turkey, carnitas, or potato and cheese) from Friday, August 21 through Tuesday, August 25. Orders via delivery platforms. Please note that the DTLA location only offers delivery and pickup; no dine-in service is scheduled at this time.
Outfest Los Angeles LGBTQ Virtual Film Festival is August 20-30. Programming includes both virtual and drive-in screenings. Check out the lineup here.
Self Help Graphics & Art presents The Very Very Very Long Day, a virtual group exhibition featuring artists documenting their collective experiences during the COVID-19 pandemic. The exhibition opens virtually August 22 and runs through September 25.
Saved by the Max, a Saved by the Bell-themed diner that opened in L.A. in 2018, returns August 20-25 with food, drinks, and merch. Available for pre-order for pickup or patio dining.
The 24th Annual American Black Film Festival is August 21-30. The entire fest is online this year. Check out programming here.
Remix: The Art of Music is a virtual exhibit of music-inspired art from Gabba Gallery and Adopt the Arts. Check it out here starting August 20 at 11 a.m.
The ever-innovative Alcove/Big Bar folks have several lovely to-go cocktails so you can have date night or Zoom happy hour at home in style. Options include a St. Germain Sprit kit for two (or more); bourbon, scotch, brandy, and agave flights; and individual cocktails. This is on top of their food, bakery, coffee, and pantry options. Order through their website or via Instagram.
For kids!: A Faery Hunt is offering $5 screenings of their children's shows on Saturdays and Sundays at 10:30 a.m. and 2 p.m. Check them out here.
On August 23 at 11 a.m., LA Commons presents Queens of Soul Connect Us to the Ancestors: Diaspora Dialogue with Adunni (Orobiyi Motunrayo Abiodun) from Adunni & Nefertiti and Jimetta Rose. Register here.
The 19th Annual Municipal Green Building Conference & Expo is online August 21&22. Check out lectures, workshops, tours, demos, and more from local sustainability leaders.
Have you filled out you 2020 Census yet?
Bar Sinister celebrates its 22nd anniversary with a virtual dance party on Twitch. DJs will play all your favorite Goth, Industrial, and Alt tunes from 9 p.m. to 12:15 a.m.
New Filmmakers LA presents a day-long film fest on August 22 starting at 9:45 a.m. Catch virtual screenings and Q&As that include animated works from around the world, California shorts, and work from the L.A. presented by Councilmember Bob Blumenfield.
The Corey Helford Gallery presents three online exhibitions this Saturday, August 22: Okuda San Miguel's The New Digital Love, Marie Larkin's Birds of Paradise, and Bruno Pontiroli's A Rebrousse-Poil. Join the gallery for a virtual opening on Instagram Live at 2 p.m. or view the exhibits online afterward here.
S.K.A.M. founder and CEO Sujit Kundu will host a 24-hour music livestream on August 24 that features 24 DJs across five countries. DJs include Lil Jon, Pete Wentz, Samantha Ronson, Irie, and more. It kicks off on Twitch on August 23 at 11:59 p.m.
The UnCabaret's next Zoom show is on August 23 at 7:30 p.m. This week's lineup includes host Beth Lapides with Alec Mapa, Julia Sweeney, Drew Droege, Jen Kirkman, Alex Edelman, Guy Branum, Jamie Bridges, and musical director Mitch Kaplan. Free and paid tickets available here.
Join the Art Deco Society on August 23 at 3 p.m. for an online discussion of Harlem Renaissance Fashion with Camara Holloway and Elizabeth Way. Tickets are $14 or $10 for members.
On August 24 at 7:30 p.m., the Los Angeles Museum of the Holocaust presents a virtual reading of Jeff Cohen's play Righteous. Synopsis: "'Righteous' is the true story of Eduard Schulte, a captain of German industry and member of Hitler's inner circle, who warned the world of Hitler's plan to murder all of the Jews in Europe. Schulte's alarm reached the desk of President Roosevelt in December 1942." Suggested $10 donation.
Catch the virtual premiere of MashUp Contemporary's Expansiveness: Changing Perspective on August 23 at 5 p.m. The dance performance first happened at the A+D Museum in 2018, but this virtual offering will be performed live at MashUp's studio "creating a sensation of being in the action" as you watch at home. Tickets are $10.
Artist Luchita Hurtado died on August 13 at 99 years old. Read LACMA curator Jennifer King's celebration of the artist's life and legacy here.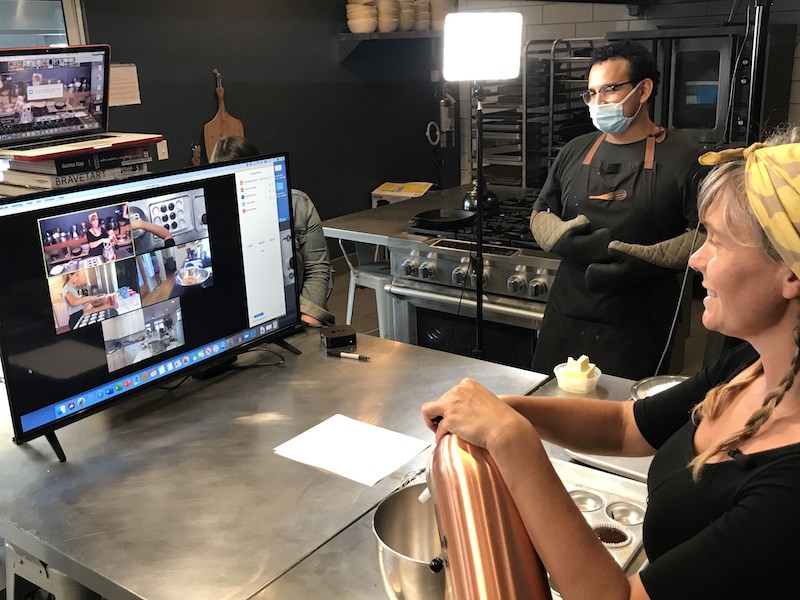 The Gourmandise School at Santa Monica Place offers weekly online cooking and baking classes via Zoom. Check out the calendar here.
The Fowler Museum and Jitlada will host a cooking class on August 21 at 4 p.m. Chefs Jazz and Sugar will teach you how to make Chili Basil Stir-Fry. Get your ingredient list upon RSVP.
Salute Your Shorts Film Festival takes place as a drive-in on August 21 in Simi Valley and online August 22-29. As the title may imply, it's a curated selection of shorts from around the world. The mantra is "film with an aftertaste." Check out this year's programming here.
Starry Internet presents DJ Soupersam live on Twitch on August 20 at 7 p.m. Expect house music, R&B, and old-school hip-hop.
The Music Center presents INSIDE LOOK: Alvin Ailey American Dance Theater on August 23 at 2 p.m. Watch here.
See artist Charles Gaines's new works in Numbers and Trees: Palm Canyon, Palm Tree Series 3, now online at Hauser & Wirth.
No Us Without You and Tecate are teaming up on a four-part Latin music livestream and benefit concert series. El Patio Tecate opens on August 21 at 5 p.m. with music from Fuerza Regido and El Fantasma. More info here.
KP Projects' group exhibition "Wild Side" is now online through September 5. Artists include AXIS, Bunnie Reiss, Dan Quinata, Greg 'Craola' Simkins, Hannah Yata, Jean-Pierre Arboleda, Johnny 'KMNDZ' Rodriguez, Kim Kimbro, and Peppa Potter.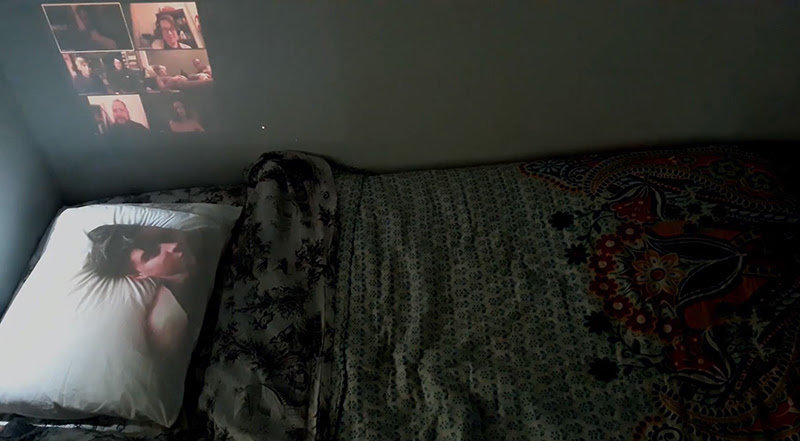 "Video Art Today" is a crowdsourced, online video art show reflecting on life during a pandemic. Join Shoebox PR for a virtual reception and talk on August 22 at 3 p.m. here, or check out the show online here.
On August 20 at 6 p.m., Councilmember Herb Wesson hosts "Reimagining Public Safety: An Unarmed Crisis Response" on Zoom. You may ask questions or offer suggestions with registration.
The Los Angeles Philharmonic Association and KCRW present World Festival at the Holiday Bowl, a radio broadcast series of previously recorded live concerts. Tune in on Sundays from 6:30-8:30 p.m. through October 11 for a different concert each week. This Sunday, it's Kraftwerk (2016) and Yellow Magic Orchestra (2011). Hosted by Anne Litt. Online listeners, here's your link.
The second installment of Heidi Duckler Dance's Unsettling Ramona series is on August 20. This one is Unsettling Self with filmmaker Robert I. Mesa, actors Duane Minard, and artistic director of The Autry's Native Voices, DeLanna Studi.
Through August 23, Save Melrose will host an online auction of artworks through Save Melrose's eBay account. All funds will benefit four businesses damaged during recent civil unrest, including Pearl's Nail Salon, Doc Martens, Tony K., and Reloaded. Staging for the auction comes courtesy of Lethal Amounts Gallery. More info, including how to make a donation, here.
Long Beach Food & Beverage presents virtual cooking and cocktail classes. See what's up next here.
Zócalo Public Square presents "How Have Women's Protests Changed History?" on August 20 at 6 p.m., part of the three-part series "When Women Vote." Register here.
"Facing Darkness" is an online exhibition from 18th Street Arts Center. The art featured was made during quarantine and will be online through June 2021.
Dance with The Music Center through Digital Dance DTLA's online dance sessions, offered Friday nights now through September 4 at 7 p.m. This week, it's Motown!