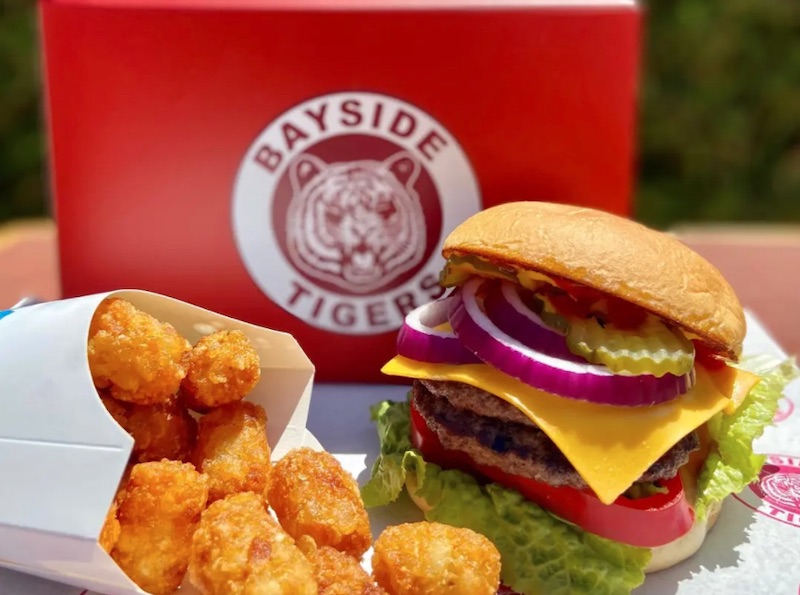 Remember when L.A. had a seemingly endless parade of immersive, pop-up experiences? Just a year ago today, we were at the preview for the IT: Chapter Two experience in Hollywood (thanks, Facebook memories!). Well, those days may be on hold due to ongoing pandemic, but Saved by the Max is back with a new socially distant pickup and delivery experience.
Saved by the Max, as you may recall, was a Saved by the Bell-themed diner that opened in L.A. in 2018. Done up in bright neon colors to resemble Bayside hangout The Max, L.A. loved it so much that it extended its run.
That West Hollywood space is currently home to a Mooby's pop-up, but starting today, you can pre-order Saved by the Max food and drinks for pick up August 20-25. (You can also enjoy patio seating, if outdoor dining is something you're comfortable with.)
The key item on the menu is the Bayside Preppy Pack ($22/person), which comes with a Bayside burger (beef or a Beyond patty), tater tots, and a commemorative souvenir. You can also add on sides, desserts, and cocktails. They include fries, salads, "Max's Magical Sweet Tooth Brownie," the "See Ya Later To-Go Cocktail Pouch" in whiskey or tequila, cans of beer or White Claw, and more. You can also add on Detention At Home Kits, which include an "I'm So Excited" coffee kit and Mr. Dewey's cocktail kits. There's merchandise, too, including jigsaw puzzles, a Saved by the Max apron, and era-appropriate Pogs and Slammers. It's all available on Tock here.
This Max reboot may have something to do with the Saved by the Bell "reimagining" due to air soon on Peacock, in which Zach Morris is somehow now the governor of California.