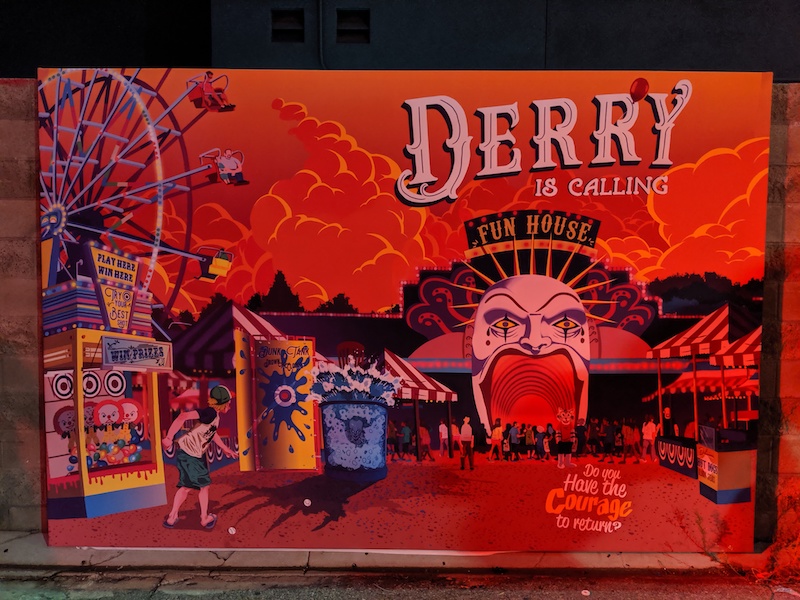 Though IT Chapter Two won't hit theaters until September 6, Pennywise the dancing clown returns to Hollywood today with the Derry Canal Days Festival and Fun House. Reserved tickets for the attraction sold out in a matter of minutes, but there will be a daily walk-up line for those who still want to attend. We stopped by the press preview to report on the horrors everyone's favorite spider-clown from another dimension has in store.
While Warner Bros. took us through the dilapidated Neibolt House (where Pennywise once lived) in 2017 to promote IT Chapter One, this year takes us to a carnival in the small town of Derry, Maine. It looks like a smaller version of the carnival that appears in the IT Chapter Two trailers, complete with a fun house guests enter via a clown's gaping maw. There's also a spinning ferris wheel, but it's a bit too small for humans.
Humans can, however, play a variety of midway games. They include ringtoss and a game where you have to squirt water into a Pennywise face until you pop the red balloon that's attached to it. Not only is this precisely the kind of thing you'd do at a carnival, but popping balloons is one of Pennywise's favorite activities, although they're usually full of blood.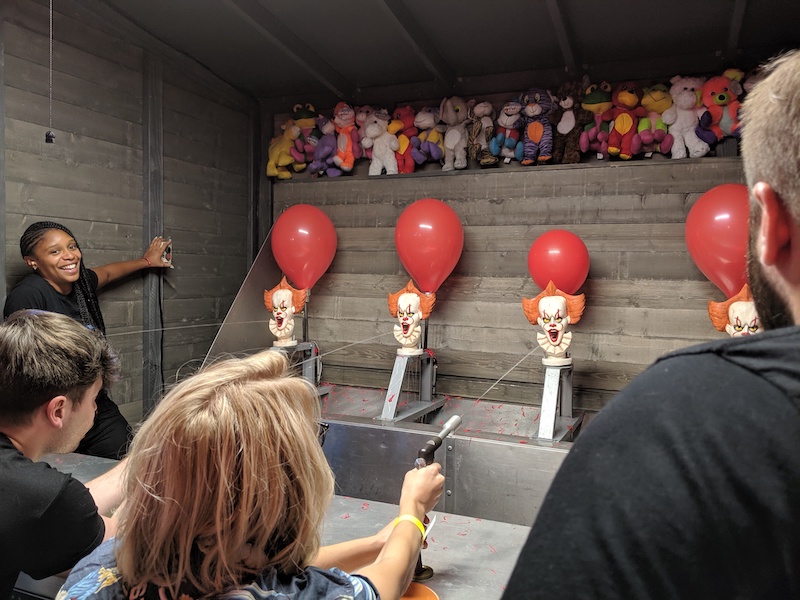 Elsewhere, wagons offer various tasty carnival treats, and you'll find a few photo ops for the Instagram-inclined scattered throughout the area. But the centerpiece is, of course, the fun house.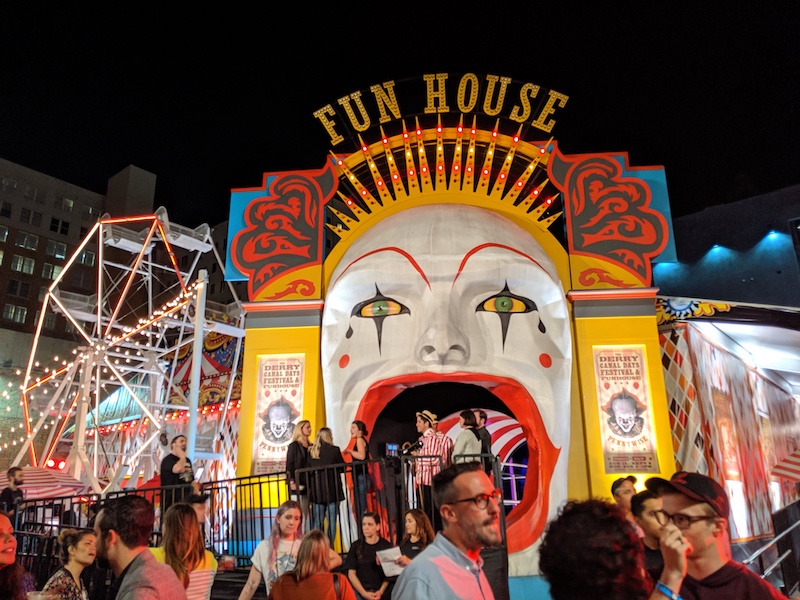 A dubiously charismatic carnival barker in the archetypal red-and-white striped suit invites guests to step right up. Guests will be separated into groups via colored wristbands, so you can feel free to enjoy the carnival while you're waiting for yours to be called. Inside, the fun house functions a lot like a walk-through haunted house.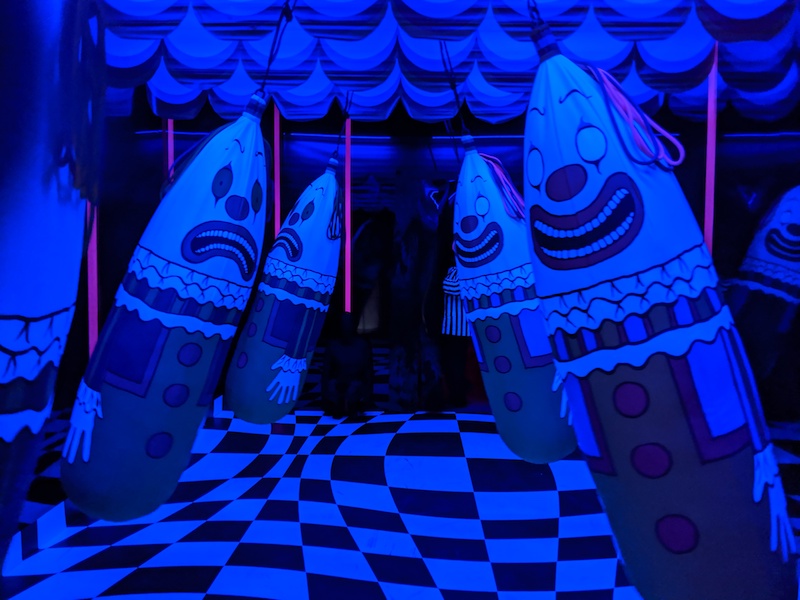 But instead of walking through in a single-file line, there are about 10 different rooms full of monsters and surprises, plus some very fun transitions. There's a gauntlet of swinging, black-lit clowns; a hall of mirrors; an ominous sewer tunnel; a chilling restaurant scene, and a shocking finale. We'd hate to spoil the scares for you, so you'll just have to go and experience them for yourself. We can say that if you watched the IT Chapter Two trailers, you'll likely recognize a few scenes.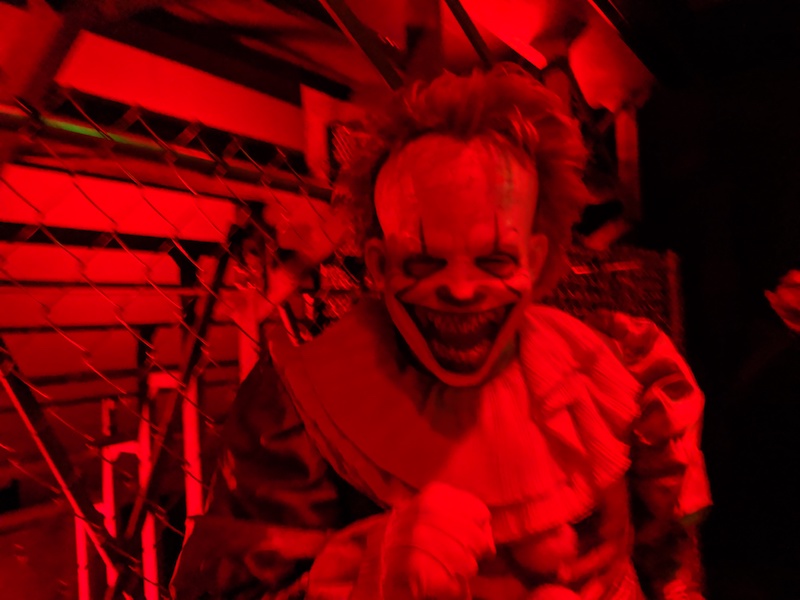 The experience is designed to take about 40 minutes, which includes the midway, a trip through the fun house, and a stop at the merchandise booth at the end where T-shirts, hats, toys, and other collectibles can be purchased.
The Derry Canal Days Festival and Fun House runs through September 6, daily from 2 to11 p.m. Reserved times are spoken for, but a walk-up
standby line will be available each day.