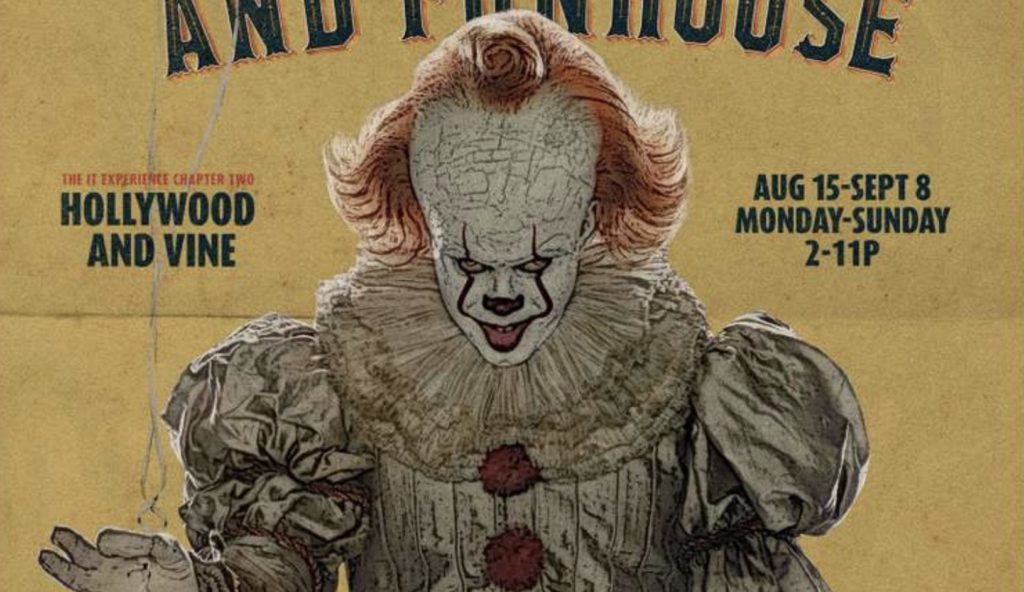 Next month Pennywise the dancing clown returns to Hollywood with a second terrifying, immersive event. And, unlike the Losers Club, we don't even have to wait 27 years for the spider-clown from another dimension to revisit our nightmares. The Derry Canal Days Festival will open to the public on August 15 at the corner of Hollywood and Vine, drawing from the forthcoming IT Chapter Two, which hits theaters on September 6.
As you may recall, the Neibolt House showed up on that very same corner—typically an ordinary parking lot—in the summer of 2017. Fans of IT (the book, the miniseries, or the reboot) know that the Neibolt House is the crumbling manor on Neibolt Street that Pennywise calls home. Those who ventured inside the Hollywood pop-up haunt were treated to a 7-minute study in coulrophobia.
For IT Chapter Two, Warner Brothers is doing something a little different. The "Derry Canal Days Festival" promises a peek into the upcoming film. Little info is available at this time, but we do know guests will filter through 10 different interactive spaces over the course of a whole 40 minutes—a much longer terror tour than the previous IT-eration.
IT Chapter Two picks up 27 years after the events of IT Chapter One. Our seven heroes are all adults who think they defeated Pennywise (Bill Skarsgård) in a cataclysmic showdown in the sewers of Derry, Maine. Each still bears the scars of the traumatic haunting, but most of them have moved on and, most importantly, away. Mike Hanlon (Isaiah Mustafa), however, remained in Derry and became the small town's librarian. It's Mike who realizes that Pennywise is back, and who must try to reunite the gang to defeat the evil clown once and for all.
You can watch the latest trailer, released at San Diego Comic-Con, to tide you over until August. At about 59 seconds in, you'll see a glimpse of a carnival, which contains very scary house of mirrors. Could that be what Warner Bros. has in store for us?
IT Experience Chapter Two, The Derry Canal Days Festival runs August 15 through September 8 with daily hours from 2 to 11 p.m. Reservations are free and can be made online starting July 31. If reservations are gone before you can snag one, you may join the standby line outside the attraction. The event is open to those 18+ or 17-year-olds who are accompanied by an adult.