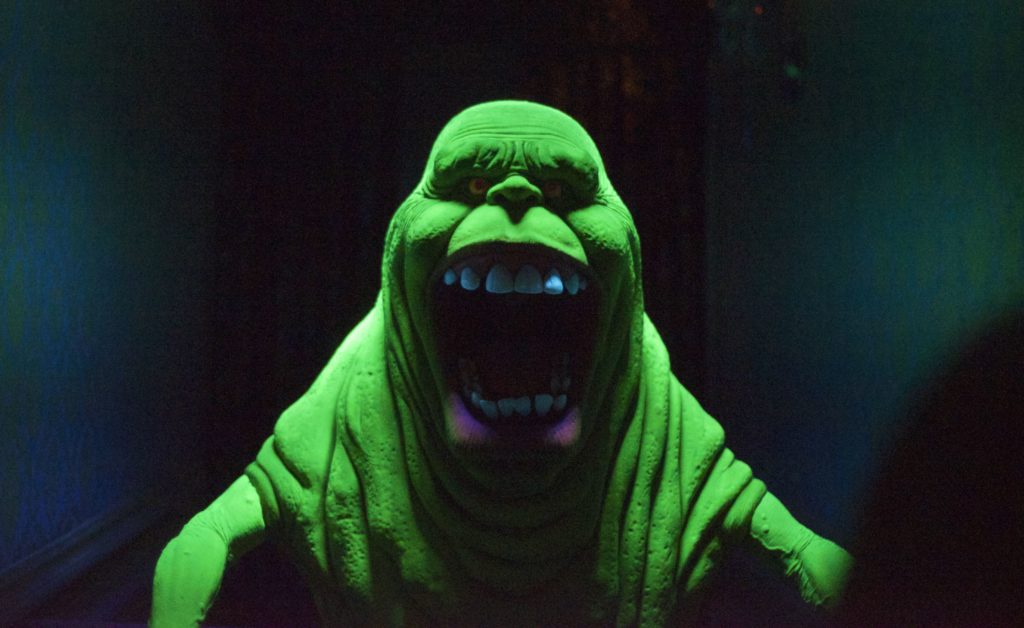 Universal Studios Hollywood announced today that its annual Halloween Horror Nights event won't happen in 2020. West Hollywood had already called off its Halloween Carnaval event, while the Queen Mary in Long Beach has paused Dark Harbor. 
Though unsurprising, it's certainly a blow to the event's many fans. HHN has been going on since the 90s (with a hiatus between 2001-2005 in L.A.), and mazes often pay homage to iconic and new horror movies/series, including The Walking Dead, Stranger Things, Us, SAW, and The Purge. There were also a few original mazes and scare zones riffing on urban legends, classic Universal monsters, and holidays other than Halloween. 

"People who don't live in L.A. don't understand that Halloween here is a season-long holiday, with HHN the granddaddy of all the myriad haunts, fests, and frights," said Jeff Miller, founding editor of Thrillist L.A. and captain of the band Black Crystal Wolf Kids. "In some ways, it's like Coachella getting cancelled: whether you're a fan or not, the impact on local culture resonates further than the event itself, and is indicative not just of a single cancelled event but likely another few months of no events at all. That said: it's 100% the right call—I can't fathom trying to socially distance while being joyously chased by chainsaw-wielding clowns. Sigh."
And that's true. It's hard to imagine how any traditional haunted house would operate this year, if at all. They typically involve long lines of people snaking through small spaces in the dark, frequently in close proximity. Even if organizers tried to space groups more than six feet apart, it'd be nearly impossible to enforce social distancing and disinfect the mazes frequently while still putting enough people through them to make it financially viable. On the plus side, at least most of the scare actors would already be wearing masks. 
We asked a few local Halloween fans their thoughts and the consensus seems to be it's disappointing, but necessary.
"For a Halloween lover, it hurts to see all of my favorite seasonal events being canceled, but it is truly in our best interest," said Jeff Heimbuch, writer at HorrorBuzz. "Getting COVID is scarier than going to a haunt anyway, so I'm happy to stay home and wait for the 2021 season."
Matt Dorado, the creator of immersive horror company Drunken Devil agrees. "While it's heartbreaking to see Halloween events—particularly powerhouses like HHN and Dark Harbor—being cancelled around the nation, I feel a weird sense of comfort that they're putting health and safety over profit. COVID really screwed up this season, but on the positive side, it's a relief to see the Halloween and live entertainment industries making the right judgment calls so we can continue to produce experiences in the future."
"While I believe that Halloween is an unstoppable spirit and lifestyle not limited to one day a year or any single activity, it's upsetting to know that this spooky season won't be the same. Canceling Halloween Horror Nights and other interactive events is completely the right call, because horror fans can't enjoy scares unless everyone is safe," said Britt Sandler, horror-fan and "Ghoul Next Door." 
"The HHN announcement is expected, but still really sad. It had become my partner's and my anniversary celebration, and I was hoping they'd do some sort of drive-through-the-studio-lot-but-it's-all-Purgey kinda deal," said Jackson Birnbaum, who describes himself as a "local dirt-goth & film-goblin."
If we're to have a Halloween season at all, haunters may have to get inventive with drive-in haunts or other tricks. In Tokyo, there's a drive-through haunted house where participants listen to ghost stories via their car radios while creatures creep outside. In Slendora, Texas, Haunted Drive is planning to open in late September. And the idea of a drive-through haunt isn't really that new; it's sort of like a modern-day hayride without having to cram next to strangers on a trailer bed. 

Meanwhile, immersive theater company E3W plans to launch its interactive haunt, "In Another Room," as a podcast next month.