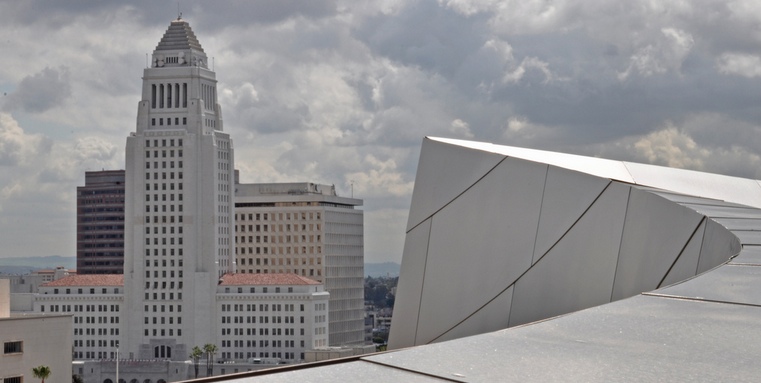 Why is so much outside money allowed into local politics? That's a question I've been thinking about more and more over the past year while watching the epic fall of Councilmember Jose Huizar, who will undoubtedly go down as one of the most crooked politicians to ever take office in Los Angeles. But let's consider another councilmember for a moment, along with some of the sources buoying his re-election efforts.
According to reporting from the L.A. Times in February, tech entrepreneur Andrew Lee gave $100,000 to the Golden State Leadership Fund PAC, which supported Councilmember David Ryu (District 4). Another donor, Myung Hong, coughed up $49,000 to the same PAC. Hong, it turns out, is a board member for a planned museum project that's leasing land from the city. So yeah… nothing to see there, right? Yesterday, Times reporter Emily Alpert Reyes pointed out on Twitter that an August ethics filing shows a $100,000 contribution from Lee to a committee supporting Ryu's re-election. The expenditure report specifies $43,897.92 towards mailers (see those here). Remember, this is the same David Ryu who was criticized for taking developer money in November 2019 after pledging he wouldn't do so.
Speaking of Ryu, his opponent in the upcoming District 4 election is Nithya Raman, who has repeatedly railed against Ryu's ties to money, frequently using social media to great effect to make her points. For example, in a thread posted to her Twitter back in February, she broke down the above Times reporting, highlighting the hypocrisy of a system that purports to limit individual political contributions but really just leaves a gaping hole to funnel money through. The CliffNotes version is this: While the max donation for an individual to a City Council race is $800, Independent Expenditure Committee money is more or less uncapped. Hence, big-money players like Lee can pretty much give as much as they want, even if they don't live in Los Angeles. Lee's recent ethics filing, for example, shows a Colorado address. I've embedded Raman's thread if you want to give it a read. By the way, if you don't know which Councilmember represents you, you can check here.
Uber and Lyft will continue operating in California… for now. The rideshare companies both said they were pulling out of California after a judge's ruling said they had to treat their drivers as full-time employees. A stay has been granted in that ruling as the appeals process plays out. More than likely, it'll be the voters who decide what happens next, as Proposition 22 (to be voted on in November) would expressly define Uber and Lyft drivers as contractors. [The Verge]
A temporary ordinance currently puts a 15% cap on delivery fees restaurants have to pay apps like Uber Eats and Postmates, but that delivery fee cap is set to expire at the end of the month. [Eater LA]
The Lake Fire has burned over 28,000 acres. Thankfully, it's now over 50% contained, according to the latest update from the LAFD. [Twitter]
Yesterday, Pasadena Police released body and dashcam footage that shows an officer shooting 32-year-old Anthony McClain in the back during an Aug. 15 traffic stop. The department says McClain had a gun in his hand as he fled from the stop (a gun that he allegedly tossed away and that was later recovered by investigators). After the shooting, McClain was taken to a hospital where he later died from his wounds. [LAist]
The Long Beach Unified School District has ratified an agreement with the teachers union for the upcoming school year. The agreement allows teachers to teach at home so long as they meet certain professional requirements. [LB Post]