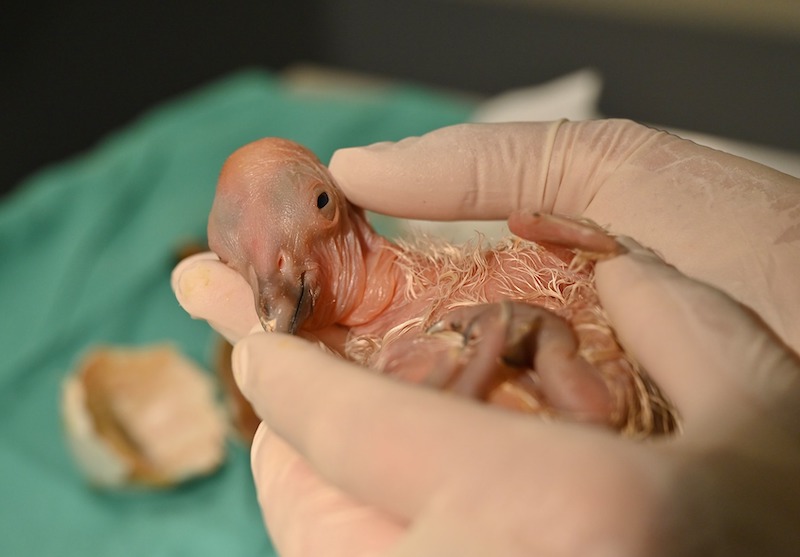 The California condor the L.A. Zoo was hoping would hatch has indeed hatched. The little chick emerged this morning after great efforts by the Condor team.
The chick known as LA1720 had some complications coming into the world. Typically, a chick would break the membrane and into the air cell of the egg with its beak, thus taking its first breath. This is known as "pipping." This chick was unable to do because it was malpositioned in its egg. It was upside down and its head was under the wrong wing. The Condor team conducted a manual pip, which is risky because it could introduce bacteria. The team had to administer antibiotics after making the hole in the egg.
Finally, with the overnight help of a condor keeper identified as Debbie, the hours-long hatching process was a success. 
The chick will be placed into a brooder and monitored for the next 36 hours and hopefully, will soon find itself in a nestbox with parents Sequoia and Squapuni.
The California Condor Recovery Program launched in 1982 when there were just 22 birds left. One of the biggest hazards these scavengers face is lead poisoning after feeding on dead animals shot with lead bullets. 
Thanks to conservation efforts, there are now over 500 California condors in the world, including 300 in the wild. Just recently, wild condors were spotted in Sequoia National Park.
The L.A. Zoo will reopen to the public on August 26 with increased health and safety protocols including sanitization stations and mandatory face coverings. Guests must also purchase timed ticket in advance. Registration for tickets is open now.