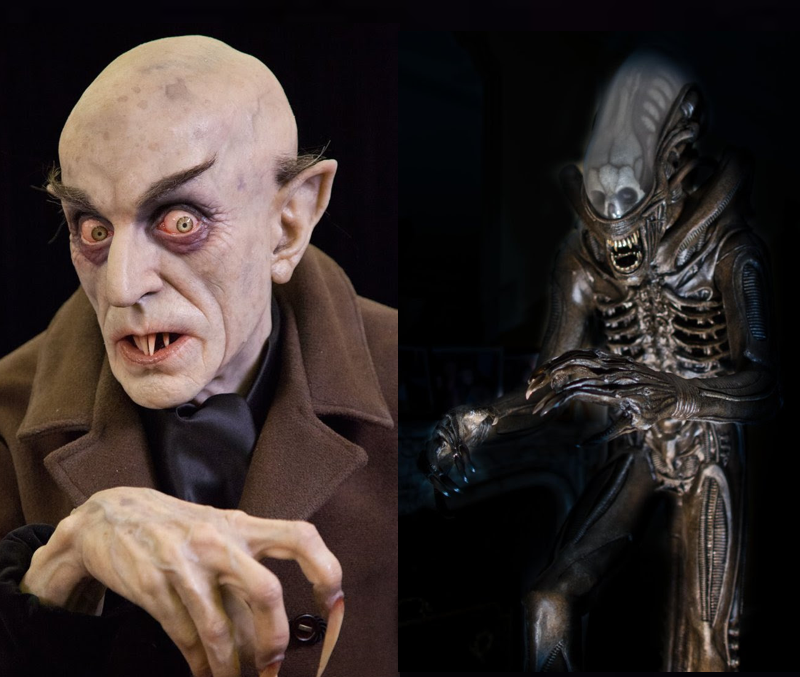 A new exhibition of horror, sci-fi, and fantasy memorabilia is coming to The Montalbán in Hollywood just in time for Halloween. It's called Icons of Darkness and features props, costumes, and more from properties including Frankenstein, Star Wars, Jurassic Park, Harry Potter, and so, so many horror movies. 
Richard Correll is an actor, writer, director, and producer. He's also an avid collector of film props, amassing over 3,000 items valued at over $13 million. Icons of Darkness includes about 65% of Correll's private collection, a majority of which has never been on display to the public before.
Some items visitors will see include the original Xenomorph costume from Alien, the Batsuit Michael Keaton wore in Batman, original props from Terminator 2 Judgment Day and Jurassic Park, and costumes from classic Universal Monsters films like Dracula, Frankenstein, and The Wolfman. Plus, a "Monster Midway" will offer a selection of horror-themed carnival games, complete with prizes. 
To make the exhibit work during the ongoing pandemic, The Montalbán removed all 520 seats from the lower level of the theater to allow social distancing. They also added flooring from the entrance of the theater to the stage.
"What we have now is a beautiful, open floor plan that will display Rich's jaw-dropping, museum-like exhibit and bring patrons a one-of-a-kind experience," Gil Smith, Chair of the Montalbán Foundation, said via a statement.
Icons of Darkness is scheduled to open in late September for five days each week, adhering to current Public Health guidance. Tickets will go on sale by September 1.