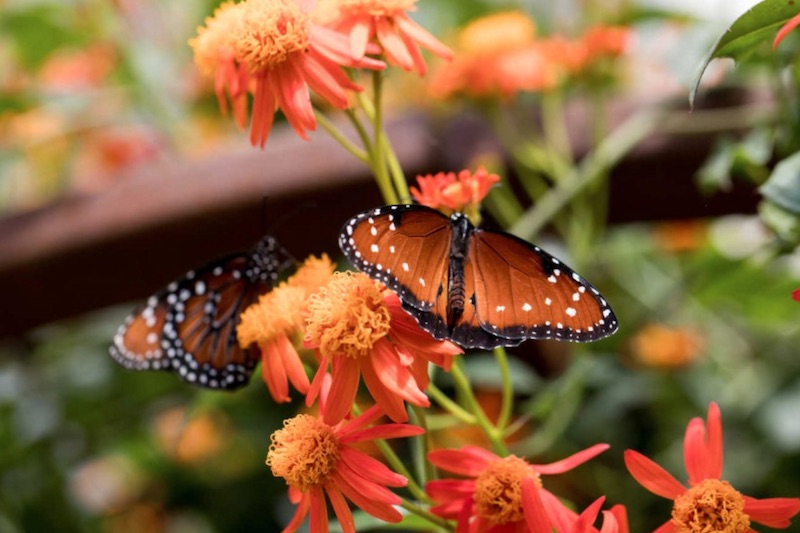 Update, September 11: Due to the poor air quality caused by the wildfires, NHMLA has decided to postpone the opening of its Butterfly Pavilion and Nature Gardens. The public opening is now scheduled for September 18. If you've already bought tickets, you can reschedule by emailing [email protected] or calling 213-763-DINO before Sunday at 4 p.m. 
If you're looking for a beautiful outdoor activity to get you out of the house, you're in luck. The Natural History Museum of Los Angeles County will reopen its Butterfly Pavilion and parts of the Natural Gardens to the public next month.
Guests will get to observe over 30 species of butterflies and caterpillars, plus native plants. To make sure the reopening follows COVID-19 health and safety protocols, capacity is limited and guests must reserve timed tickets in advance. Face covers are mandatory for all guests 3 and older, and a one-way path through the garden to the pavilion will help with social distancing. 

Members and community partners will be invited to preview the reopening beginning August 28, while the attraction reopens to the general public on September 18. 
Initially, hours are Friday, Saturday, and Sunday from 9:40 a.m. to 5 p.m. with plans to expand in the future. Tickets will be released on Mondays at 10 a.m. for the following two weeks of reservations. They're $6 for the general public and free for members. Find more information, click here.
Meanwhile, several botanical gardens have already reopened while the L.A. Zoo reopens this week.