* * * This post is a sponsored collaboration between Arts Brookfield and We Like L.A. * * *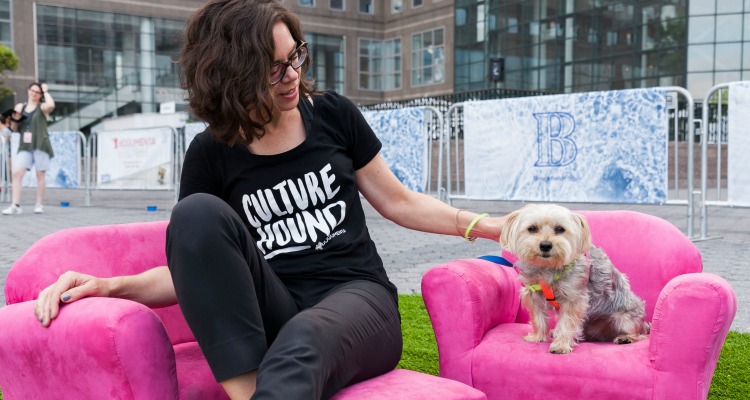 America's first art exhibition for dogs, dOGUMENTA comes to Downtown Los Angeles this September for two very special weekends of art specifically designed to be experienced by your pooch.
Not by or about dogs, dOGUMENTA is a curated art show FOR dogs, which takes place at FIGat7th on September 14-16 and 21-23 from 11 a.m. to 6 p.m. daily. And the best part? Admission is FREE!
"After sniffing around the LA art world we dug up a group of amazing artists offering fresh perspectives on the issues and interests of 4-legged patrons," dOGUMENTA founding curator Jessica Dawson said of the show's LA iteration. "We can't wait to unleash a whole new litter of artworks that West Coast culture hounds can explore for themselves."
Featured artworks by LA-based artists address the canine sensibility through a variety of media—from sound and sculpture to kibble and squeaky toys. Trainers from the Los Angeles Positive Dog Trainer Alliance will be onsite each day of the exhibition to help support dog owners and their pups.
Although admission is free, advance reservations (available via this link) are strongly recommended, as this will guarantee entry. Walk-ins will be welcomed on a first come, first served basis.
For more information on dOGUMENTA, including a list of participating artists and additional activities, and to reserve your ticket, head to this link.
If you plan to attend with your pup please remember it's one dog per person and that dog must be on a leash. Humans welcome!
---
If you'd like to learn more about We Like L.A. sponsored posts and how we work with our partners, you can go here.