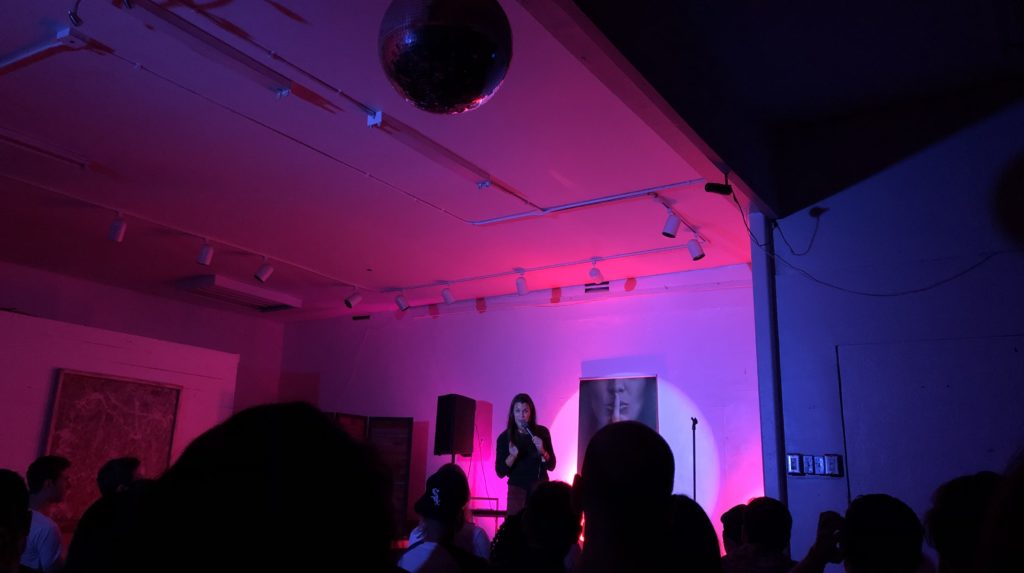 Do Laugh, Don't Tell: The country's most-elusive, invitation-only comedy show is can't miss, despite the secrecy. Ticket-holders don't know the lineup ahead of time, and shows are typically in unfamiliar, DIY settings. You don't know who amongst the crowd is a comic or just another tipsy person ready to laugh. Aye caramba. 
On an unseasonably warm Saturday night in Los Angeles, a curious crowd made up mostly of newcomers shuffles into an unmarked Mid-City art gallery for this BYOB show, wine in tow.
The show is tight (see: on time) and the acts are laser sharp. Sean Leary opens the night with a set that is half-improvised and unrelentingly funny. He mixes deft crowd work with big, brash punchlines.
"I'm a bro, but I'm one of the good ones. I'll fuckin shotgun a beer while I do a fantasy football draft, but I'll pick your ass up at the airport. I'll talk to your mom on the phone, and it'll be a good conversation," he quips. 
Anna Simeri brings the same energy, performing a boisterous set that pokes fun at skimpy music festival fashion and conservative Midwest values. 
"I'm almost 30 and I'm from Indiana. I'm a fugitive of the state, they won't let me back because I'm not married. The last time I went back they were like 'Where are your babies? Go back to California and burn!' So that's what I'm doing," she says. 
The audience is made up mostly of mid-twenties young urban professionals, all of whom seem pretty primed to laugh. Something about the mythology of this show and its SoFar Sounds meets Laugh-in energy is irresistible. You feel like the coolest person in L.A., let in on a secret no nerd dare possess. 
There's also the hope that someone huge will show, as earlier drop-ins include SNL's Chris Redd and famed actor / comic Ali Wong. No wonder these 50-75ish person rooms regularly sell out. Nothing sells like sexy mystery.
Fabrizio Copano, he of the dead-on Jerry Seinfeld impression, jokes about confusion around his race.
"I moved here with my girlfriend. She's from Texas and I'm from Chile, so she thinks I'm Mexican," Copano says. 
He follows up with an extended bit about fooling Netflix's algorithm by watching Peppa Pig followed by a documentary about 'gay dogs in Indonesia.' 
"At the end, Netflix is like, 'Well, we recommend you kill yourself.' And they're right," he jokes.
The swiftly-rising Subhah Agarwal (The Jim Jeffries Show) is a big hit, delivering a sarcastic and endlessly approachable set laced with scathing takedowns of racist white guys. 
"I've been watching a lot of YouTube videos of Neo-nazis. Before you judge me, white people watch an entire week of videos dedicated to sharks, we just have different predators."
Grant Kotter closes the night with a scatological set rife with dark humor about his not-great relationship with his father – "My relationship with my dad is like Fetty Wap's eye. There's something there, but what is it?" – to jokes about audience members sleeping together. 
"We are just mere feet away from a black light room, do you think any of us have any good intentions tonight?" he muses. 
His set builds to a fever pitch; by the end the room is both dying of laughter and fully scandalized by his sex-obsessed stoner bro with a heart of gold schtick.  
This was a great night. There was real life to the room, a refreshing change of pace from the sort of "show-me-the-funny" vibe of Hollywood comedy clubs and the too-cool-to-laugh energy at a lot of Eastside haunts. There look to be a ton of shows coming up all over Los Angeles, so pick one that works for you and act fast. This won't be a secret for much longer.
Tickets for Don't Tell Comedy performances range from $15-$25. The next show is this Friday, Oct. 18 in Mar Visita. You can find the complete upcoming Los Angeles schedule here.