Alright ya'll, it's a new year and if you're looking for an excuse to get off your keister and do something active we've got what you're looking for… as in, "Let's do a 6 mile there and back hike to the Hollywood Sign!"
We've done a couple of these hikes before (you can read recaps and see photos here and here) and it always amazes me how many people have never actually been up to the top of Mt. Lee to get a view of L.A. from the POV of the Sign. I think it brings with it not only a sense of accomplishment in doing the hike, but will give you a greater appreciation for this wonderful city we live in.
Additionally, I've come to realize is that when we do a mass hike like this, you need the requirements of plenty of parking and a trail with a wide path, otherwise people get left in the dust or may even be dissuaded from coming. This is why we're hiking the same trail, the Bronson Canyon route, mostly because we want to be as inclusive as possible.
Despite the fact that the Beachwood Canyon gate is now operational, and is a shorter hike, I'm very dubious about the parking situation in that area because of potential no-parking signs and resident complaints. Basically, it would thoroughly complicate a group of 30-40 individuals (or more???) trying to coordinate for a meet-up.
That said, we will be planning other smaller hikes / events / tours in the year to come, and we'll be using a meetup.com group as a hub to plan and execute these meetups, as it'll provide more clarity on RSVPs, headcounts, updates and provide the ability to limit the amount of attendees, should the occasion call for it.
That said: Join the Meetup group! RVSP for our Hollywood Sign Hike, and look forward to other events.
Short of that, I'd also recommend signing up for our email list (form is below), as we will always be sure to make announcements via email if we plan any special events or meet-ups. And if you'd like to easily share this event with your friends, you can either send them a link to this page or even just tag them in our Facebook event page.
Got it? Ok, phew… on to the the hike details.
As I said we'll once again we'll be taking the Bronson Canyon trail all the way up the top of Mt. Lee, right above where the fenced off Hollywood Sign is. It will be a morning hike starting at 7:30am on Saturday, Jan. 31st, 2015. If we're lucky the weather will permit some spectacular views of the cityscape below.
Getting There
From the south side of Griffith Park, head north on Canyon Drive from Franklin Avenue. Once you enter Griffith Park, you'll notice a gate where the trailhead begins.
Park in the small lot at the trailhead, along the street, or in the spillover lot just south of the trailhead if there's no room in the lot.
See an embedded map below for exact coordinates on where the trail starts.
Hike Details
DISTANCE ~6 miles
ELEVATION GAIN 1098 ft
TIME: ~3 hours (there and back)
DIFFICULTY: Easy / Moderate
Where to Meet
First off, the picture below is EXACTLY where we will meet. We'll be hanging out right where that tree is (center of frame) starting at 7:15 AM.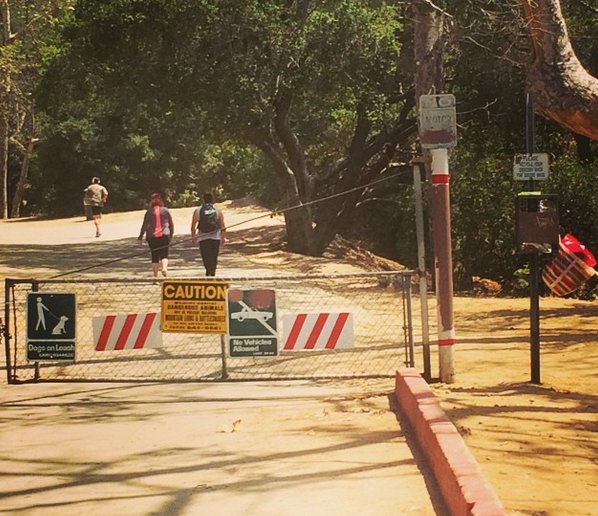 The exact Google maps address for this meeting spot is 3160 Canyon Dr. See the pin drop on the map embedded below. There is a small lot right near where are meeting spot is, but with that likely full, there is more parking further south along Canyon Dr.
Just go ahead and park, then walk up the trail and meet us right by the tree / gate!
Additional Considerations
– Bring plenty of water. Bring a hat.  Wear sunscreen. The trail is wide enough so as to accommodate a sizable group (as we may have) BUT the downside is that it provides little shade. Just another reason why we'll be glad to be taking on the trail fairly early in the AM.
– It kind of goes without saying, but also make sure to wear hike appropriate clothing and footwear.
– The hike has a steady, but not super difficult incline. You should work up a pretty good sweat. We anticipate with a decent pace we can make up and back from the top in around 3 hours.
– As always, if you anticipate any health issues, please check with a medical professional or doctor before attempting this, or any other hike.
– We'd ask that if you plan on attending you try to arrive by about 7:15 am to find parking and meet up with the group at the trailhead.
– Dogs are allowed on the trail, but please, PLEASE make sure you keep them leashed. 🙂
– Don't lag! We'll be heading up the trail promptly at 7:30am
See map below!
Oh, and if you're looking for a street address for the trailhead, type in:
3160 Canyon Dr., Los angeles, CA
Last Thing
If you plan on joining us, please RVSP on our Meetup Group.
If you have follow up questions, feel free to comment below or hit us up on Twitter @WeLikeLA.
Thanks. See you guys on the trail!