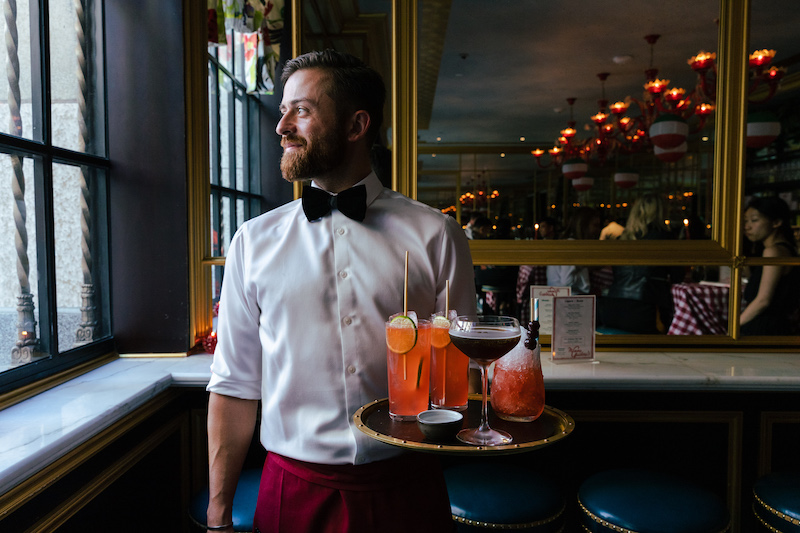 The NoMad Los Angeles is already home to both the coolest bathroom and the coolest stone, pool monster in downtown Los Angeles. Now, a new food series titled 'For A Limited Time Only' transforms the hotel's coffee shop into a variety of themed pop-ups every Friday and Saturday evening. The first, Mamma Guidara's, takes inspiration from NoMad New York's dinner series of the same name, which itself is inspired by old-school Italian-American red sauce restaurants.
It's fitting that the first 'For A Limited Time Only' would emphasize Italian cuisine and cocktails. Long before the building was the NoMad Los Angeles, it was the L.A. headquarters of the Bank of Italy. Today, the hotel's handsome, lobby-adjacent Giannini bar takes its name from Bank of Italy founder Amadeo Giannini.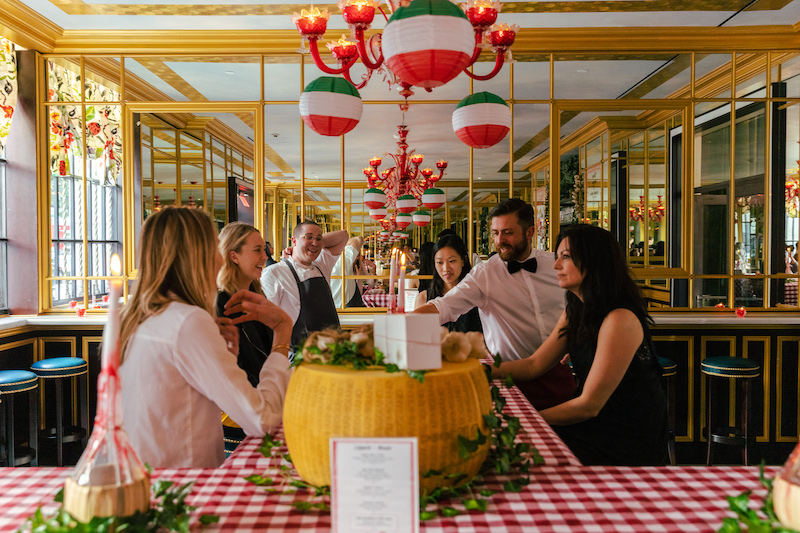 By day, The Coffee Bar is a pretty, sun-drenched shop that serves coffee, espresso, tea, and a lovely assortment of pastries. It's modeled after Cafe Florian in Venice, Italy. Established in 1720, Cafe Florian is the oldest café in the world. Fittingly, you can stop by The Coffee Bar for espresso during the day and then transition to a glass of wine for aperitivo. According to Ann Sim, assistant general manager of NoMad Los Angeles, 'For a Limited Time Only' is yet another way to activate the space at night.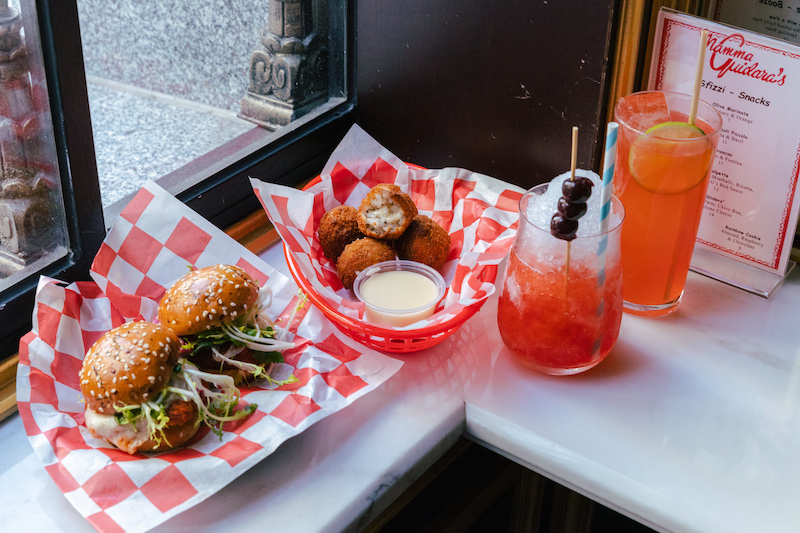 "We wanted people to stop by for their pre- or post-dinner drinks, or plan to spend the entire evening with us and a super fun line-up of drinks and snacks. The 'For a Limited Time Only' pop-up series was the perfect opportunity for us to flex our creative muscle. We love to throw a good party and, now, we get to throw a new party every month," Sim said.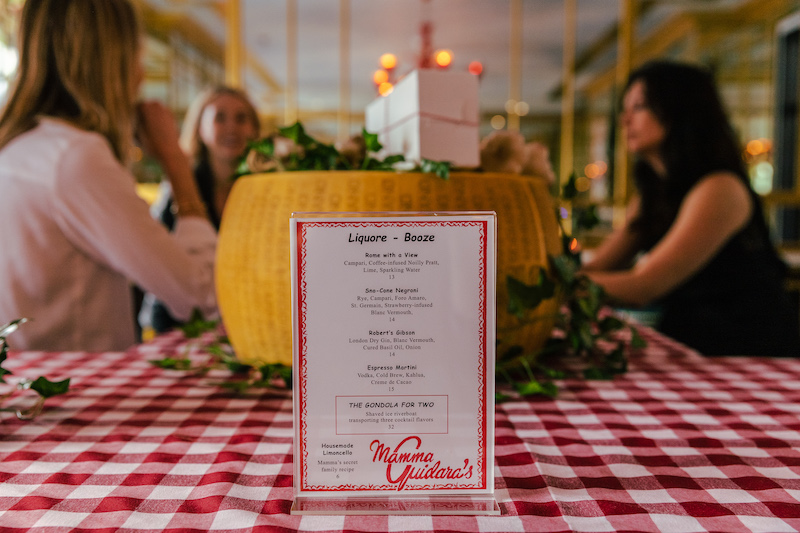 In NYC, Mamma Guidara's was served at the NoMad Bar and functioned more as a pre-fixe, sit-down dinner.
"When it came time to reimagine the experience in L.A. for the pop-ups, we highlighted as much of that Italian red sauce-joint ambiance as we could: think checkered tablecloths, Chianti bottles, a parmigiano reggiano wheel, and music that we very seriously curated!" Sim said.
Indeed, you'll find red-and-white checkers on every table and Chianti bottles in straw fiaschi dripped with melted wax, while the music selections range from Italian arias and Rat Pack classics to 60s rock 'n' roll. You can also try your hand at Scopa, an Italian card game played with a 40-card deck.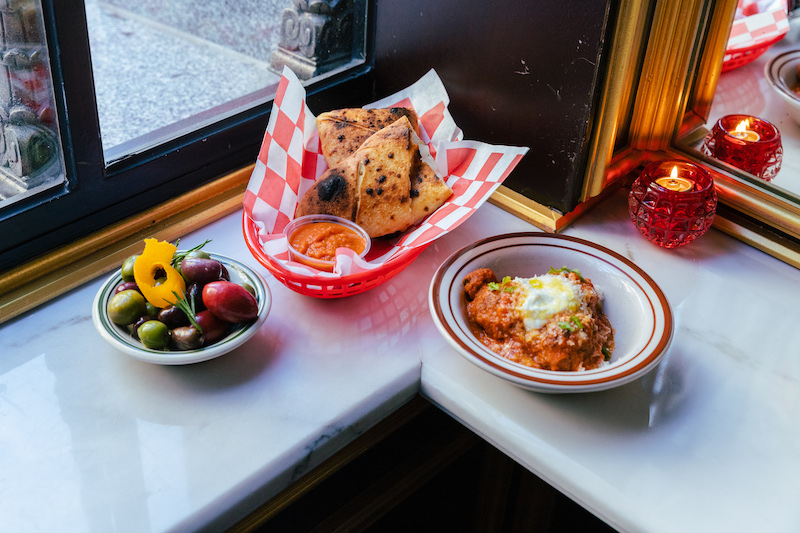 The pop-up also offers a small menu of Italian snacks, including marinated olives; mini-stromboli filled with gooey cheese and served with a side of marinara; chicken parm sliders; and cannoli and rainbow cookies for dessert.
These can be washed down with the list of craft cocktails, Italian wines, and beer. For those easing from day to night, try the espresso martini made with vodka, cold brew, kahlua and creme de cacao. It comes served with a sidecar of sambuca. For something refreshing, the Sno-Cone Negroni will do the trick with rye, campari, foro amaro, St. Germain, and strawberry blanc vermouth. And for those who enjoy limoncello, a house-made recipe is served on tap. Of course, the font from which it flows is cherub that appears to be, uh, urinating the limoncello. When in Rome, or so they say.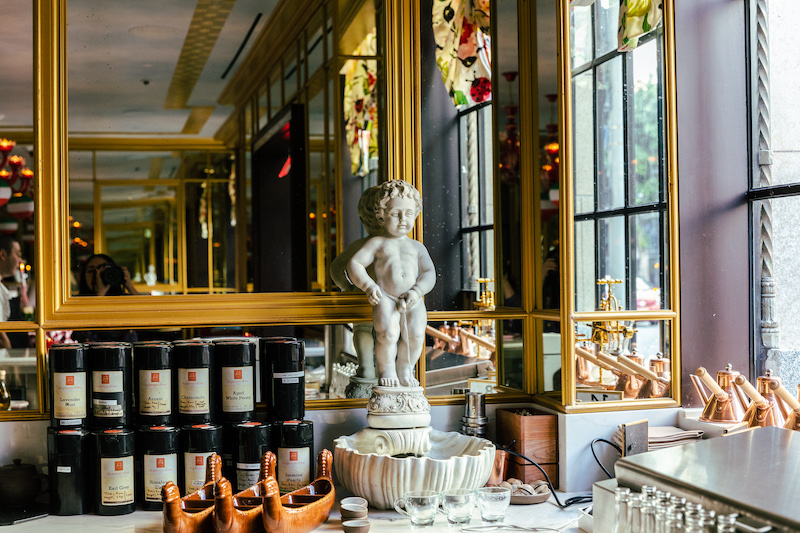 As for prices, snacks run from $6 (rainbow cookies) to $14 (chicken parm sliders). For drinks, limoncello is $6, with cocktails available from $13 to $15. If you're feeling splurgy, you could try the gondola for two, a shaved ice riverboat that costs $32.
Mamma Guidara's will continue through the month of April. In May, the space will become all things Kentucky Derby. Don your fanciest hat for mint juleps, hot chicken sandwiches, and deviled eggs. In June, Take Me out to the Ball Game will offer ballpark concession bites including the NoMad's own versions of a Dodger dog and helmet sundae. The decor will feature a collection of Dodgers artifacts strewn throughout the space.
NoMad Los Angeles is located at 649 S. Olive St., downtown L.A. 'For a Limited Time Only' runs on Friday and Saturday evenings through June. Walk-ins only.