Comic book fans….ASSEMBLE!
That's right folks, Free Comic Book Day is around the corner, taking place on Saturday, May 7 at participating comic book stores throughout Los Angeles (and all over the U.S.).
If you're asking yourself… "Self, what is 'Free Comic Book Day?'"… the answer is pretty simple.
Free Comic Book Day is special day held annually on the first Saturday in May when participating comic book and specialty shops across North America and around the world give away comic books absolutely free to anyone who comes into their shops.
This video pretty much sums it up:
via Free Comic Book Day / YouTube
Some of the local spots participating in Free Comic Book Day include:
To find the closest store participating in Free Comic Book Day, use the store locator tool on the official website.
Additionally, the Knitting Factory Entertainment and Blastoff Comics have teamed up to bring comic book fans an afternoon to remember at The Federal Bar North Hollywood for the 2nd Annual Blastoff Comicsfest from 10 a.m. – 4 p.m.
Come visit with comic creators from Marvel; Dark Horse; IDW Publishing; DC and more, as they sign comics, give away free sketches and meet one-on-one with fans young and old. Admission to the festival is free. There will also be a beer garden, food stations, live DJ, costumed hero photo ops, and of course, plenty of free comics!
Comic creators scheduled to appear at the festival include Cecil Castellucci (Star Wars: Moving Target, Plain Janes); Christos Gage (Rom: Spaceknight, Buffy the Vampire Slayer: Season 10); Joelle Jones (Lady Killer, Superman: American Alien);Nicholas Meyer (The Seven-Per-Cent Solution, Star Trek II: The Wrath of Khan); Steve Niles (The October Faction, Monster and Madman); Jamie S. Rich (Lady Killer, Ares & Aphrodite); Chris Ryall (Rom: Spaceknight, String Divers, Onyx); Tad Stones(Darkwing Duck, Hellboy: Sword of Storms); Craig Thompson (Blankets, Habibi, Space Dumplins); and Chris Yost (X-Men, Avengers).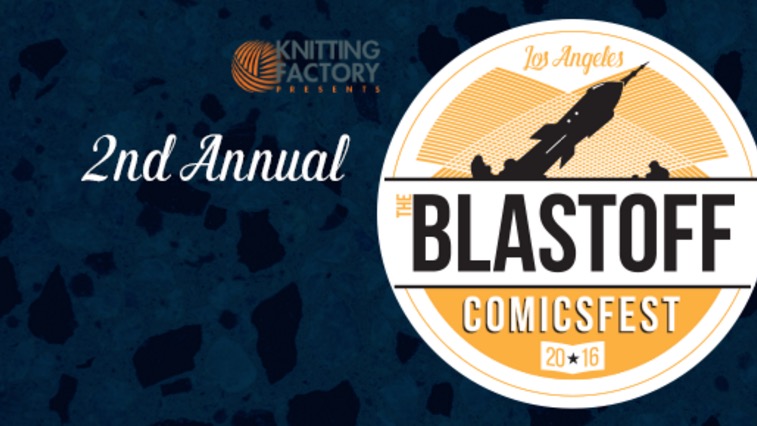 The festival will also feature a special ticketed event: Hollywood Writer's Roundtable. The roundtable will discuss issues associated with comic books and genre literature increasingly becoming the most popular source for televisionand movies.
Panelists include screenwriter Carl Gottlieb (Jaws, The Jerk); director Nicholas Meyer (Star Trek II: The Wrath of Khan, Star Trek VI: The Voyage Home); Executive Producer Quinton Peeples (Netflix's Iron Fist); writer Brigitte Hales (Hulu's 11/22/63, Once Upon a Time); and writer Jim Kreuger (The High Cost of Happily Ever After, Justice). This event will be moderated by Michael Stradford, Director of Enhanced Content for Warner Home Entertainment. Tickets are available here.
Definitely expect a line no matter where you choose to go, so arrive early and avoid hulking out over long lines and comic book shortages.
The organizers of Free Comic Day would also remind you to contact your local store to see what their Free Comic Book Day policy plans are in addition to what extra events are going to be taking place during their FCBD. Some comics shops give out 1-2 comics, while others give out more.
However you choose to celebrate, remember to mark the date, Saturday, May 7 from 10 a.m. to 4 p.m. and head on down to The Federal Bar North Hollywood as well as your local participating Comic Book store and celebrate Free Comic Book Day with True Believers across the nation.
EXCELSIOR!