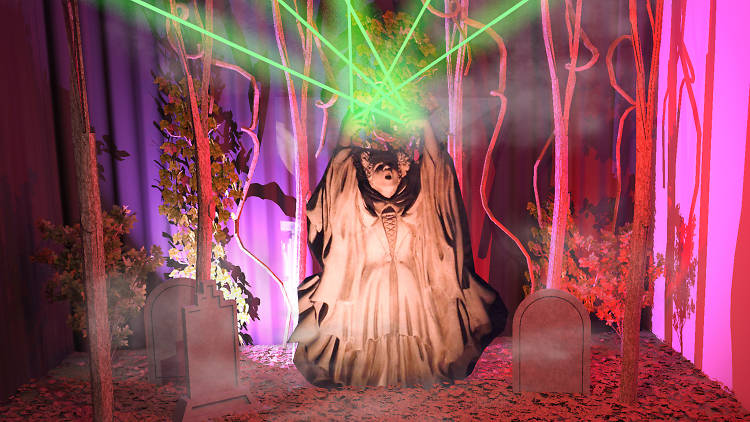 There are myriad spooky options for Halloween thrill seekers, but if you want a little camp with your frights, then Freeform's Halloween House is where you wanna be. Hocus Pocus, Tim Burton's The Nightmare Before Christmas, The Addams Family, and more classic films from Freeform's '31 Nights of Halloween' come to life at this ghostly locale.
Expect an interactive Halloween Town, a stop at the Sanderson Sisters magical cottage, and a prize-filled Oogie Boogie's lair. Things get extra-festive at a special October 3 event with drag queens performing songs as the Sanderson Sisters, giving a whole new meaning to the words 'death drop.' That night there will also be witchy cocktails. Who can resist themed drinks and drag? Who?!
The Halloween House event runs Oct 2-7, and sounds equal parts funny and frightening, a lighthearted immersive experience for folks 13 and up. The aforementioned Oct 3 drag night is 21+ after 6 p.m. and will run you $37, which includes two drink vouchers for beer, wine or cocktails. It's $27 to attend any other day.
Tickets are available here, and are limited and sold in 20-minute intervals, so if you're looking to go at a specific time, be sure to hop on tickets early. Weekend times are 11am till 11:20 p.m., and weekdays are 4 to 10:40 p.m. Plan on arriving 15 minutes before your ticketed time. This is Hollywood, where parking is the real scare, so plan accordingly.