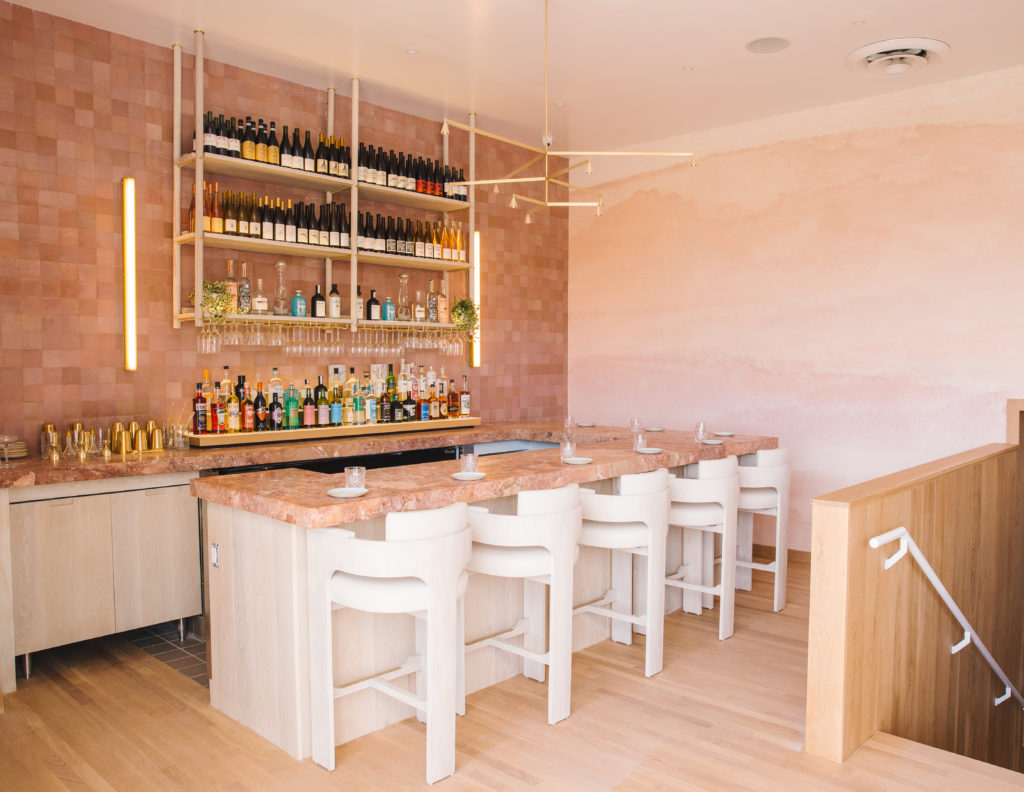 Vegan restaurants are all over L.A., but a new vegan restaurant on the Sunset Strip is bringing vegan comfort food to West Hollywood with roots from way up north. Originally founded in Toronto by chef Ruth Tal, Fresh became a beloved staple of the Canadian city due to its high-quality juices, vegan burgers and bowls.
Now, with the help of restaurateur, television host, and longtime friend Shereen Arazam, Tal has achieved a lifelong dream of bring Fresh to L.A., which opened in September .
We Like L.A. sat down with Tal and Arazam to discuss how Fresh got started and why they decided to bring the restaurant south of the border.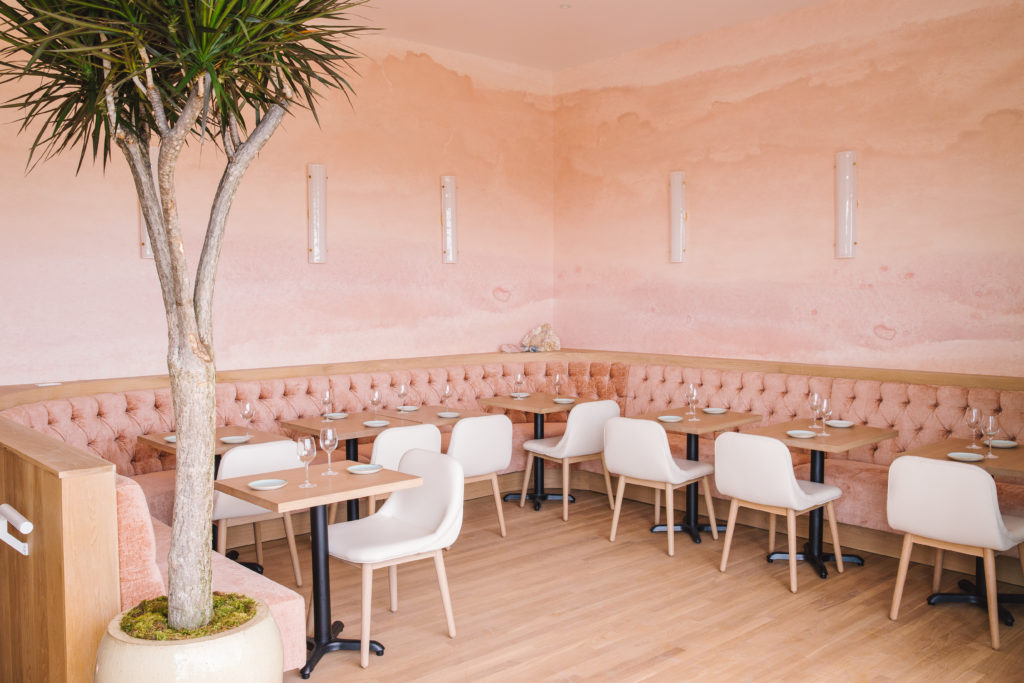 What is the origin of the Fresh concept?
Ruth: Fresh was created 29 years ago in Toronto. I was 25-years old and I became vegan pretty much overnight. I had read a bunch of books that are now pretty well known but were obscure at the time like Diet For A New America by John Robbins. I bought a little juicer and started making juice and looked around and realized there was nowhere to go in Toronto if you were a hungry vegan in your mid-20s and wanted to go somewhere cool. It was pretty much just the Hari Krishna temple back then. I was very fortunate that my first location was across the street from MuchMusic, which is kind of Canada's MTV; we had so many people coming from south of the border, actors and musicians, we became kind of hip. I ended up growing steadily and now I have five vegan restaurants in Toronto and have written five cookbooks because it's my mission to share the recipes. Everything we make, we make from scratch and share it with the public at large so they can make it at home.
Did the original Fresh start just as a juice bar or were you doing food as well?
Ruth: It started with juice in the first month.
Shereen: We all knew who Ruth was back then, but we all thought she was kind of out there. If you had asked me in those days when we were kids, I would have said she was in a cult; she was trying to give us carrot juice when we would leave the clubs. But she was so authentic and ahead of the time, and that obviously ahead of her time.
When did you get involved, Shereen?
Shereen: I was not involved with Ruth in building the Fresh brand. We've been friends for a long time; I've owned restaurants in Toronto and Ruth owned Fresh; we had similar career trajectory as female owners, which at the time wasn't that common. She'd come to all of my openings and we admired each other as friends and colleagues. I saw Ruth in Los Angeles socially, and actually, you can talk about how you wound up coming here.
Ruth: Well, I fell in love with someone who lives in L.A. about eight years ago. As it happens, he was a teacher at the school Shereen's kids were going to. Shereen and I had lost touch because I wasn't coming out to L.A. that often and she was busy out here, but we ran into each other at an event at the school and reconnected. Her restaurant Terroni here in L.A. hails from Toronto and so I knew all those people. I started having lunches in Shereen and I was a little bit lonely because my guy and his kids would go to school and I would have a lot of hours in the day. I gravitated to Terroni and we reconnected. She was always encouraging me to open a Fresh here.
Shereen: Of course I was! I didn't want to be pushy about it, but I was like you're here every day for lunch, maybe you should be more productive. Haha. I kept thinking what better place to bring Fresh than L.A.? It's one of my favorite restaurants, my husband loves it and he's not a vegan, but I think you wanted to have a break, didn't you Ruth?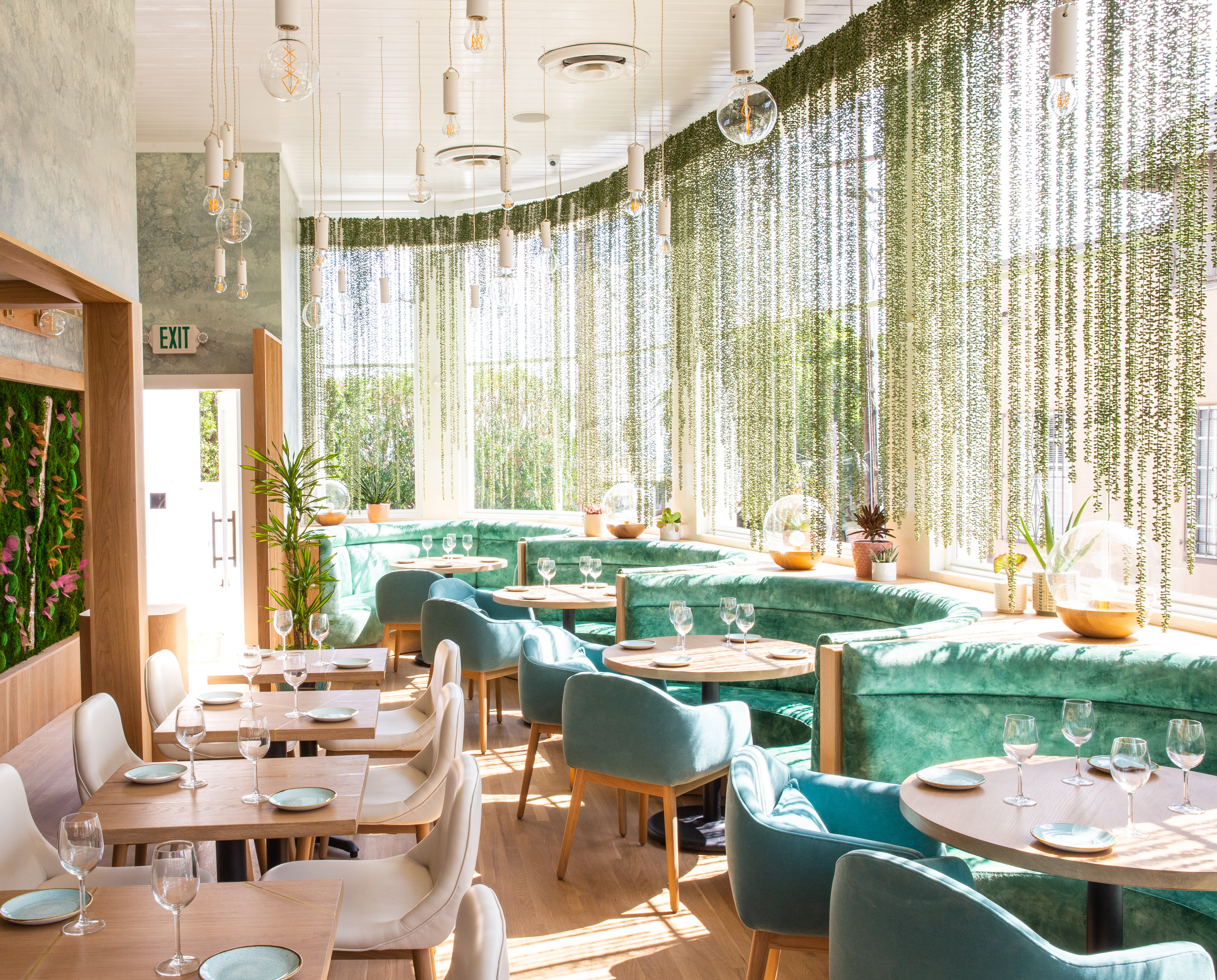 Ruth: Yes, I had passed the 20 year mark and was in a wonderful relationship and experiencing family life. My now-husband and his kids are all vegan, and I had spent most of my life feeding other people, but this was the first time I was feeding my own family. It had always been a dream of mine to open in L.A. and I realized I could do it, especially because I was now out here and the best way to open a restaurant is for the owner to be on site and on hand. When that lightbulb went on for me, I immediately thought of Shereen. I always knew if I did do it. she'd be my angel. We met for lunch and I don't know what she expected me to tell her that day, like did she think I'd go "I'm pregnant," but she was thrilled and took a moment to think about it, but said "I need to be the one; I would like to do this with you." That was about two years ago and we were on a pretty long journey to find the right location.
The room itself is lovely, with natural woods and a midcentury look. Were you involved in the design?
Ruth: Shereen and I are both really into design. We were really involved with how we wanted the place to feel and what the customer would experience as our flagship. Outside of the vegan box, we came at It as two women who wanted to create spaces for our dining guests. We collaborated with a team of women called Cuff. We wound up going all out. Cuff has designed a lot of residential space, but had never done a restaurant.
Interesting. The second floor felt closer to a living space than a restaurant space. You mentioned this being a flagship; do you plan on expanding within L.A. and how is it different from the Toronto locations?
Shereen: Ruth and I have big dreams, so there will definitely be more locations. As for how it differs, Ruth would know better.
Ruth: Well, we have a balcony with a view out to the ocean, so that's one thing Toronto doesn't have and it makes us really excited. Plus you can sit outside 365 days a year.
Shereen: Yeah, but outside of that it's the same. Same menu, same brand. One of my kids said "Mama, this is just like Toronto." We want people from Toronto to come here and say it's the same.
Ruth: I'd add it's just who we are. I'm always evolving and my sense of how to design and how to experience a restaurant is always changing. I would say you'll see us evolve in L.A. like we have in Toronto. The Fresh locations are not cookie cutter; every design is different. There's time between every build out. We refresh the menu every year depending on what kind of eating we're into. That'll always change and you'll see that in L.A. I think that's the secret to our longevity; we have to stay relevant and never go stale. I'm always looking for the next thing.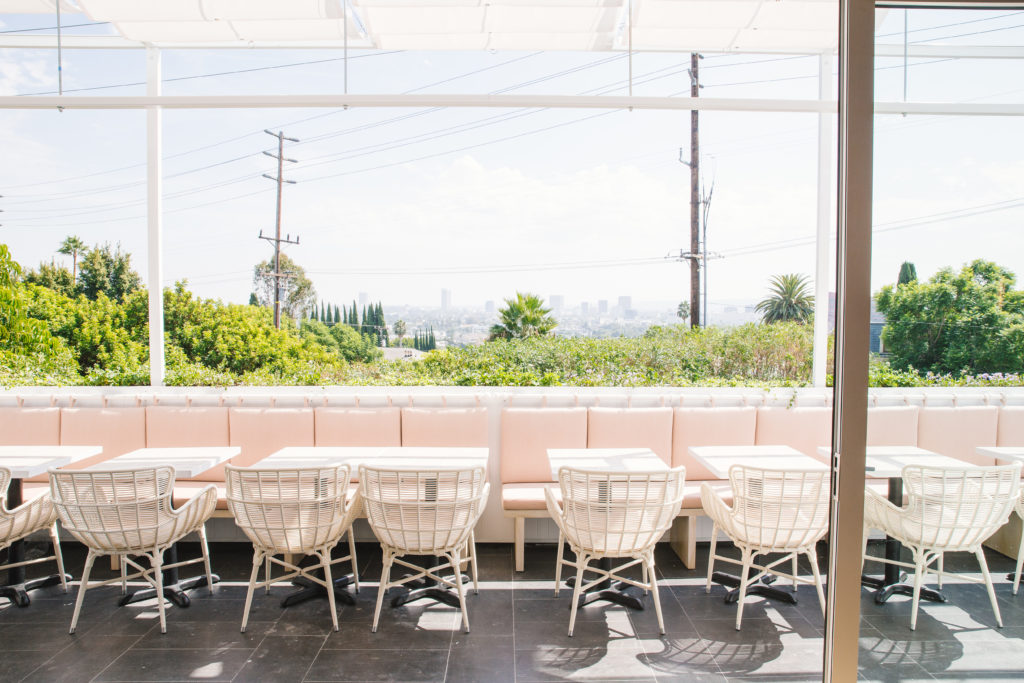 What inspires a menu refresh?
Ruth: Part of it is inspired by what's going on in my life. The way I like to eat has changed since I opened the first Fresh at 25. That's the beauty of owning your own restaurant, you can put all your favorite things on the menu. As a result of hanging out with Shereen on a day-to-day basis, I've developed an appetite for wine and beautiful cocktails.
Shereen: Yeah, she tells me "Every time I'm with you, I want to have a drink," and I go "What?" But yeah, we wanted really good craft cocktails and special vegan wine. That side of it has really taken off. There's so much stuff in L.A. that's not available in Toronto. We were talking today about new directions for the menu and being inspired by all these local producer and local growers.
Ruth: The produce is so much better here.
Shereen: It's local, local, local.
Where do you source your produce from?
Ruth: It's all local sources, it's people that we can actually meet with and see, including the alcohol. We want to keep it as local and fresh as possible. Being able to have local sources is so important. The produce is different, because back home it's freezing, but here you can grow it year-round and have it within days. That makes Los Angeles a hot bed for amazing, fresh vegan food. We use a lot of citrus, which is easy to get here. The carbon footprint is significantly smaller than in Toronto because it's all right here. Our whole wine list, for instance, is organic, vegan wines from California.
Shereen: Even my snobbiest sommelier friends are loving these vegan wines. Fresh isn't just for vegans, you don't leave saying "I had a vegan meal," you leave thinking "I had a delicious meal."
Finally, what is your favorite item on the menu?
Shereen: It's kind of like choosing between my kids. Somedays I like this one better; other times I like this one. Ruth, this is harder for you 'cause they're all your babies.
Ruth: I can say I pretty much have a cold pressed juice every day, usually two, sometimes three. In terms of food, when we first opened, I was so excited to have Fresh food again that I was grazing through all the things that I probably shouldn't eat every day, but I still love, like the poutine. We do a mean poutine with our version of cheese curds, mushroom gravy and fries. Also, the buffalo cauliflower is the best I think is out there. Ultimately, I'll have the Eat Your Greens salad with a bold lemon dressing and marinated tofu. That's like the cleanest daily meal I can have and I always feel good about.
Shereen: I'm going to say the tofu burger and the nachos which I'm obsessed with, as well as the turmeric latte. I can't decide.
Fresh is located at 8768 Sunset Blvd in West Hollywood; menu and restaurant info can be found at freshplantpowered.com