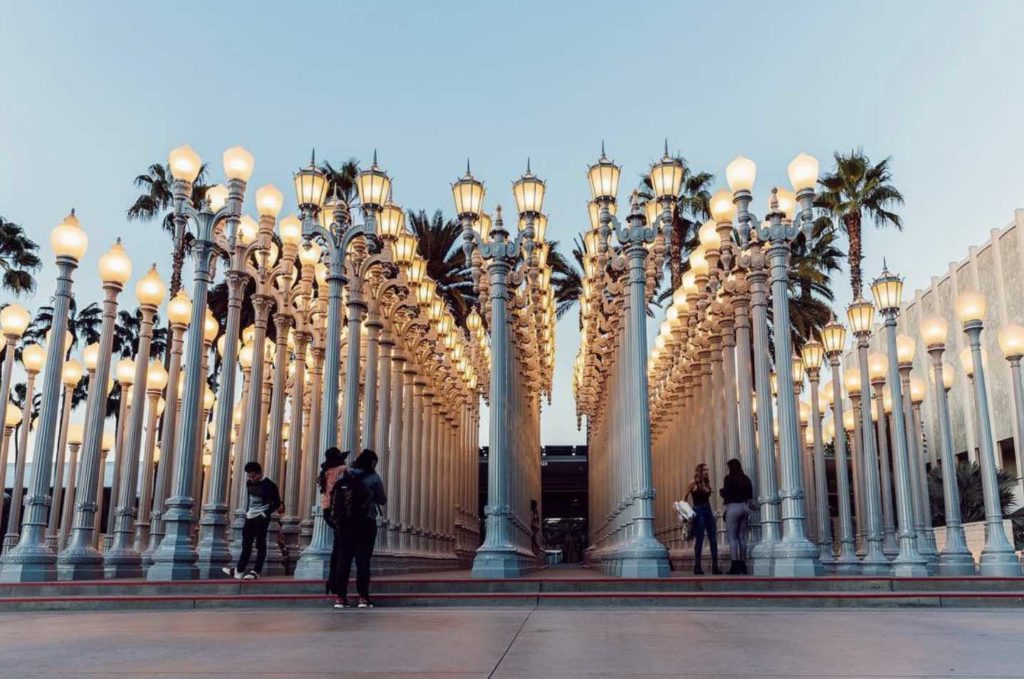 The intent of this "cheat-sheet" is to denote specific free days in any given month where Los Angeles museums that normally charge an admission waive their entry fees (not including parking). For this post we're detailing the month of November, 2019.
Keep in mind there are over two dozen museums in and around Los Angeles that offer free admission ALL the time which are not listed here. We've compiled a handy list of ALL of those free museums (including favorites like The Getty, Getty Villa, California Science Center, California African American Museum, The Hammer Museum, and more) if you'd like to explore all your freebie options for September.
NOTE: Both the Skirball Cultural Center and Getty Center have re-opened to the public after closures due to wildfire threats last month. For updates on area wildfires and evacuation orders, we recommend following LAFD's official news alerts.
Free Museum Days in Los Angeles – November 2019
[NOV 1] Norton Simon Museum (5 to 8 p.m.)
[NOV 2] MOCA and several other cultural institutions along Grand Ave. in Downtown L.A. will offer free admission and activities as part of Grand Ave Arts: All Access.
[NOV 3] Museum of Latin American Art
[NOV 3 ] Craft and Folk Art Museum (pay what you can)
[NOV 5] ] Free Family Night at Kidspace Children's Museum (from 4 to 8 p.m.)
[NOV 5] Natural History Museum (also note that L.A. County residents receive free Museum admission Monday through Friday from 3 to 5 pm. Bring a valid ID or utility bill the day of your visit)
[NOV 5] La Brea Tarpits Museum (also note that L.A. County residents receive free Museum admission Monday through Friday from 3 to 5 pm. Bring a valid ID or utility bill the day of your visit)
[NOV 7] Huntington Library (note that you have to reserve passes for the free day in advance, and it books up fast. For this reason we'd suggest you take a look at the free day for December and start planning when you need to be online to grab the tix)
[NOV 7] Japanese American National Museum (from 5 to 8 p.m.)
[NOV 7] MOCA Grand (from 5 to 8 p.m.)
[NOV 7] Skirball Cultural Center (noon to 5 p.m.)
[NOV 7] Long Beach Museum of Art (3 to 8 p.m.)
[NOV 10] USC Pacific Asian Museum (5 to 8 p.m.)
[NOV 10] USC Pacific Asian Museum (11 a.m. to 5 p.m.)
[NOV 12] Los Angeles County Museum of Art (also free for L.A. County residents with valid I.D. after 3:00pm on Mondays, Tuesdays, Thursdays & Fridays all month long)
[NOV 12] Autry Museum of the American West
[NOV 14] Japanese American National Museum (from 5 to 8 p.m.)
[NOV 14] MOCA Grand (from 5 to 8 p.m.)
[NOV 14] Skirball Cultural Center (noon to 5 p.m.)
[NOV 14] Long Beach Museum of Art (3 to 8 p.m.)
[NOV 14] USC Pacific Asian Museum (5 to 8 p.m.)
[NOV 17] ] Craft and Folk Art Museum (pay what you can)
[NOV 17] Museum of Latin American Art
[NOV 19] Los Angeles County Arboretum (Advance tickets for the free day are required beginning September 2019. These are available online starting on the first of the month. Also note the tram does not run on the free day)
[NOV 19] South Coast Botanic Garden
[NOV 19] Descanso Gardens
[NOV 21] Japanese American National Museum (all day)
[NOV 21] MOCA Grand (from 5 to 8 p.m.)
[NOV 21] Skirball Cultural Center (noon to 5 p.m.)
[NOV 21] Long Beach Museum of Art (3 to 8 p.m.)
[NOV 21] USC Pacific Asian Museum (5 to 8 p.m.)
[NOV 24] ] Craft and Folk Art Museum (pay what you can)
[NOV 24] Museum of Latin American Art
---
As a reminder, it's ALWAYS good to verify the status of free days before you visit, so be sure to check the official museum websites to verify visiting hours, parking costs, and any other pertinent details. Keep in mind free admission days may not include specially ticketed exhibitions. If there are any errors, omissions, or corrections you'd like to note for this list, feel free to email us at [email protected]