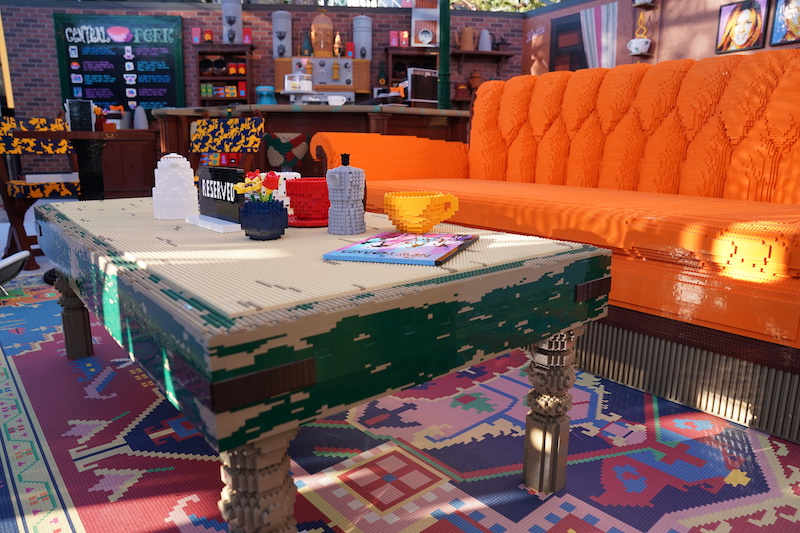 Phoebe or not Phoebe: That is the question. AT&T is launching an all-engrossing pop-up in Santa Monica for the Central Perk faithful. The nearly three-week, totally free experience opens Dec. 5 and features some of the shows most memorable moments and locations, re-imagined. 
Artist Nathan Sawaya created a life-size recreation of the famed Central Perk coffee house with over a million LEGO bricks, including the timeless orange sofa and tons of other pieces you can interact with.
Take a peek into Monica's purple door and take in clips from the show. Honestly the door alone is pretty tight. Iconography defined.
There's also a karaoke-grade recording studio where you can try your hand at 'Smelly Cat,' the timeless ode to a flatulent feline. Not for nothing, but a rap version of that song would crush. 
You'd best believe there's a trivia-challenge, too. It sounds more involved than your run-of-the-mill dive bar experience, with touch screens asking fans to put scenes in the right order and match characters to phrases and whatnot. Godspeed!
Yes, this was clearly AT&T's idea, but there's also a Friends 'Tech Timeline,' which highlights some of the technology used on the show throughout the years, but also dives into the tech used to watch the show.
It also spotlights 'the changing speed of streaming services' and 'data usage highlights,' with 'AT&T tech moments' sprinkled in. Listen, nothing in life is truly free. This part sounds fun, pretty sure!
Lastly, there's a gift-shop perfectly timed for the crush of holiday shoppers. Please don't buy your spouse a Friends mug for Christmas. Just get it for yourself, you know it's what you really want.
You can grab free (!) tickets Nov. 25 at FRIENDSxATT.com. This experience runs Dec. 5-23, 10 a.m. to 9 p.m. daily at the Santa Monica Promenade. There's a Monica pun in there somewhere!