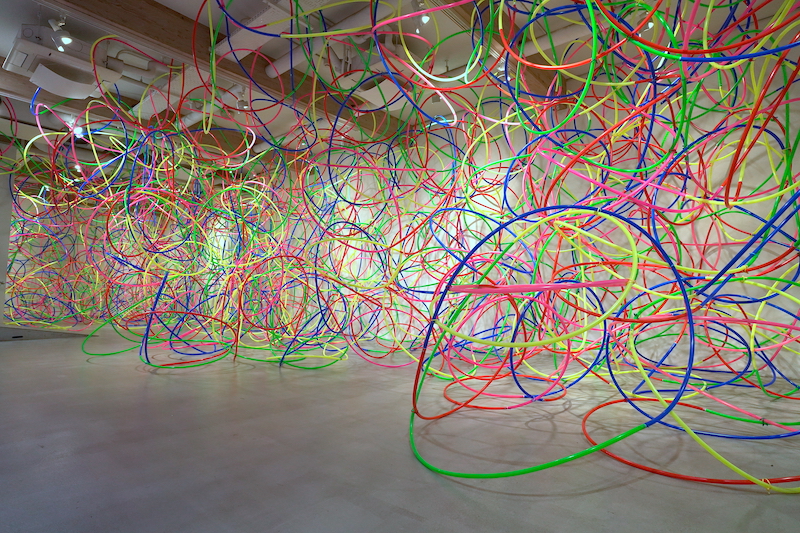 As Los Angeles finds its way out of the pandemic and restrictions gradually ease, we're continuing our bi-weekly round-ups of fun to-dos, mixing in the occasional online/virtual event with an ever-growing list of in-person experiences.
This week, from June 14 to June 18, features free tacos in Studio City, a virtual Juneteenth celebration, a new installation at Japan House LA, online workshops via LA Plaza de Cultura y Artes, a new bistro from the chefs of République, a comedy show at the Grand Central Market rooftop, and more!
Monday / All Week
1. En Casa con LA Plaza -> All this week LA Plaza de Cultura y Artes will host special Zoom and Facebook Live Sessions that reflect the best of Los Angeles Latinx history. Workshops include making Chicken Enchilada Pie with Tirsa Farah of Tirsa's Mexican Café, a discussion with Mexican-American History Maker, actor, director, producer, and activist, Edward James Olmos, and a happy hour with writer, director and producer Julio Quintana See the full line up here.
2. Self Help Graphics & Art Print Fair -> Self Help Graphic's annual art print fair is going virtual this year, with new prints released online every week in June. Browse a selection of new and limited edition serigraphs, reliefs and intaglio prints created by over twenty artists. Proceeds support the ongoing mission of Self Help Graphics and Art. More info here.
3. Pride Publics -> Pride Publics: Words and Actions brings issues of LGBTQ+ community action, struggle and progress into focus through a series of 28 large-scale posters installed on the east side of Robertson Blvd, just south of Santa Monica Blvd. The works will be on view through July 1. More info here.
4. Rooftop Cinema Club -> The drive-in at the Santa Monica Airport is holding screenings this week. Movies include Pineapple Express, The Thing, Black Panther and much more. A ticket for one vehicle with two passengers start at $32. See full details and schedule here.
5. Rainbow Road Art Walk -> To celebrate Pride month, Santa Monica place is hosting a self-guided art experience of 13 colorful installations created by LGBTQIA+ artists. Runs June 4-30. More info here.
6. Love Note -> Rogue Ensemble has a new interactive audio expedition that invites guests to Plummer Park in WeHo, now through June 30. Per a release, Love Note is an "in-real-life audio experience that guides audiences through a twisted collection of love stories, meditative romance and lost connections." The experience is free, but a smartphone and headphones are required. Plummer Park is open from 6 a.m. to 10 p.m. daily. More info and instructions for attendees can be found here.
7. South Coast Botanic Garden's butterfly experience SOAR is now open to the public featuring a new pavilion with live tropical butterflies. Advance reservations are required and can be made online now.
Tuesday
8. Lift Every Voice and Sing -> On Tuesday, the California African American Museum joins nine other museums cultural institutions across the country in a virtual celebration of Juneteenth through a film presentation that celebrates the victory and liberty of the African American people. Steam starts at 9 a.m. More info here.
9. Free Tacos at Roadside Taco -> To celebrate the grand opening of Studio City's newest taco and cocktail joint Roadside Taco the restaurant is partnering with food discovery app Off The Menu for a public event from 5-11 p.m. All attendees will get three free tacos of their choice (Turkey, Carne Asada, Al Pastor, Chicken, and Cauliflower Al Pastor). Off The Menu members will receive a complimentary Topo Chico Hard Seltzer, and separate entry area. Additional drinks will be available for purchase, additional tacos are available at no cost while supplies last. No reservations are needed and guests do not have to be an Off The Menu member to attend.
10. Langer's Deli -> Langer's Deli will re-open for in-person dining for the first time in over a year on Tuesday, June 15. The historic deli will celebrate with a ribbon cutting at 8 a.m. with local and state elected officials, and union leaders in attendance.
11. Hollywood Roosevelt's Tropicana Movie Nights -> The historic hotel welcomes guests to a unique movie screening experience around the iconic David Hockney-painted pool. A ticket comes with complimentary popcorn and if you dress up to the theme of the movie, you'll also receive a free cocktail or candy bar. This week, they'll screen The Birdcage. More info here.
12. AYCA Tacos at Lanea -> Lanea in Santa Monica will celebrate California fully opening on June 15 with an All You Can Eat Taco Wednesday Special. For $15 guests get all you can eat street tacos plus chips and pico de gallo. Barbacoa and shrimp tacos will cost an additional $1 each for the special.  
Wednesday
13. RECONNECTING: A Vision of Unity -> A new exhibit by artist Kengo Kito comes to Japan House LA this Wednesday. Kito's work takes 2,021 hula hoops to create a massive, unified art piece that explores issues of connection and re-connection in the wake of the past year's unprecedented events. Admission is free to the gallery. Walk-ins accept, reservations are recommend. Exhibits runs from June 16 to Sep. 6. Learn more here.
14. The Comedy Roof -> On Wednesdays the The Comedy Roof brings a socially-distanced comedy show to the rooftop of Grand Central Market. Tickets are $20. Parking is free. More info here.
15. StarChefs Restaurant Week -> StarChefs, the restaurant industry magazine spotlights its Rising Stars list with the launch of a Restaurant Week from June 16 through June 30 inviting the public to experience dishes, pastries, wine pairings, and cocktails at the forefront of American dining.
16. Dances in the Open -> L.A. Dance Project returns with in-person performaces featuring two works: New Taylor, choreographed by former NYCB Principal dancer Janie Taylor, and Solo at Dusk, choreographed by Bobbi Jene Smith, in collaboration with Or Schraiber. Tickets start at $50 per person, $25 for students, and $175 for benching seating that accommodates 4-5. Happening Wednesdays to Sundays through June 25. More info and tickets here.
17. Behind the Screens -> This week, KCRW's Behind the Screens features KCRW Good Food host Evan Kleiman in conversation with the Executive Producers of "High on the Hog: How African American Cuisine Transformed America." 
Thursday
18. Flower Bomb: RUNCHELLA -> In Thursday Zoom session, the California African American Museum hosts members of the Flower Bomb collective to dissect the origins of melisma—or the vocal run—and the singers who perfected it. Free event. RVSP here.
19. Elsewhere At the Madcap Motel  -> The retro space features over a dozen rooms full of interactive and photo-friendly moments interwoven with a sci-fi narrative. Runs Thursday through Sunday through the end of June. Read We Like L.A.'s full write-up on the experience here.
Friday
20. The Huntington -> Enjoy the gardens during twilight hours Fridays through Sundays when The Huntington hosts Summer Evening Strolls from 4:30 p.m. to 8 p.m. June through August. Advance tickets ($20 per adult) are required.
21. Jazz Night at Runway Playa Vista -> Enjoy live jazz music every Friday from 5-8 p.m. all summer. Grab food from Runway vendors and snag outdoor seating on Town Center Drive.
Dining
22. Bicyclette Bistro -> Chefs Walter and Margarita Manzke of République aim to bring an authentic slice of Paris to Los Angeles with Bicyclette Bistro. Opening June 16, Bicyclette Bistro's menu showcases beloved Parisian classics such as Duck Leg Confit, Bouillabaisse and Steak au Poivre. Classic French desserts including Paris Brest and Profiterole au Chocolate are also available, as well as an all-French wine list and a French inspired cocktail program. 
23. Kumi -> Nori taco concept Kumi offers fun and inventive Bento boxes for delivery and pick up through the CITIZENS GO app. On the menu is a selection of nori tacos, onigiri, sushi rolls and temaki sets. Developed by C3 the CITIZENS GO app conveniently allows diners to order from multiple C3 restaurant brands including Umami Burger, Krispy Rice and Sam's Crispy Chicken in one single cart. Make a $15 minimum order from Kumi through the app using the promo code FREEKUMI to receive a complimentary Crispy Shrimp Nori Taco (limit one free item per customer).
24. Jewel -> Plant-based restaurant Jewel in Virgil Village has update on their vegan menu. The new additions created by newly appointed Executive Chef Kota Hidaka (The Springs and Redbird) and Sous Chef Andy Barbato (Little Pine) draw inspiration from the diverse communities that make up Los Angeles. Included are a Buffalo "Chicken" Sandwich made of fried "chicken" yuba (tofu skin) dredged in Korean spices, plus a Smoky Bacon Toast with cashew herb spread topped with tempeh bacon, pickled fresno chilies, pea tendrils and lemon-bay leaf vinaigrette served on Bub & Grandma's sourdough bread. 
---
Any notes or corrections? Want to suggest an event we should add to an upcoming list? Hit us up at [email protected].