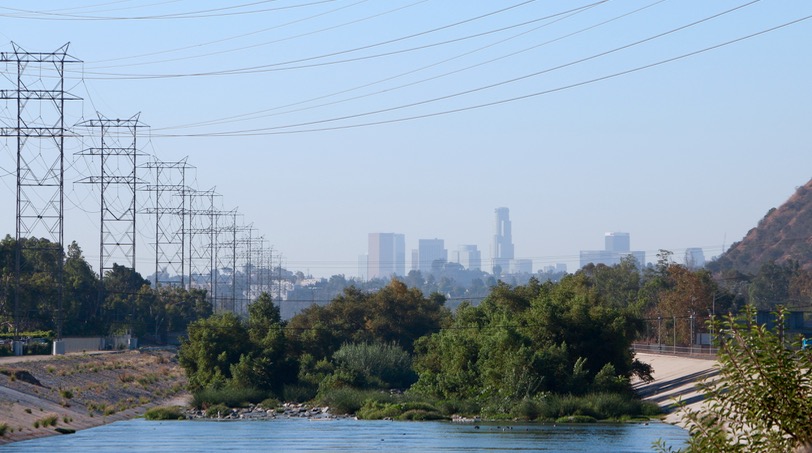 As Los Angeles finds its way out of the pandemic and restrictions gradually ease, we're continuing our bi-weekly round-ups of fun to-dos, mixing in the occasional online/virtual event with an ever-growing listen of in-person experiences.
This weekend, from June 11 to June 13, features Pride Night at Dodger Stadium, the Great L.A. River Cleanup, a pollination party at Eagle Rock Brewery, a fitness fest in Playa Vista, and more!
Friday / All Weekend
1. Pride Publics -> Pride Publics: Words and Actions brings issues of LGBTQ+ community action, struggle and progress into focus through a series of 28 large-scale posters installed on the east side of Robertson Blvd, just south of Santa Monica Blvd. The works will be on view through July 1. More info here.
2. Self Help Graphics & Art Print Fair -> Self Help Graphic's annual art print fair is going virtual this year, with new prints released online every week in June, beginning today. Browse a selection of new and limited edition serigraphs, reliefs and intaglio prints created by over twenty artists. Proceeds support the ongoing mission of Self Help Graphics and Art. More info here.
3. Pride Night at Dodger Stadium -> This Friday, LA Pride and the Dodgers team up for Pride Night, featuring drink specials, a special recognition of frontline workers from Los Angeles' LGBTQ+ community and a few other surprise guests. After the game fans can stick around for the Friday night fireworks show Grab tickets and get info here.
4. Imari -> Restaurateur Philip Camino (Fellow, The Hudson, EarthBar) will soft open Imari this Friday in Brentwood traditional Japanese offerings prepared by Michelin-starred Shibumi chef David Schlosser. Master sushi chef Derek Wilcox from the acclaimed Shoji in New York City serving as chef de cuisine. During the soft open Imari will serve a limited menu of bento boxes to-go or for deliver. The restaurant will fully open for dine-in on July 16.
5. Rooftop Cinema Club -> The drive-in at the Santa Monica Airport is holding screenings all weekend. Movies this week include Friday, The Sandlot, Magic Mike and much more. A ticket for one vehicle with two passengers starts at $32. See full details here.
6. Rainbow Road Art Walk -> To celebrate Pride month, Santa Monica place is hosting a self-guided art experience of 13 colorful installations created by LGBTQIA+ artists. Runs June 4-30. More info here.
7. Pop Cultured -> Jimmy Prado from the podcast Never Not Funny presents an online movie themed comedy game show this Friday where comedians compete in a variety of improvised comedy games the win the title of Pop Cultured Champ. Tickets start at $10 with the option to also buy group tickets.
8. Love Note -> Rogue Ensemble has a new interactive audio expedition that invites guests to Plummer Park in WeHo, now through June 30. Per a release, Love Note is an "in-real-life audio experience that guides audiences through a twisted collection of love stories, meditative romance and lost connections." The experience is free, but a smartphone and headphones are required. Plummer Park is open from 6 a.m. to 10 p.m. daily. More info and instructions for attendees can be found here.
9. Urban Death Trail of Torment -> Zombie Joe's Underground Theatre has a new walk-thru attraction kicks off this Thursday. Per a release, the 20-minute experience takes visitors on a journey through "dimly-lit labyrinth straight into our phantasmagoria." A $35 ticket is good for entry for two. Runs Thursdays, Fridays, and Saturdays starting at 7:20 p.m. Get tickets here.
10. Elsewhere At the Madcap Motel -> The retro space features over a dozen rooms full of interactive and photo-friendly moments interwoven with a sci-fi narrative. Runs Thursday through Sunday through the end of June. Read We Like L.A.'s full right up on the experience here.
Saturday
11. One Down Dog -> The Echo Park yoga studio is hosting a Tie Dye For Pride event this Saturday. The 30-minute sessions are held outdoors between 1 p.m. and 5 p.m. Tickets cost $45 a person (shirt included), $75 for a pair if you sign up with a friend and an additional $10 to dye a piece you bring in on your own (limit one item.) 10% of the proceeds will go to Somos Familia Valle, an organization that advances LGBTQ education, empowerment, and wellness in the San Fernando Valley.
12. Angel City Market -> Outdoor market in Inglewood that brings 60+ vendors together and offers outdoor games, a live DJ, a photo booth, and more. Pet friendly. Free to attend. More info here.
13. The Politics of Street Vendors -> On Saturday, LACMA will host an online screening of this short documentary series that details the history vending economy in Los Angeles and the ongoing challenges facing vendors, including the impact of the pandemic. RSVP to watch for free here.
14. Dances in the Open -> L.A. Dance Project returns with in-person performaces featuring two works: New Taylor, choreographed by former NYCB Principal dancer Janie Taylor, and Solo at Dusk, choreographed by Bobbi Jene Smith, in collaboration with Or Schraiber. Tickets start at $50 per person, $25 for students, and $175 for benching seating that accommodates 4-5. Happening Wednesdays to Sundays through June 25. More info and tickets here.
15. The Great L.A. River Cleanup -> Friends of the Los Angeles River (FoLAR) is hosting a pair of trash and debris cleanups along the L.A. River this Saturday. One will be held at the Bette Davis Picnic Area near the Glendale Narrows, the other at Bull Creek. Registration information, along with a schedule of other cleanups scheduled for this summer, can be found here.
Sunday
16. Pollination Party -> On Sunday, Eagle Rock Brewery teams up with the Theodore Payne Foundation to host a 'Pollination Party" featuring beers, food vendors, native pollinator plants for sale, plus an insect Q&A with special guest Lisa Gonzales, Assistant Collections Manager at the Natural History Museum. Free to attend, no reservations required. More info here.
17. Runway Fitness Fest -> A free fitness event at Runway Playa Vista where guests will challenge themselves on a climbing wall, rowing machines, and other body weight exercises. First 100 people to sign up receive a free goodie bag. To register and get more info go here.
18. Brunch at Umami Burger -> Starting this Sunday Umami Burger will begin offering brunch on the menu. Diners can enjoy Corn Flake breaded fried chicken & waffles, a pastrami hash with truffle fondue, chilaquiles, a tomatillo highball cocktail and Cinnamon Toast Crunch shake to name a few. Umami Burger will also be hosting a Father's Day giveaway where three lucky winners and their dads will receive a private grill session with Chef Michael Israel followed by brunch at Umami Burger at The Grove. All participants need to do is email [email protected] explaining why your father is the best and deserving of a grill session between June 13-20. UPDATE: This promotion has been postponed until June 19, so no brunch menu this Sunday!
19. Melrose Trading Post -> This weekly flea market takes place every Sunday at Fairfax Highschool Starting at 9 a.m., and this week the event will host live musical performances onsite for the first time in over a year. Admission costs $5. More info here.
20. Create Japan -> Culinary Curation's SHINCHA, a Japanese Afternoon Tea pop up is a green tea and food pairing (temari sushi and wagashi) event meant to be enjoyed at home. Tickets are almost sold out. The experience cost $75 per order. Full details here.
Dining
21. Go-Go Gyoza & Go-Go Bird Pop Up -> Hinoki and the Bird's Executive Chef Brandon Kida's Go-Go Gyoza and Go-Go Bird will be popping up at Citizen Public Market in Culver City this weekend serving Japanese inspired fried chicken and cheddar biscuits as well as chicken gyozas, topped with chili oil and an aromatic soy sauce. Premium cookie operation Zooies Cookies will also be popping up at Citizen Public Market for those with a sweet-tooth.
22. Lunetta -> Weekend brunch at Lunetta takes place across three outdoor garden patios. The menu includes a house charred Bloody Mary, crispy chicken and lemon ricotta pancakes, polenta and eggs as well as a deconstructed Nicoise salad. Reservations are highly recommended for both Saturday and Sunday.
---
Any notes or corrections? Want to suggest an event we should add to an upcoming list? Hit us up at [email protected]