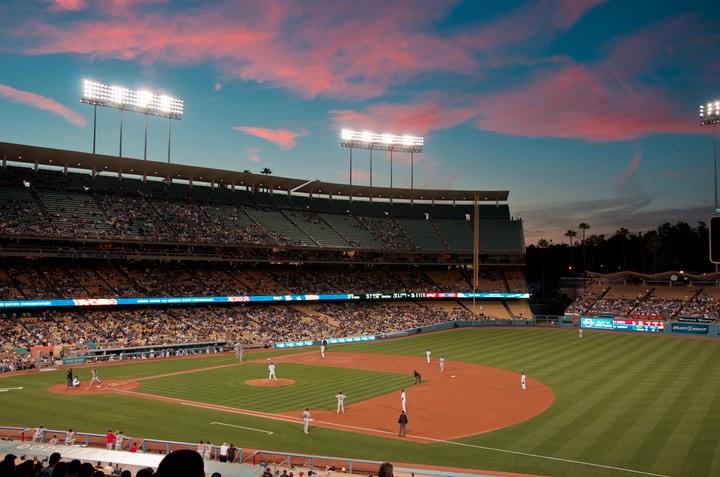 As Los Angeles finds its way out of the pandemic and restrictions gradually ease, we're continuing our bi-weekly round-ups of fun to-dos, mixing in the occasional online/virtual event with an ever-growing list of in-person experiences.
This week, from June 7 to June 11, features Pride Night at Dodger Stadium, the Self Help Graphics and Art Print Fair, twilight walks at The Huntington, a special 'Hacks' virtual screening, new outdoor art in WeHo for Pride month, and more!
Monday / All Week
1. Self Help Graphics & Art Print Fair -> Self Help Graphic's annual art print fair is going virtual this year, with new prints released online every week in June, beginning today. Browse a selection of new and limited edition serigraphs, reliefs and intaglio prints created by over twenty artists. Proceeds support the ongoing mission of Self Help Graphics and Art. More info here.
2. Pride Publics -> Pride Publics: Words and Actions brings issues of LGBTQ+ community action, struggle and progress into focus through a series of 28 large-scale posters installed on the east side of Robertson Blvd, just south of Santa Monica Blvd. The works will be on view through July 1. More info here.
3. The OutFronts -> Outfest's five-day digital event The OutFronts (June 4-8) will connect fans with the best in LGBTQIA television and streaming through free-to-view panel discussions and exclusive
members-only premieres via the Outfest Now streaming app. View the full programing here.
4. Rainbow Road Art Walk -> To celebrate Pride month, Santa Monica place is hosting a self-guided art experience of 13 colorful installations created by LGBTQIA+ artists. Runs June 4-30. More info here.
5. Love Note -> Rogue Ensemble has a new interactive audio expedition that invites guests to Plummer Park in WeHo, now through June 30. Per a release, Love Note is an "in-real-life audio experience that guides audiences through a twisted collection of love stories, meditative romance and lost connections." The experience is free, but a smartphone and headphones are required. Plummer Park is open from 6 a.m. to 10 p.m. daily. More info and instructions for attendees can be found here.
6. Ai Weiwei sculpture at LACMA -> Ai Weiwei's Circle of Animals/Zodiac Heads is on view outdoors at LACMA's Smidt Welcome Plaza now through June 13. The installment of the sculpture is a precursor to Legacies of Exchange: Chinese Contemporary Art from the Yuz Foundation, a new exhibition opening later this summer at the museum.
7. WE RISE x CicLAvia -> Starting May 30, download CicLAvia's Experience Central Ave Bike Map for a self-guided music bike ride through one of the oldest historic communities in Los Angeles. The playlist provided by Subsuelo Music Collective speaks to the cultures and experiences that help make each neighborhood what it is today.
8. South Coast Botanic Garden's butterfly experience SOAR is now open to the public featuring a new pavilion with live tropical butterflies. Advance reservations are required and can be made online now.
Tuesday
9. Hollywood Roosevelt's Tropicana Movie Nights -> The historic hotel welcomes guests to a unique movie screening experience around the iconic David Hockney-painted pool. A ticket comes with complimentary popcorn and if you dress up to the theme of the movie, you'll also receive a free cocktail or candy bar. This week, they'll screen The Adventures of Priscilla Queen of the Desert. More info here.
10. California African American Museum -> CAAM is open for in person visits Tuesdays through Sundays. The museum currently has three exhibitions on view including Men of Change: Power. Triumph. Truth. which profiles revolutionary men—including Muhammad Ali, James Baldwin, Ta-Nehisi Coates, W.E.B. Du Bois, and Kendrick Lamar. All visitors are required to reserve in advance. Admission is free.  Open Tuesday through Sunday.
11. The Skirball -> The museum is now reopened with Ai Weiwei's Trace, an exhibition of portraits made entirely from LEGO® blocks that reflects the artist's experience of being arrested and interrogated by the Chinese government for 81 days in 2011. Visit info can be found here.
12. The Grove -> Enjoy a Paint & Sip complete with a glass of wine or cocktail right in the heart of The Grove every Tuesday 6-9 p.m. Tickets cost $50 and includes all supplies and drink.
13. Dan McCleary: OAXACA -> Previously a virtual-only exhibition, visitors are now welcome to the USC Fischer Museum to check out more than two decades of Oaxacan prints created by artist Dan McCleary. Entry is free, but advance reservations are required. The gallery is open Tuesday through Saturday. More info and timed slots available here.
14. Rooftop Cinema Club -> The drive-in at the Santa Monica Airport is holding screenings this Tuesday, Thursday and Saturday. Movies this week include Coming 2 America, The Craft, Friday and much more. A ticket for one vehicle with two passengers starts at $32. See full details here.
Wednesday
15. Dances in the Open -> L.A. Dance Project returns with in-person performaces featuring two works: New Taylor, choreographed by former NYCB Principal dancer Janie Taylor, and Solo at Dusk, choreographed by Bobbi Jene Smith, in collaboration with Or Schraiber. Tickets start at $50 per person, $25 for students, and $175 for benching seating that accommodates 4-5. Happening Wednesdays to Sundays through June 25. More info and tickets here.
16. Invisible Sun -> The Broad's latest Invisible Sun is response to the issues of gender and race-based violence, capitalism, and colonialism that came into focus last summer. The exhibition features 59 works from artists including El Anatsui, Alexander Calder,Keith Haring, Jenny Holzer, Julie Mehretu, Nathaniel Mary Quinn, and Cindy Sherman, and many of the works will be on view for the first time. The Broad is open Wednesday to Sunday. Advance reservations to visit (currently required) can be made here.
17. Rainbow Skate Night -> Moonlight Rollerway's weekly LGBTQ-themed skate night kicks off at 8 p.m. on Wednesday. Tickets are $15, and skate rental is NOT included. More info and tickets here.
Thursday
18. Comedy at The Whitley -> Outdoor comedy returns to The Whitley in Hollywood this Thursday. lineup features Nick Kroll, Joe Mande, Moshe Kasher, and other guests. GA tickets start at $29. More info here.
19. H is for Honey -> Essi Zimm's new solo exhibition at the Gabba Gallery will be on view through June 26. The gallery is open Thursday – Saturday from noon to 3 p.m., or my appointment. More info here.
20. Elsewhere At the Madcap Motel  -> The retro space features over a dozen rooms full of interactive and photo-friendly moments interwoven with a sci-fi narrative. Runs Thursday through Sunday through the end of June. Read We Like L.A.'s full right up on the experience here.
Friday
21. Pride Night at Dodger Stadium -> This Friday, LA Pride and the Dodgers team up for Pride Night, featuring drink specials, a special recognition of frontline workers from Los Angeles' LGBTQ+ community and a few other surprise guests. After the game fans can stick around for the Friday night fireworks show Grab tickets and get info here.
22. The Huntington -> Enjoy the gardens during twilight hours Fridays through Sundays when The Huntington hosts Summer Evening Strolls from 4:30 p.m. to 8 p.m. June through August. Advance tickets ($20 per adult) are required.
23. 'Hacks' virtual Screening -> KCRW Virtual Cinema and Behind the Screens Event: 'Hacks' features a followed by a special conversation with Madeleine Brand and the cast and crew from the show.
Dining
24. The Tasting Kitchen -> The decade-old Venice restaurant serves seasonal Southern Californian cuisine including a large menu of handcrafted pastas. Prepared by Chef Travis Passerotti, pasta options this month include Spaghetti with Ipswich clams and Cavatelli with pork and peach ragu.
25. Oui Melrose -> Armen Piskoulian's upgraded Filet-O-Fish sandwich is topped with shaved Black Truffles for the Summer. The Black Truffle Fish sandwich cost $19 and is available for dine-in, takeout and delivery.
26. The Henry -> The West Hollywood restaurant will reopen on June 8 with an updated seafood focused menu, a daily happy hour menu from 3-7 p.m. and weekend brunch.
27. Create Japan -> Tickets are on sale now for the Culinary Curation's SHINCHA, a Japanese Afternoon Tea pop up. Happening on June 13, ticket holders will receive a number of green teas (loose leaf and cold brewed) paired with temari sushi and wagashi (Japanese confections) to enjoy at home. The experience cost $75 per order. Full details here.
---
Any notes or corrections? Want to suggest an event we should add to an upcoming list? Hit us up at [email protected].