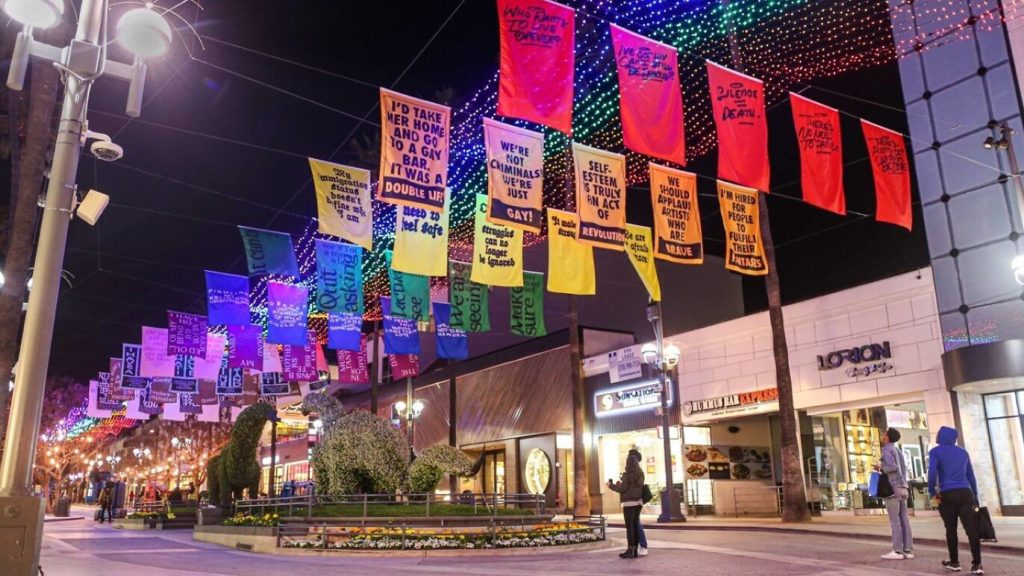 As Los Angeles finds its way out of the pandemic and restrictions gradually ease, we're continuing our bi-weekly round-ups of fun to-dos, mixing in the occasional online/virtual event with an ever-growing listen of in-person experiences.
This weekend features a donut freebie from Dunkin', a colorful art walk in Santa Monica, the L.A. Zoo's Beastly Ball, First Fridays at NHM, a DIY boba kit, and more!
Friday / All Weekend
1. Dunkin' Freebies -> This Friday, June 4, is National Donut Day and Dunkin' will be celebrating in the best way possible. All day long on June 4, guests can enjoy a free classic donut of their choice with the purchase of any beverage while supplies last at participating California Dunkin' locations.
2. Rainbow Road Art Walk -> To celebrate Pride month, Santa Monica place is hosting a self-guided art experience of 13 colorful installations created by LGBTQIA+ artists. Runs June 4-30. More info here.
3. First Fridays Connected -> First Fridays are back at LACMA via new virtual programming that kicks off on June 4. This season's theme focuses on Los Angeles at the Intersections, a celebration of the city's science and culture. The first edition (this Friday) offers a panel discussion on the murals of L.A. followed by a special musical performance by Sasami. Free on YouTube/Zoom. RSVP here.
4. The OutFronts -> Outfest's five-day digital event The OutFronts (June 4-8) will connect fans with the best in LGBTQIA television and streaming through free-to-view panel discussions and exclusive
members-only premieres via the Outfest Now streaming app. View the full programing here.
5. Urban Death Trail of Torment -> Zombie Joe's Underground Theatre has a new walk-thru attraction kicks off this Thursday. Per a release, the 20-minute experience takes visitors on a journey through "dimly-lit labyrinth straight into our phantasmagoria." A $35 ticket is good for entry for two. Runs Thursdays, Fridays, and Saturdays starting at 7:20 p.m. Get tickets here.
6. The GRAMMY Museum is Now Open -> The GRAMMY Museum welcomed the public back on May 21 with three brand new special exhibits, including retrospectives on Motown Records, Dave Matthews Band, and the life and career of Marco Antonio Solís. Adult admission starts at $15 per person, and can be booked in advance here.
7. The Broad is Now Open -> The Broad's latest exhibition, Invisible Sun, was conceived last summer as a response to the issues of gender and race-based violence, capitalism, and colonialism. It features 59 works from artists including El Anatsui, Alexander Calder,Keith Haring, Jenny Holzer, Julie Mehretu, Nathaniel Mary Quinn, and Cindy Sherman, and many of the works will be on view for the first time. Advance reservations to visit can be made here.
8. Japanese American National Museum -> JANM in Little Tokyo is now open for in-person visits on Fridays, Saturdays and Sundays. The current exhibit, Transcendients: Heroes at Borders, by Taiji Terasaki, in collaboration with JANM, honors individuals who advocate against discrimination, prejudice, and inequality at borders. The museum also presents Transcendients: 100 Days of COVID-19 and Memorial to Healthcare Workers, a work created during the pandemic that tells a wide range of stories on topics including race and class, food sustainability, art, scientific innovations, and climate adaptation. Advance reservations (free) are required.
9. The Skirball -> The museum is now reopened with Ai Weiwei's Trace, an exhibition of portraits made entirely from LEGO® blocks that reflects the artist's experience of being arrested and interrogated by the Chinese government for 81 days in 2011. Visitor info can be found here.
10. Love Note -> Rogue Ensemble has a new interactive audio expedition that invites guests to Plummer Park in WeHo, now through June 30. Per a release, Love Note is an "in-real-life audio experience that guides audiences through a twisted collection of love stories, meditative romance and lost connections." The experience is free, but a smartphone and headphones are required. Plummer Park is open from 6 a.m. to 10 p.m. daily. More info and instructions for attendees can be found here.
11. California African American Museum -> CAAM is open for in person visits Tuesdays through Sundays. The museum currently has three exhibitions on view including Men of Change: Power. Triumph. Truth. which profiles revolutionary men—including Muhammad Ali, James Baldwin, Ta-Nehisi Coates, W.E.B. Du Bois, and Kendrick Lamar. All visitors are required to reserve in advance. Admission is free.
Saturday
12. Beastly Ball -> The L.A. Zoo's annual fundraiser goes virtual for the second consecutive year with Joel McHale once again hosting. Expect celebrity guests, musical performances, and tons of appearances from lovable creatures who call the zoo their home. The program begins on Saturday at 5:45 p.m. with a pre-show. More info on how to watch and support here.
13. Pickwick Vintage Show -> 65+ exhibitors will offering a range of wares including vintage clothing, jewelry, accessories, textiles, and other inspiring goods. The event takes place this Saturday at the Pickwick Gardens in Burbank. Tickets run from $5-$20 depending on time of entry. More info here.
14. Off The Menu National Donut Day -> The food discovery app is partnering with DaMandyz and Oui Melrose to celebrate National Donut Day and support of Pride Month at Cookie N' Kicks from 11 a.m. to 2 p.m. on Saturday. Guests who make a donation to GLAAD will receive two special donuts created by DaMandyz, WWE Superstars Sonya Deville and Mandy Sacs.
15. H is for Honey -> A new solo exhibition from artist Essi Zimm comes to Gabba Gallery with a special opening event this Saturday from noon to 4 p.m. Limited capacity, masks required. The work will be on view at the gallery through June 26. More info here.
16. Hollywood Heritage Final Sale -> If Hollywood history is your bag, this Saturday is the third round of the ongoing Hollywood Heritage sale. Browse collectibles, DVD's, Blu-ray's, books, and other memorabilia at this final blowout event. $5 gets you inside, and capacity is limited. Runs from 11 a.m. to 5 p.m. More info here.
Sunday
17. The Black Market -> A flea market in the Arts District featuring all black-owned shops and vendors. Takes place at Awa Oasia near the corner of 6th and Mateo. Tickets are $5.
18. Super Rich -> The Echo Park onigiri cafe will pop-up at Paper Please in Chinatown this Sunday, June 6 from 9 a.m. to 2 p.m. (or until sold out.) Stop by to pick up casual Japanese bites and artisan paper goods like stationary.
20. Sol & Sound -> An outdoor sound bath taking place at Lake Hollywood Park put on the women's wellness collective Garden of Her LA. The 40-minute experience is free to attend with RSVP. More info here.
21. Melrose Trading Post -> This weekly flea market takes place every Sunday at Fairfax Highschool Starting at 9 a.m., and this week the event will host live musical performances onsite for the first time in over a year. Admission costs $5. More info here.
Dining
22. Sunright Tea Studio -> The bubble tea shop just launched an Instant Boba Milk Tea Kit for Angelenos to enjoy at home or bring to a party. Kits cost $19.95 for six servings and includes Ceylon black tea, Sunright's special milk tea powder, brown sugar and chewy boba pearls made of tapioca. The process takes just minutes to prepare. Kits can be picked up at all Sunright locations.
23. Create Japan -> Tickets are on sale now for the Culinary Curation's SHINCHA, a Japanese Afternoon Tea pop up. Happening on June 13, ticket holders will receive a number of green teas (loose leaf and cold brewed) paired with temari sushi and wagashi (Japanese confections) to enjoy at home. The experience cost $75 per order. Full details here.
24. Candy Club x Cake Monkey -> Candy Club and Cake Monkey have teamed up to create a special Cakewich for charity. Available all month, the Banana Peanut Toffee Crunch Cakewich is a banana cake sandwich filled with peanut buttercream, banana jam and Candy Club's chocolate toffee peanuts, coated in bittersweet chocolate. 100% of the proceeds from this collaboration will go to People Assisting The Homeless (PATH), a local non-profit organization working to end homelessness through building affordable housing and providing supportive services throughout California.
---
Any notes or corrections? Want to suggest an event we should add to an upcoming list? Hit us up at [email protected].